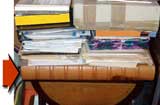 JUST A TASTE OF THE HITLER COLLECTION IN EALING, LONDON : The Berghof copy of Hitler's Mein Kampf weighs forty pounds and could stop a London bus -----------
Now posted: a gallery of original Hitler images from this collection | joined by a gallery of Mussolini portraits
---
YOUR LETTERS:
DAVID IRVING'S BOOK NUREMBERG THE LAST BATTLE IS AGAIN AVAILABLE - $40, over 50 photos, many in color [ask for immediate delivery].

PREVIOUS MONTHS | CURRENT DEATHTOLL IN IRAQ and COST
COMING SOON
3 more great books back in print: DAVID IRVING IS PLEASED TO ANNOUNCE THAT THIS YEAR HE WILL REPRINT THREE MORE OF HIS MOST FAMOUS BOOKS; DRESDEN, ROMMEL, AND GOEBBELS

Exceptional opportunity - Authentic paintings by Adolf Hitler from the estates of his friends Gerdy Troost and Lotte Bechstein.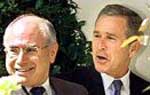 John Howard, friend. Australia's new anti-terror laws "copied from Nazis" - yes, via UK's Tony Blair
Hitler HQ in years of triumph: Soldier's photo album - picture gallery - Part I above.
Part II (below): This gallery depicts a worm's-eye view of life with the platoon. Erwin Rommel (Kdt of the FHQu from 1938 to early 1940) is visible in two of the 120 pictures: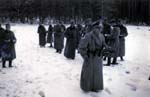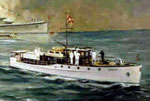 Hermann Göring's luxury yacht, berthed in the Mediterranean, is up for sale.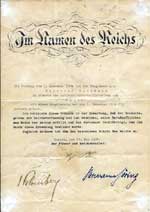 Offers invited for Hitler, Blomberg, Göring document: "auction" about to end, $3,000 offered ... going, going