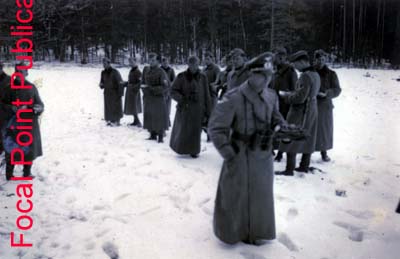 29-01 Probably General Erwin Rommel (foreground), Kommandant des Führerhauptquartiers, and members of the escort unit, location unknown. Click image to enter gallery.

Part II: Index to an album of worm's eye view photographs
1939-1944 life in Führer escort unit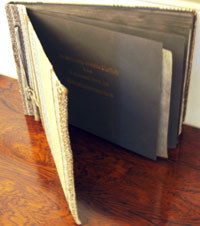 THIS photographic album of life at Adolf Hitler's HQ was purchased by Richard Stannard, a US Civil War buff, at an American auction in 2005. The first twenty pages contain mostly visits by personalities; this second gallery (from the same album) depicts a worm's-eye view of life with the platoon. Erwin Rommel (Kdt of the FHQu from 1938 to early 1940) is visible in two of the pictures in the second gallery.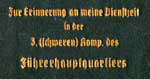 The soldier who evidently took many of the snapshots was perhaps a member of the Führerbegleitbatallion. The first page has an elaborate gilt title: "Zur Erinnerung an meine Dienstzeit in der 3. (schweren) Komp. des Führerhauptquartiers" which means: "In memory of my service time in the 3rd (Heavy) Company of the Fuhrer's HQ." There are also picture of the graves of three comrades, Nov 1941.
We have made high resolution scans of 7 to 10 MB each (where photos have been printed on wartime textured matt paper, the texture shows on the scans). The photos reproduced in this gallery are of course low-resolution versions. The captions are provisional. We invite readers to submit corrections at this link

.
[ Enter gallery ] [Visit first gallery, including visits by personalities to Hitler]

David Irving Photographic Archive