William Blair says, October 18, 2005, a newsreel film of Reinhard Heydrich's funeral proves his popularity with the Czechs.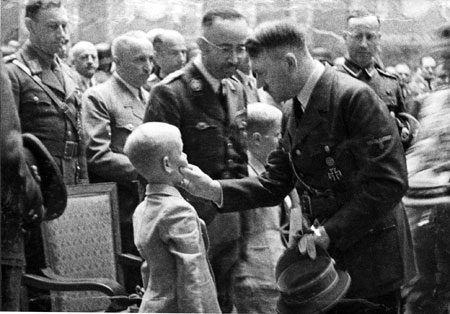 Picture (from David Irving's forthcoming Himmler biography) shows Adolf Hitler consoling the sons of Heydrich, Heider and Heino, at the state funeral in Berlin. Heider himself described to Mr Irving thirty years later the vast throngs of Prague citizens who lined Prague's Wenceslas Square, "the womenfolk wearing mourning clothes and carrying flowers" at the lying in state of his father.
Below: Commemorative stamp issued, showing the death-mask of Heydrich.
How hated was Reinhard Heydrich in Prague?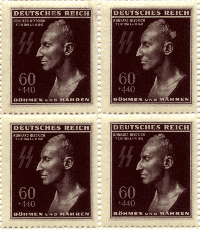 TOM Strasnov, in his letter of October 16 about Reinhard Heydrich, stated that "...the claim that the thirty thousand Czechs therefore mourned his death in Prague is very unrealistic and untrue."
I have a copy of a German newreel (Die Deutsche Wochenshau) of Heydrich's funeral including the official mourning in Prague (Newsreel Vol. 36 of Through Enemy Eyes, readily available from International Historic Films, IHF Film.com).
It shows thousands of ordinary citizens lined up and filing past his coffin in what is described as the Honour Courtyard (Ehrenhof) of Prague Castle. In addition, there is what appears to be a delegation of miners with their characteristic black caps and uniforms as well as groups in native dress.
The film also shows the cortège from the castle to the main train station. The streets are lined with citizens, many giving the Hitler salute. So on the face of it, it would appear that there was more than a little sympathy for the Reichsprotektor.
* International Historical Films Inc., 3533 South Archer Avenue, Chicago, IL 60609 [email: intrvdeo@ix.netcom.com]

Free download of David Irving: Hitler's War
Our dossier on Reinhard Heydrich
Free download of David Irving's books
Bookmark the download page to find the latest new free books