Göring: click for photo gallery from newly found home movie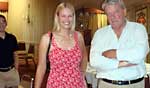 Real History fans meet David Irving in Louisville, Kentucky

Göring's yacht and possessions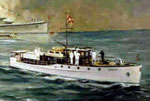 Hermann Göring's luxury yacht, berthed near Cairo, is up for sale. A photo gallery shows the Carin II Collection

of Goering antiques on the boat. These are available for sale. Contact the owner, Sandra Simpson.

The Carin II herself may be sold late Jan 2007. All items can be quickly air freighted to anywhere in the world.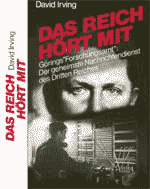 DO WE HAVE A TREAT FOR YOU! Free download of David Irving's pioneering history of the Nazi wiretap and codebreaking agency
DAS REICH HÖRT MIT. Görings "Forschungsamt": Der geheimste Nachrichtendienst des Dritten Reiches (only in German).


David Irving presents a free download of the German edition of The Secret Diaries of Hitler's Doctor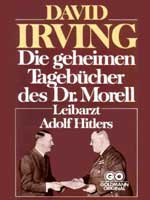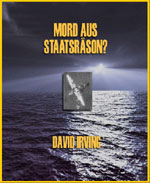 GERMAN EDITION OF DAVID IRVING'S "ACCIDENT, THE DEATH OF GENERAL SIKORSKI"

Lady Renouf tells important friend in Teheran on Dec 12, 2006 about Mr Irving's imprisonment

(140k) New two-page leaflet on David Irving.

Download a free html version of the original 1977 edition of David Irving's flagship work Hitler's War.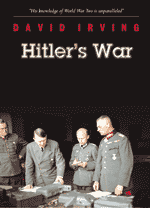 also: GENUINELY FREE DOWNLOAD OF THE LATEST EDITION OF DAVID IRVING'S HITLER'S WAR.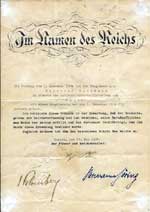 Offers invited for Hitler, Blomberg, Göring document: "auction" about to end, $3,500 offered ... going, going
Click for more Readers' Letters:

| Click above to return to front page
For items on the possible modern origins of anti-Semitism go now to our special ten-year dossier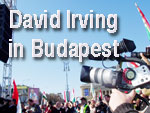 David Irving spoke to 10,000 in Heroes' Square, Budapest on Hungary's National Day, March 15, 2007. [pictures ] [another picture gallery] [speech] [book launch]
OTHER NOTEWORTHY INDICES:
DAVID IRVING: A RADICAL'S DIARY 2005 TO 2009
DAVID IRVING AND THE OXFORD UNION
---

Finally: Decades after Holocaust, Germany asks what it owes Jews - Washington Post. Uh, perhaps: Ask not what...
Still catching up: Daily Mail reveals that Rudolf Höss's daughter worked forty years for Jewish boss in Washington DC | "Their home was decorated with furniture and artwork stolen from prisoners as they were selected for the gas chambers." - Yes, these unfortunates brought their household furniture with them in the cattle cars. We knew of Brigitte all along, she has provided color photos of her Papa in SS uniform as commandant of Auschwitz. As Brigitte Peck, she worked in the Yves St Laurent fashion concession at The Watergate, lived in Edgehill Drive, Alexandria | Sydney Morning Herald
Knows which side his bread is buttered. Prime Minister David Cameron says: "More must be done to preserve the memory of the Holocaust" at a time when "anti-Semitism is returning". So if the Jews misbehave (e.g., Dick Fuld, left, and Lehman Brothers, causing a global economic crisis affecting tens of millions), their 1940s tragedy will always shield them from obloquy? - Cameron promises to give Holocaust Education Trust extra £300,000 per year: they are the nasty little body which indoctrinates British schoolchildren in brutality, and secretly pressured Macmillan Ltd to violate its publishing contracts with David Irving. Oh, and Cameron promises to visit Auschwitz in 2014 - he could more cheaply join our 2014 tour, which may help dispel his grossly exaggerated belief that "some 550,000 Hungarian Jews were killed during the Holocaust". Uh, Dave, doesn't Britain have more immediate domestic problems than these people and their endless wailing?
The view from South Africa: madamandeve.com.za:


---
Once again they are brought out to sell the Daily Mail: Rare colour pictures of Hitler by personal photographer Hugo Jaeger - from the Getty archives
More Daily Mail excitement: "Adolf Hitler's address book discovered in personal collection belonging to housekeeper" - It's that old rogue auctioneer Richard Westwood-Brookes, offering what is in fact just a printed Yellow Pages at a rather ramped-up price | oh, and Westwood-Brookes is also hawking a copy of the famous Karl Wolff letter about Treblinka, and it is another piece of lucrative Holocaust fakery
IB Times UK: Controversial historian David Irving is to hold a talk on SS chief Heinrich Himmler later this month in Newcastle, Edinburgh. The Left threatens usual troubles. A Police Scotland spokesperson said: "Police in Edinburgh will be monitoring the situation and will have an appropriate response if needed."
We said so all along: Former Australian deputy prime minister Tim Fischer slashes "increasingly shrill" Jewish lobby for unfairly criticising the wartime Pope. Calls Israel's "Dr Goebbels" Mark Regev a key figure in campaign to vilify Pius XII | Sydney Morning Herald
Male Holocaust survivors have a longer life-expectancy. Does that entitle them to more money, or less? We are confused.
Who are the Real Haters? ADL's Abe Foxman vs. Internet freedom | His stooge Dov Hikind wants credit card clampdown on those he hates | Foxman attacks Australia
Scathing Die Welt Op-ed calls Wiesenthal Center's Nazi hunt "a farce" - huge billboards in Germany offer gigantic rewards for digging out the last Nazis
Germany's Helmut Kohl "wanted half of Turks sent back" - but who invited them in the first place, and why? He told Margaret Thatcher the Turks "did not integrate well," as of a different culture. That's not hate, that's commonsense.
He will pay price too: Top U.S. General says: "We Pay a Price for Backing Israel"
This new Europe: Czech police charge two with publishing Hitler's speeches 1939-42: publisher, Pavel Kamas, and expert, Lukas Beer: publicity | English translation | Book "says Hitler spoke about Czechs with appreciation, respected Slovaks, sought peace, wanted weapons of mass destruction destroyed, wished sincere friendship with Britain" | and ... the book is pulled from Slovak books
Real History in Hamburg, July 1943: after a devastating firestorm deliberately set by RAF Bomber Command, tens of thousands lie dead in the city streets - a small boy has sought shelter in a fireman's arms, and both are dead. Original photo: Erich Andres / Focal Point Publications
Seventieth anniversary of British firestorm raid on Hamburg which left 48,000 dead: Germany to open bombing-war museum | Until now Germans' own government felt unable to admit the truth. As a Briton, David Irving was able, in 1961, to break the taboo and publish in Neue Illustrierte, Germany, a 37-week series of articles on the "strategic bombing" offensive which left millions dead. Now finally the cowardly conformist historians come trotting along and admitting the same things
Australian compensation claim upheld as Holocaust story believed - in other words, it seemed unbelievable: said he was a Russian Jew, aged 5, who helped SS extermination squad
UK safe again: Widespread distress as genealogists research Kate Middleton and find no Jewish blood after all: The Myers and Goldsmiths in her ancestors were not Jews. Scout's honour. Jewish Chronicle reassures us.
BBC
"Kill the pig": British police charge immigrant Nicholas Jacobs for hacking cop Keith Blakelock to death, in riot on London's Broadwater Farm Estate 28 years ago; was same age as Li'l Trayvon at the time. But his five mob-accomplices escape justice | role of DNA evidence | The Guardian
Ghosts and ghost-writers: More on the supposed memoirs of Hitler-adjutant Fritz Darges
German history journal argues that Rommel was one of the July 20 traitors - uh, "may have been". Die Welt publishes a joyous article. (In fact the journal says there is no final proof either way.) Talk about bending history to suit their frantic needs! David Irving published the real facts 36 years ago.
That'll teach 'em: Germany to take children of "neo-Nazis" into care to stop them being brainwashed - i.e., what the Nazis called Sippenhaft
World Jewish Congress gloats on Berlin hotels' united front against David Irving event | Germany's Die Welt publishes Op-Ed defending his right to free speech | Gedankenpolizei | The Australian
Die Welt: "Beck won't succeed in keeping Irving out of Berlin. We may disdain Irving's person and positions, but he has already managed to expose Beck as a loudmouth, and for that we should be grateful to him." - The location for our Sept.10 Berlin meeting is already firmlybooked, and we thank all those Berliners who have showered us with invitations this last week.
Left: Volker Beck. Did somebody blackmail him to attack Irving?
German "anti-Nazi" newspaper tarts-up the story and literally every single sentence is a lie. Example: "Ein Exemplar von "Pogromoly", das den Holocaust verherrlicht, sei an David Irving verkauft worden, berichtet der Tagesspiegel." ("Tagespiegel reports that a copy of Pogromoly, a game praising the Holocaust, has been sold to David Irving.") - Let's see how long before the world's press picks up on that lie too.
Right: Historian David Irving enters appeal court in Vienna, 2006, after thirteen months held in solitary confinement
More: Berlin Green Reichstag-Member Volker Beck mans up, tells Berlin hotels to boycott David Irving speech -- too late, we are now overwhelmed with private invitations too | [Wikipedia on Beck] | his letter | his appeal | Times of Israel | Berlin Kurier | Süddeutsche Zeitung | UPI | Berliner Zeitung | Taz | but now see a thoughtful Op-Ed in Die Welt | How to book | Others threaten our 2013 visits to "Reinhardt" sites Auschwitz, Belzec, Treblinka, Sobibor, Majdanek, Lublin -- also too late
Took 'em long enough to guess: Sixth person arrested in violent 2012 Chicago mob attack on right-wing luncheon -- and guess what, it's the other Hammond twin - both already have criminal records thanks to Jaenelle's timely ambush in 2009
New German party has its eye on the far-right torch. The torch is Christian Worch. One of the brightest young men we knew in the 1980s. Have not heard anything of him for years. Five years in "free Germany's" prisons have not dimmed his ardour
Jewish and Springer-Press in Germany starts wailing about our September event in Berlin and our tour of the famous WW2 sites in Poland
ADL chief Abraham H. Foxman ($1m a year) forces newspaper to apologize for "Shylock" clue in crossword puzzle, accuses it of perpetuating "classic anti-Semitic stereotypes of Jews as evil and money-hungry," when of course they are not evil
World not safe: The Mystery of the Forest Swastikas in Germany - a message from God perhaps?
"Freedom" in the New Europe: Le Pen loses immunity | France to prosecute her for "racism" after comparing Muslims praying in street to Nazi occupation of France - Mustn't say that
More jail-bait: Polish politician says Hitler unaware of extermination of Jews - Mustn't say that either
Jewish Telegraph Agency logo
As though we didn't suspect something of the sort: Jewish ex-interior minister to be investigated for illegal payment of $400,000 he made to Carlos Telleldin, auto mechanic who provided the car bomb which killed 84 in 1994 Jewish center bombing in Buenos Aires
Springer press and traditional enemies of free speech hope to stop David Irving speaking in Berlin: trotting out the familiar smear
The real haters: Stop shocking our kids about Holocaust, Minister tells teachers
World still not safe? Hermann Göring's train-set village found among Nazi-era relics in Berlin depot
LIFE photo archive releases color photos of GIs and German troops captured in Battle of Normandy in WW2: Fine young men on both sides. The laws of war prohibit the publication of photos of captives, which is perhaps why these were not published in 1944. Click for more
Why us#1? Global expert Deborah Lipstadt slams Holocaust Claims conference leaders over handling of fraud probe
Why us#2? Senior Australian rabbi Boruch Dov Lesches says boy victims may have consented: warns that involving police will "open a can of worms" | Israel's Chief Rabbi Metzger (left) arrested for money laundering, etc
Gosh, and we thought that nice Mr Pollard was the only one: Prof. Kevin MacDonald on Israel and the NSA Scandal | Technical director in NSA Operations Directorate secretly gave Israel advanced analytical and data-mining software
Daily Mail belatedly comes round to our view: Could there be anything more twisted than these Holocaust fantasists? Dumpster-diver Guy Walters believes it encourages extremists who deny the holocaust ever happened. He dredges up stories we have published over recent years.
Paula Deen makes public apology, but still fired by Food Network for calling a spade a spade
We knew that, and he knows that; but do you? Russian President Vladimir Putin made a historic admission during a visit to the Jewish Museum and Tolerance Center. He said that the decision to nationalize Schneerson library was made in the 1920s by the first Soviet government, "80 to 85 percent of whose members were Jews"
Bernie Madoff's UK unit was "warehouse for stolen money" - says liquidators' representative in British High Court: QC says U.K. firm "should have known"; it made fraudulent payments to Bank Medici founder Sonja Kohn for worthless "research" and other tricks
U.K. Holocaust Centre receives £500,000 Lottery award. Is there no end to the madness? Will they never ask themselves, Why us? What on earth had this tragedy to do with the Brits?
Hollywood's Creepy Love Affair with Adolf Hitler, in explosive new detail: movie moguls collaborated with Nazis, tried to avoid upsetting Germany
Netanyahu opens Auschwitz Holocaust Exhibition: Based on 6,000 children's drawings from around the world, it replaces a communist-era display which most visitors have disgracefully "chosen not to enter": They must now be marched through it, like schoolchildren; which most are anyway
Left: Autographed portrait of Rosenberg
given to David Irving by his chief aide, Koeppen
Holocaust Museum and Homeland Security find the missing Alfred Rosenberg diary | Jewish Review | The Star | Daily Mail | David Irving was way ahead of them; he searched for the missing Rosenberg Diary for forty years; he established that the (Jewish) lawyer Dr Robert M W Kempner stole it from the Nuremberg courthouse. But Kempner denied it to him, and when he died it was not in his effects. He had given it to his mistress, who lived with N.Y. academic Herbert Richardson. USHMM says diary proves established historians wrong (but does not say over what). See: Whatever happened to the Papers of Rosenberg? | Bucks County Courier Times, Pa., reported in 1999 that Richardson had removed them | Our dossier on Kempner | and a list of the files he stole, which we inspected at the salvage collector's home in Philadelpha in 2001 (and recommended should be acquired by the US Holocaust Museum) | Reader's Letter | Oddly, Kempner had secretly warned the FBI against David Irving. So who was the real crook? | Now Homeland Security and the FBI have swooped on Richardson's home at Amherst near Buffalo and seized the diary: world safe again
Roots of anti-Semitism: Israeli Speaker Yuli Edelstein writes to his Jewish London counterpart, House of Commons Speaker John Bercow demanding punishment of British MP for calling an Israeli soldier a "bloody Jew." We wonder if a British MP would call for somebody to be "punished" for calling him a Bloody Brit?

Eva Braun's brave last letters from the Führer Bunker surface once again: nothing really new, however, as David Irving found and published them in 1977 | German author also suspects her diaries are in the USA | well, she might like to research here about that too

Holocaust survivors call for independent probe of multi-million dollar fraud at Claims Conference. Why are we not surprised?
: Sneaking into Hitler's Bunker - SPIEGEL publishes fascinating images of the last days of his bunker
A List of all Mr Irving's Books and their publishers [Buy David Irving's books][Free book downloads][Buy Videos]