BRITISH HISTORIAN DAVID IRVING was ambushed by eight Austrian Staatspolizei (Stapo) officers at gunpoint on November 11, 2005 when visiting Vienna to speak to university students on Adolf Eichmann, Joel Brand, and British code-breaking revelations.
The arrest warrant had been issued 16 years earlier, November 8, 1989, at the written demand (Anzeige) of a Communist-front body, the Dokumentations-Archiv des Osterreichischen Widerstands (Document Center of the Austrian Resistance), issued the day before, as court records revealed. Mr. Irving was charged under Austria's 1945 "Verbotsgesetz" (Banning Law) with having uttered illegal opinions on history at a 1989 talk. On February 20, 2006 at a show trial staged in Austria's largest criminal courtroom with 200 spectators, he was sentenced to three years in jail. His lawyers triumphed in the Court of Appeal and he was released on Dec 21, 2006 after 400 days in solitary confinement in Austria's oldest jailhouse.
---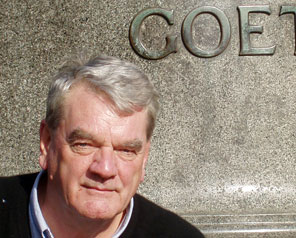 David Irving, photographed in Vienna on Nov 11, 2005, two hours before he was arrested for an "opinion-crime" committed sixteen years earlier
---
Index on Austria's relations with David Irving
Mr Irving's arrest on Nov 11, 2005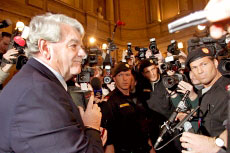 Show Trial in Vienna, Feb 20, 2006
IMPRISONMENT 2005-2006 awaiting appeal
Mr Irving's appeal court victory on Dec 20, 2006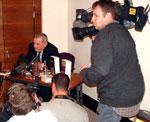 PRESS CONFERENCE, London, Dec 22, 2006 and aftermath

Contributions for Mr Irving's legal battle should be made via our Secure webpage. Contributions to the "David Irving Fighting Fund" can also be mailed to PO Box 1707, Key West, FL 33041, USA; or to Bente Hogh, 50 Sloane Street, London SW1X 9SN, UK. Mr Irving will personally acknowledge all. [Become a regular monthly supporter].