David Irving's Buch:

Mord aus Staatsräson

(English: Accident. The Death of General Sikorski)

is now available as a Free Download on this Website
in Adobe Acrobat .pdf format (1.1MB)
It can be read by Acrobat Reader, in a printable and searchable form (see panel below). We are once again indebted to Linda Nelson of Chicago for the skilled prepar ation of this pdf file for the Internet.
---
---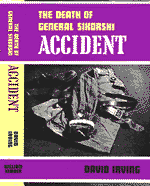 English edition (original 1967 edition)
See Appendix III of Churchill's War, vol. ii: special download [36k]