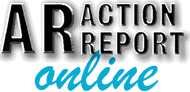 We announce a special deal for our UK friends.
Irving Books.com offers to UK customers two David Irving flagship biographies for little over the price of one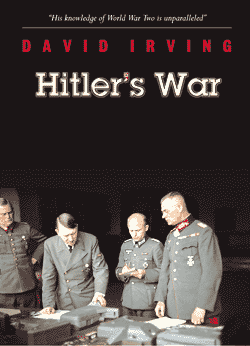 Hitler's War and Goebbels,
Mastermind of the Third Reich
Autographed and shipped to UK addresses for a total of £40 (plus £10 p&p) when purchased together.
This offer is available only to customers in the UK.
»» Click: Tell me how to get it
CONTINUED

Video of Tinley Park (Chicago) terrorist attack on Whites by left-wing gang
Max Hastings: I've always loved Israel but this brutality breaks my heart | Mike Carlton in the Sydney Morning Herald writes: Israel's rank and rotten fruit is being called fascism - and David Irving comments: And still they ask, Why Us?
BBC News: Mussolini's Rome bunker to open to the public
But who controls the media? Ronnie Lauder (World Jewish Congress) blames world media for fanning anti-Semitism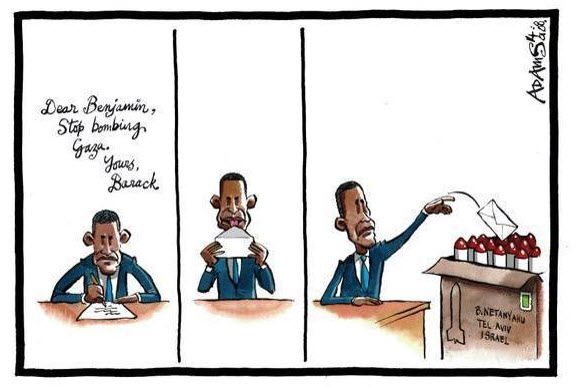 Meanwhile, Real History seeps through: Jesse Owens carried a picture of Hitler in his back pocket because he treated him better than FDR
Parliamentary pædophile scandal rocks Brittan, uh, Britain | Wikipedia's Brittan pædophile dossier says he was born to parents of Lithuanian Jewish descent, whatever that means| now see the Lord Janner case, below
Zehn Monate Haft fuer Holocaust-Leugner. Still at it in Germany: Female judge jails 78 year old for questioning number of Jews killed in Auschwitz, elsewhere
Never forget: In July 1988 the United States took down an Iranian civilian A300 airliner with a naval missile, killing 290 including 66 children, and Israel shot down another airliner over Egypt.
In Jan 2003 G W Bush and Blair plotted starting a war with Libya on the same pretext. Neither has yet been charged as a war criminal
Police Net Closes on Lord Janner: Police raid his offices in Parliament, seeking computer evidence re alleged child sex abuse claims of former top British Jew (and Irving-hater) Lord Janner | Off the hook? Then miraculously for Janner the investigation is halted - The peer (unnamed here!) is declared too old, and "suffering from dementia" | But 93 year old Nazi war criminals are not so lucky
BBC latest on chairman of the Holocaust Education Trust, Lord Janner: | "Child sex abuse allegations" | Police raid his Hampstead home. His lawyer admits that Janner, long-term Board of British Jews president, is "assisting police" with inquiries | Police ignored reports of Janner's quarter-century of sin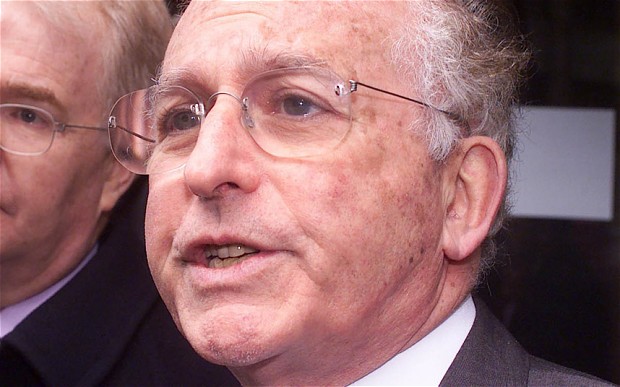 EARNING THE CURSE OF IRVING: Back in June 2002 Greville Janner gloated to The Sunday Telegraph, upon learning that after the Lipstadt trial the authorities had now seized Mr Irving's Mayfair, London, Irving's family home of 38 years, together with all his archives and possessions: "I am pleased that justice has caught up with him. He deserves everything he gets." He gloated publicly again when Austria imprisoned the historian. - We Christians feel sorry for Lord Janner now that justice is catching up with him. He actually deserves more than he will get.
Wrinkled Jewish cornucopia drying up: To high praise from billionaire Ronald Lauder (World Jewish Congress) and Ephraim Zuroff (Simon Wiesenthal Center) Germany arrests ex-Auschwitz medic, aged 93 - German Court doctors have determined that the man is well enough to stand trial and serve jail time
New Zealand's malls boot out kiosks selling Dead Sea beauty products - a repellent Israeli scam: Jewish staffs were also working illegally
"Why us?" Robert Fisk fury at B'nai Brith for claiming that almost four million Canadians are afflicted by this "disease", anti-Semitism
Mystery deepens: Bodies found of three kidnapped Jewish settler students | Gangs in Rome take violent criminal revenge. Eight in hospital after two incidents
Putin signs law imposing prison terms for Internet extremism
Historic or Offensive? eBay Bans Göring's Mercedes
UN Racism Expert Condemns Holocaust Denial
How British Intelligence tricked Roosevelt and the US into WW2 with fake "Nazi" map. We revealed the story twenty years ago in our Churchill biography, Churchill's War - and so did Herbert Hoover in Freedom Betrayed, now published at last
Frabjous day: Killers capture, execute notorious Iraqi judge who sentenced Saddam Hussein. Bet he never saw that coming | more | Saddam avenged by ISIL – See the good answer to Bush's "poison gas" lie
New chapter in never-ending Kill-Hitler saga: "I tried to kill Hitler so my mother and sister would finally be free" – Germany gives author medal

The New Europe: Germany's second attempt to ban right-wing Nationalist Party NPD gets under way
Why don't they want us to read it? A Dutch antique book seller sold book, Mein Kampf, and faces six months in prison, €7,600 ($10,300) fine, "following a complaint from a Jewish group" [2] [3]
Mystery death of top Latvian lawyer, WW2 historian whom the Jews hated | US ambassador's secret warnings on his book: "The Jewish community, political parties with strong Jewish support and the Israeli Embassy here all are stumped by how best to discredit the book without actually increasing its prominence."
"Why us?" or, Why Holocausts happen: A [hedge fund titan] may bankrupt Argentina. Cristina Kirchner, Argentina's president, calls New York multi-billionaire Paul Singer "a vulture", which seems to us like naked, uh, um, um, um
Court permits Germany's "neutral" President Joachim Gauck to describe rightwing party as "loonies" – Sounds to us loonies as if the inmates are getting it both ways – both running the asylum, and granting it
Nazi book full of Enigma codes sold for £87,000 - (At a glance, it does not look like an Enigma codebook but a table of short forms of U-Boot map-position codes, like tiny-URLs). But hey, that's still big money
World Jewish Congress instructs Canberra to ban British bishop for his opinions: Catholic bishop Williams faces Oz travel ban | Jewish boot on throat, Canberra obliges, cancels visa. (Now, about that question, Why Us?) | and since we are talking about Catholic Bishops, did we mention that the Mother of Cardinal O'Connor of New York turns out to have been a Jewess, the daughter of a rabbi and butcher.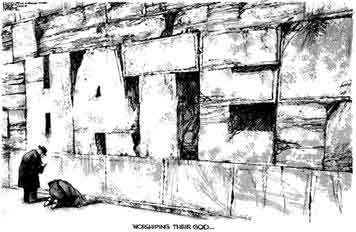 Like Madeleine Albright, O'Connor "apparently" never knew; but it sure blows his chance of beatification

Greek minister: Golden Dawn party should be banned – that's democracy at work | A Big Pink Yawn: The Guardian hates Golden Dawn
British thought-police arrest small publisher over Anne Frank mail: house searched, computers seized
Bodleian Library, Oxford, releases secret war diaries of Lord Harcourt, a Cabinet member, 100 years after they were written – vitriol about "mad," "warmongering" Winston Churchill in 1914
The Holocaust: the gift that keeps on giving. Weak German government approves £275billion payout for "survivors" – meanwhile all Europe still pays for the global thieving by Dick Fuld & Lehman Bros
Hard to believe, were it not a Jew making these remarkable claims ( would it not be anti-Semitic to say otherwise?): Amazing plot of Jewish inmate to kill Adolf Hitler by derailing his train (he also "survived being shot at by Schindler's List commandant"). Alas, the gullible Daily Mail has now switched off comments; some were pretty caustic
Adolf Hitler's old desk (that's it – the one where he planned the Holocaust) has been discovered in Berlin. Yawn – photos show it is a fake; and how did those clever Americans get to loot big stuff out of the Soviet-controlled Hitler bunker, anyway?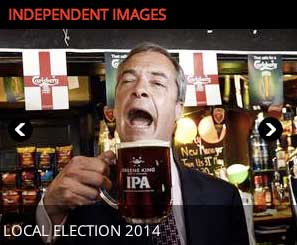 Nigel Farage (UKIP), we all love you, but for God's sake never be photographed with a drink in your hand – every politician knows that»»
Czech book with Hitler speeches is a hot potato
Master-Hacker Sabu walks free. Helped catch violent Leftist thug Jeremy Hammond
FBI Chicago told us in 2009 that they regarded Hammond, arrested thanks to Jae's ambush, as a prize catch. It is only a matter of time before we will find Hammond released from his ten-year jail sentence and working with the US Government. A nasty piece of work, but clever
Yes, they had to identify him securely first: Obituary, David Knee, who saw Himmler's body at Luneberg Heath: "On his return to Lüneburg, Knee saw the body of Heinrich Himmler who, having been taken there for identification, had committed suicide"
---

DAVID IRVING, A Radical's Diary: On the December US tour; the world is teeming with crooks. Chicago thugs wreck our restaurant overnight to stop my talk. Visit to a huge world-class WW2 museum hidden in New England; photo raises a question about Tojo's shooting. I'm not gone yet. New Zealand lets Germany decide who enters. The paunchy Australian, and a British kerb-crawler. The Pigmobile's alternator. TV billionaire Jeremy Clarkson helps himself to my "Convoy PQ17" book. Crooks, crooks, everywhere.
My bar is my castle: Internet outrage as pub landlord in Hitler birthtown Braunau demands customers speak German | Hitler's birth house to become immigrants' centre – Europe goes immigrant-crazy: The historic house will be turned into an "integration centre" for migrants | Was it not enough to turn millions of immigrants, the Tamils and the Turks, loose on postwar Germany? Who, and what, is behind this multi-ethnic lunacy?
Not for war crimes? Former Israeli prime minister Ehud Olmert jailed for six years for corruption | Outrage latest: Complete lack of humour over students' Nazis/Jews drinking game. Where is Mel Brooks when you need people able to laugh at themselves? | Are they happy now: Nineteen million Germans have "anti-Semitic" views – but see what qualifies as anti-Semitism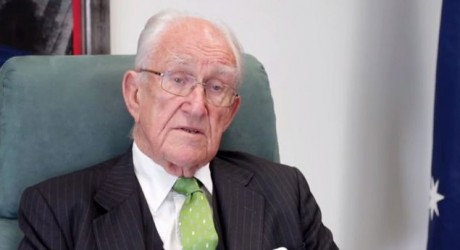 Former Australian prime minister Malcom Fraser (left), says Israel deliberately bombed and strafed the USS Liberty in June 1967 - Billionaire Mark Leibler, the outraged national chairman of AIJAC, calls it a "mad, demented conspiracy theory" | Snowden Document implies NSA is putting Israel's security ahead of America's | US officials: Extent of Israeli spying on US is "shocking"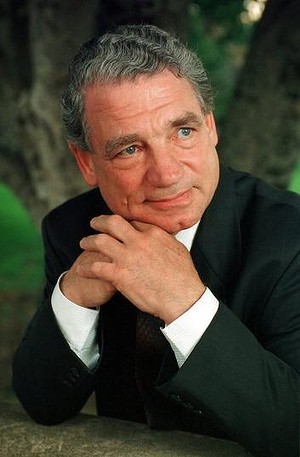 Free speech: Frederick Toben (left) backs George Brandis' plans for new Australia discrimination law
And about time too: Canada to get National Holocaust Monument, by the folks who designed the 911 memorial at Ground Zero. See any connection? Canada's taxpayer millions at work
ASSHOLs* latest: Woman who fabricated bizarre Holocaust memoir – she "slept with wolves" – must forfeit $32.4 million judgment [* ASSHOLs: Association of Spurious "Survivors of the Holocaust" and Other Liars]
Holocaust assignment. ADL splutters with outrage as California School District asks students to research and argue whether or not they believe it happened
Daily Mail publishes more photos from inside Adolf Hitler's death chamber (the original bloodstained couch fabric is now in a secret Boston, USA, museum) | Despite all they could do: Germany's interest in Adolf Hitler at record levels | How Germans have fallen back in love with Hitler
How British prime minister David Cameron woos Jewish voters, overlooks the British: The Holocaust Industry in the UK - millions spent in British taxpayer money for somebody else's crime, and the money goes to the hatemongers and bigots at the "Holocaust Educational Trust" established by Greville Janner (below) | Pandering to the Jewish vote, British prime minister David Cameron appeals for every "Holocaust survivor" living in Britain since the 1930s [sic] to come forward | Says "I am awestruck by Holocaust survivors" (Too easily awestruck, that Mr Cameron)
Adolf Hitler's Liverpool (UK) half-brother surfaces in Britain's 1911 census archives
Martin Heidegger: the philosopher who fell for Hitler: He described Jews as opposing the Nazis' racial theories despite Jews "having lived according to the race principle for longest" | Famous philosopher's notebooks reveal dangerous antisemitism: saw "world Judaism" as dehumanising modernity, fighting its wars by bloody proxy; so now he must be debunked
World safe again: "Tea Cups with Hitler's Image are investigated in Germany" We thank goodness for this German vigilance. Or: T'was a storm in a ...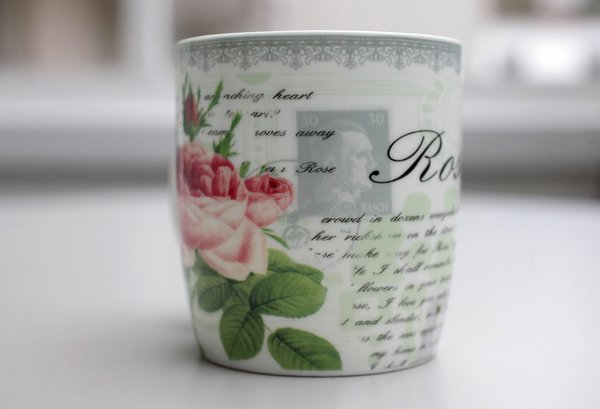 Australian foreign minister Bob Carr publishes diary, reveals "extraordinary" influence of Jewish lobby on ex-prime minister Gillard | Outrage of Mark Leibler (below), boss of the Australia-Israel Council | Leibler calls Carr inaccurate, bizarre (oh, and don't pronounce him Libeller, always "Leebler")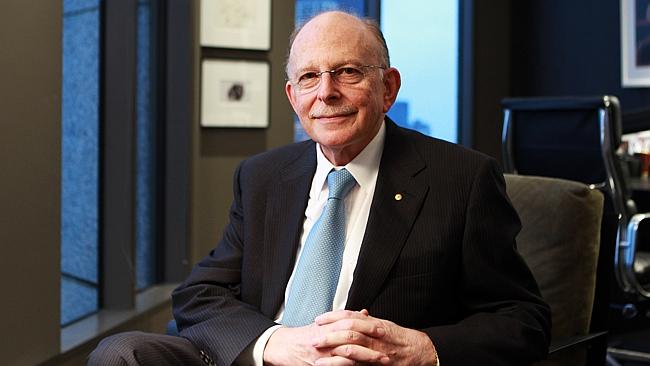 National Geographic TV channel dumps "Nazi War Diggers" programme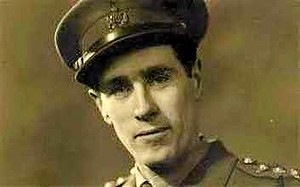 Obituary of Jerry Roberts, brilliant British cryptanalyst who broke the codes of Himmler and German High Command
Traditional enemies are outraged at Australia's proposed law to protect free speech: call it "deeply flawed" | Sydney Morning Herald mocks, "Locked in a war of words to define free speech" - And in comes the Holocaust, as "Survivor" Moshe Fiszman squawks his protest at free-speech law | Free-speech law a "colossal mistake," say Australia's Zionists | And an obsessive Irish Jew whines about own his "right to be a bigot." Why do they always regard Free Speech as a threat to their interests?
Daily Mirror gasps: British TV Channel Four buys lock of Hitler's hair from David Irving in "sick and tawdry" stunt. (In fact he loaned them the hair, right, for DNA testing; the payment was for the interview filmed in North Carolina) | Independent | Israel's Ha'aretz whines that Ch.4 paid Mr Irving 17,200 shekels. "What are they worried about," he says : "It's not as though I've used the hair-lock to make a Hitler clone." | Then: Broadcaster alleges Mr Irving sold them a fake | Jewish Chronicle chortles: hair sample is fake (he hopes the shekels were genuine) | Daily Mail says "David Irving goes to war over the Führer's missing hair"
Daily Mail publishes 1950s color photos of Dachau concentration camp – "gas chambers" and all: which even conformist historians now concede never existed there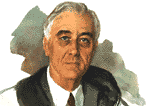 Did nobody like them? How U.S. Historians (Schlesinger!) covered up FDR's Anti-Semitic remarks (We never did: FDR's talks with Molotov | Michael Beschloss on FDR and the Jews | Famous People write in Private about the Jews)
Unseen Hitler paintings: Inside the US Army's spectacular hidden treasure room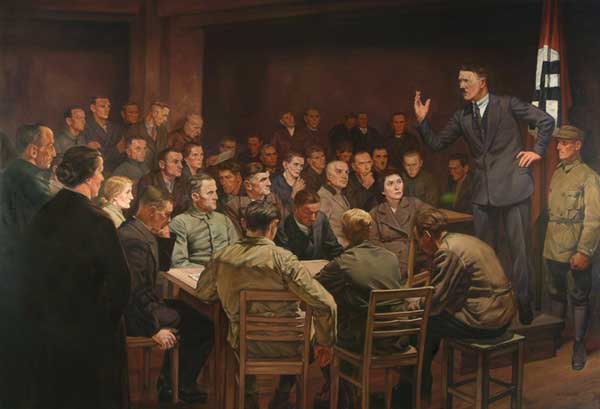 One of the looted, hidden paintings. Women added as an afterthought?
Great Shakedown continues: French Railways hit for billions for transporting Jews to "the East"

Thugs admit they are at a loss how to stop David Irving, after their Dallas stink bombs do not work
Jewish biter whines that he got bit: US historian's distress over junked book - Random House decides not to risk smearing David Irving as a "denier", shelves US professor's book (and he had spent weeks writing it)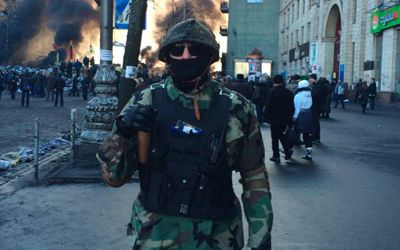 The puzzle grows: Camouflaged Israeli soldiers spotted on Kiev's Maidan Square (so what exactly is happening in Ukraine)? A Key to Understanding the Crisis
You just gotta welcome them: Greek doctor arrested for "Jews Not Welcome" sign. So it's official now – cold-shouldering is unlawful
British release secret files: They reveal ingratitude of French president de Gaulle – the strange case of Admiral Emile Muselier, arrested by British for treason, on evidence forged by de Gaulle – we had the Muselier story in our 1987 book Churchill's War: The Struggle for Power. (Then Churchill tried to assassinate De Gaulle, which may have miffed him)
Essex (UK) County Council is asked why there are swastikas carved on one of its buildings; expert explains that it is an ancient symbol of peace: we would have thought the English county's three Crusader-swords emblem would now be more problematic
Outrage as morons deface hundreds of copies of Anne Frank's Diary in Japanese public libraries (or is it a publicity stunt?) But no outrage as UK gangs vandalized thousands of copies of David Irving's Hitler's War in Waterstones bookstores as a warning not to sell Real History. — Or when Jewish thugs ripped up his books in Minneapolis a year ago (pictures below).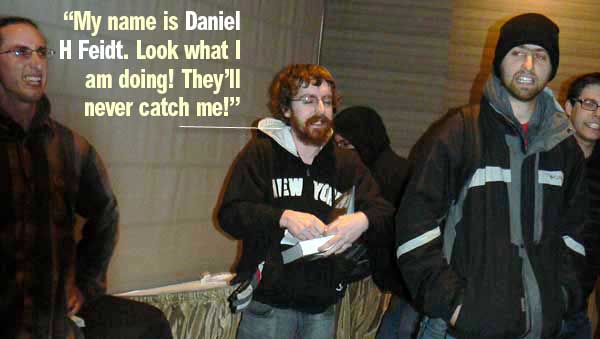 A Jewish thug rips pages out of David Irving's 1,000-page biography of Winston Churchill.
Below: Clearing up the mess after the fifty thugs left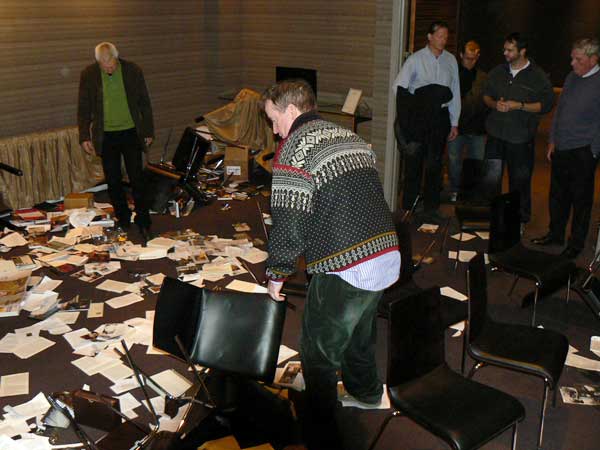 Daily Mail publishes haunting images of abandoned wards where Hitler recovered after being injured on the Somme in 1916
Süddeutsche Zeitung accused of anti-Semitism for cartoon depicting Mark Zuckerberg as big-nosed octopus - which prompts Jews to argue that his nose isn't that big: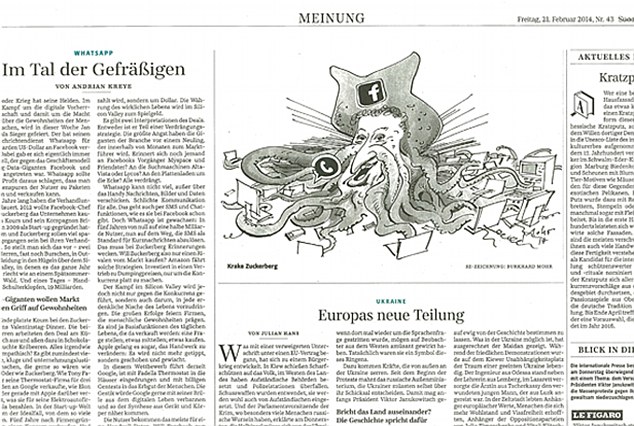 Leading US Jewish publication Commentator warns of the power of the free-speech Internet. "It is now much more difficult to have the capacity to monitor published words." Yes, the Internet is out of control
Greek democracy: Judges want to arrest nine more lawmakers from "Nazi-inspired" party Golden Dawn. And the pretext is...? "The crackdown started after fatal stabbing of an anti-fascist musician by a Golden Dawn supporter in Athens." A supporter? No, we don't make these things up
Denmark orders final but humane solution: Outrage after halal and kosher slaughter banned in Denmark
Polnische Wirtschaft: Adolf Hitler to keep honorary citizenship of Stettin
Precursors of another Holocaust: "Americans speak out about 'Israelification' of the USA"
Jewellery-deniers: "My family managed to save their jewellery as they fled the Holocaust [in March 1939] ... then Barclays lost it all and denied it was ever there," says author Tom Bower - but in his favour Bower highly praised our Goebbels biography (and did not mention the late Dr Goebbels' shameful lack of jewellery)
Free speech: Budapest say Jobbik - Hungary's third biggest party - can hold rally wherever it wants. Traditional enemy threatens violence to halt it
Jews ruined Russia in 1917 and 1991, says politician from Putin's party | Patrick J. Buchanan asks: "Is Putin One of Us?" – and we recall that in June 2013 Putin chided scandalised Jews for having formed 85% of the Bolshevik terror-leadership | They are still outraged, wanted it forgotten
NBC News: John Kerry's brother reveals: "We're Jewish," and says John's not Anti-Semitic. Kerry claims it was a "revelation" when he learned in 2003, shortly before he ran for president, that his grandfather changed his name from Kohn in 1905. (Hmm. Remember his predecessor, the Czech-born Madeleine Albright, who claims she learned her family Korbel was Jewish only in 1997? Ignorance goes with the job?) | Flashback: Kerry's "Watergate Burglar" brother
Vae victis: Last photographs of Hitler's men before Spandau jail, 1947, published for the first time
Military expert Craig Gottlieb of TV's "Pawn Stars" uncovers Mengele's 1948 passport: will donate it to a Holocaust museum; smart move that. Or did somebody just paste the photo into some Italian sucker's passport? | ... and as we predicted, it is a forgery: the photo was taken in 1956, lifted from Wikipedia! Click to read the whole cautionary tale at this link
Not enough hatred in the Himmler letters: Wiesenthal Center bleats, "Love letters from Himmler should not diminish horrific crimes" – Meanwhile, The Daily Telegraph reports that David Irving has found the letters that Heinrich Himmler wrote to his Mistress, Hedwig P.
Cool killers, Hot documents: Die Welt admits that the crooked Israeli diplomat Chaim Rosenthal was the source of its stolen letters, but conceals the ugly truth (for which, see this page, below). Back in 1982 the Montreal Gazette already revealed the lying diplomat (and "Holocaust survivor") Rosenthal as the source. Go to Die Welt's Chapter 8 - click through and scroll down, to see the pro-Israel newspaper's soft-shoe shuffling round the truth:
Was wir genau wissen, ist: Das Material war 40 Jahre im Besitz eines Mannes namens Chaim Rosenthal, ein israelischer Juden aus Tel Aviv. 40 Jahre lang lag dieses Material in seinem Schlafzimmer unter dem Bett. Rosenthal war besessen von diesem Fund. ...

Wissen Sie, wie Rosenthal an das Material gekommen ist?

Er erzählte uns, dass er das Material auf einem belgischen Flohmarkt in den 60er-Jahren gekauft hatte. Das klang unwahrscheinlich. Eine andere Theorie besagt, dass ihm das Material in Los Angeles angeboten worden war. Rosenthal hatte dort eine Zeitlang als eine Art israelischer Kulturbeauftragter gearbeitet. ... Ich nehme an, Rosenthal bekam das Material in Amerika. Genau werden wir es nie erfahren.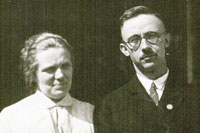 Die Welt publishes the 700 letters which Heinrich Himmler meekly wrote to his wife until 1945. The stolen letters – embezzled by Chaim Rosenthal, the mendacious consul for cultural affairs at the Israel Consulate in New York (died 2012), from a gullible New York Englishman – are in private hands in Israel | English text | Ha'aretz | New York Times
WE were on their trail for thirty years. Viennese-born British publisher George Weidenfeld was offered them in the late 1970s, but decided against publication: Why? The late Judith Moses, a talented reporter of ABC TV, was also hot on their trail. She told us in London in 1983 of how she had identified the thieving Israeli, Rosenthal: A Briton had bought the letters at a New York auction. Rosenthal "borrowed" them and fled with them to Israel. A year later they were still hot, but "owned" by Riki Schelach, of 45 Amishav Street, Givatyim, 53488 Israel. In March 1984 Schelach had them authenticated by the Bundesarchiv, German Federal Archives. We have seen the BA's report. We resumed the hunt in 1989 and contacted Judith Moses again.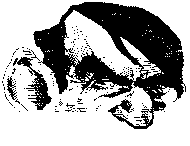 ---
David Irving, a Radical's Diary: WHO STOLE THE HIMMLER LETTERS?
February 6, 1989 (Monday)
Key West

11:30 a.m. Judith Moses (now on the National Geographic Magazine) phoned from N.Y., returning my call. She said that the University of Tel Aviv, disgusted, gave back the Himmler diaries to Chaim Rosenthal, the "sleazebag" [when they found out that he had] embezzled them, and did not want anything more to do with them. She has a file on this in her basement which would take a couple of days to get at. Rosenthal is now persona non grata in the USA. He phoned Gudrun Himmier, recorded her secretly, and broadcast it on Israeli TV. JM's language about Rosenthal was lethal. She says that Tamany Allen-Frost, Anglo-Israeli wife of Peter Allen-Frost of ABCtv, Tel Aviv, is a fine researcher and would be able to track down Rosenthal easily for me. A law firm has taken on the case pro bono (JM knows the name) (for whom?)
Why have the Israelis, the Bundesarchiv, and Die Welt kept the letters secret until now – like the Rosenberg diary? Because the letters do not support the established story, perhaps – they support what we call Real History?
Arrest that newspaper!: Die Welt reports: "No direct and few indirect mentions in the [700] letters between Heinrich and Marga Himmler of the Holocaust and the other crimes of his SS machine." [Im Briefwechsel zwischen Heinrich und Marga Himmler gibt es keine direkten und nur wenige indirekte Hinweise auf den Holocaust und die anderen Verbrechen seines SS-Apparates.] – Ouch. After spending all that money, too.
---
Why us? The Occidental Observer offers an answer: "The War on White Australia Continues"
Nazi death camp museum worker, five others, charged over anti-Semitic posters: "Zionists Leave Lublin". He worked over 20 years as graphic designer at the museum at Lublin's Majdanek camp | and the Daily Mail's spin on it
They're happy again: Russian Jewish Congress says Anti-Semitism on the rise in Russia
Another disgraceful squabble brings discredit on a valuable Holocaust brand-name and franchise, Anne Frank: Two rapacious rivals at eachother's throats. "In 2015, it will have been 70 years since the Nazis murdered Anne Frank..."- Uh, hello? You wish! Poor Anne, God rest her soul, died of typhus

Canada has "moral obligation" to support Israel against Palestine, stop anti-Semitism: says Canadian minister Jason Kenney - and watch his guilt-ridden, shifty-eyed body-language | Canada's Freedom to Read Week: Ontario libraries still free to carry David Irving's Hitler's War, despite (anonymous) complainant. That's how the traditional enemies do it. Smear and silence. And vi'lence

Online surge of Hitler's Mein Kampf may fuel new wave of hate: WJC expresses outrage to Amazon
World safe again: Gottfried Küssel loses Vienna appeal: but Austria slices a few months off his nine-year jail sentence for objecting to politically correct history
The Daily Mail's dumpster-diver Guy Walters belches a bucketful of journalist bile from a safe distance - "The Fascist Historian and Me" - and misses his target by a mile
Pot calls kettle: Outrage at Hungary Nazi commemoration for failing to address complicity. But the Nazis couldn't have done it in most places without the collaboration of the local Committees of Jewish Elders
Dusk for democracy. Greece imprisons two Golden Dawn MPs for belonging to "criminal organisation" – without trial?
Writer who praised Stalin, blind-eyed Soviet holocausts. Leading Marxist historian Eric Hobsbawm leaves £1.8million estate | Real Historian stumbles upon some real history in US embassy archives: US Army colonel says that in 1943 Germans invited him to witness exhuming of thousands of Polish officers massacred by Reds at Katyn. (Their death warrant was signed by a Moscow Jew) | More...
The truth about Denis Matyjaszek, aka "Denis McShane", the disgraced Labour politician and friend of that sh*tty little country in the Middle East: Duplicity, Double-Think, and the Dream of a Communist Europe
... and "about time too": Google Maps shows Berlin has an Adolf-Hitler-Platz | Daily Mail | Washington Post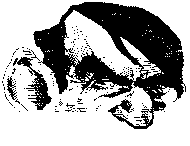 ---
David Irving, a Radical's Diary: BBC broadcasts a thieving film on Convoy PQ17. David Irving: "At least half of [Jeremy] Clarkson's script and storyline is anonymously quarried from my book" |

See Clarkson's BBC film on YouTube |
Compare with David Irving's book (free download) | The Sunday Telegraph: Jeremy Clarkson's BBC show in battle with Nazi historian: Clarkson admits he did read the book
---
Should be a real money-spinner: Alfred Hitchcock's lost Holocaust documentary to hit TV | But see the Jerusalem Post on the Great Shakedown: Holocaust Claims Conference "faces credibility challenges" (shock, horror, frank disbelief)
Brown smut? Adolf Hitler's Mein Kampf tops eBook charts – like 50 Shades of Grey

UK Education Minister slams "Left-wing" Professor Richard "Skunky" Evans for distorting WW1 history: The Skunk (left) trousered over a million to testify against David Irving in the Deborah Lipstadt Trial
A new thought-provoking study by Mark Weber of the IHR: Anti-Semitism: Why Does It Exist? And Why Does it Persist? Meanwhile, Lipstadt wants more people imprisoned for saying what they think
Robert Henderson offers a true assessment of the economic costs of mass immigration: does Britain really benefit?
The Long Search for Alfred Rosenberg's Stolen Diaries. A Brief Memoir by David Irving. Illustrated. Free 18pp download. (PDF, 0.8MB)
GREVILLE JANNER: IT WAS KNOWN FOR TWENTY YEARS David Irving says: "What took so long? Time and again the authorities have been told about these high profile villains, but hesitated. Back in 1994 I was informed fully by Sid Chaney's samizdat circulars about Greville Janner and his paedophile perversions. At this rate, Gerald Gable of Searchlight will be next to have his collar felt – again." And Mr Irving warns, "Grev., us real historians don't find prison enjoyable. Believe me, convicted paedophiles certainly won't either."


Friday, October 19, 2007, Windsor (England): "I get a call from the Oxford Union about their forthcoming event. Lord Janner has phoned them, pleading with them not to invite me, shrieking that they are all anti-Semites, and horrified that Oxford would even contemplate it. I reply that it is odd that that old pedalist [paedophile] Greville Janner should accuse me of anti-semitism too, as he was the chief of the odious Board of Deputies of British Jews, and their secret 1992 report states clearly -- as did the ADL's early Intelligence about me -- that I cannot be called an anti-Semite. Of course if they keep coming at me with their fists, then I may yet turn against them."





The Thieves of Real History: U.S. Holocaust museum gets long-lost private diary of Alfred Rosenberg, Hitler aide, stolen by Allied lawyer from 1945 Nuremberg tribunal | Museum's improbable version: lawyer Robert Kempner "had permission" to steal documents for research purposes | USHMM transcript of 420pp diary, page by page | David Irving on the Long Search | We post a complete user-friendly transcript (pdf) | Now see our related stories - and use our website search engine on "Kempner"

DAVID IRVING writes: The Museum's accompanying texts tend to play down the fact that the German-born Robert M W Kempner stole and squirreled away these and other vital documents for over sixty years. Yes, very helpful to researchers. I know of at least four, including Dr Elke Fröhlich, Professor Dr Helmuth Krausnick, and Dr Anton Hoch of the Institut für Zeitgeschichte, and myself, to whom Kempner flatly denied over the years that he had the Rosenberg diaries.
Under the Hague Rules of Land Warfare they cannot legally be removed or looted if they were personal diaries. (It took a Presidential Executive order by Harry S Truman to "legalise" the theft of General Alfred Jodl's diaries). If they are official, e.g. unit war-diaries, then they can be seized. It certainly cannot have prospered Rosenberg's Nuremberg defence to be deprived by theft of his own voluminous handwritten private diaries.
Landmark history ruling by the Strasbourg court: Says there can be no consensus about war history, least of all about holocausts: Geschichtsschreibung sei grundsätzlich umstritten | English translation
Filthy rich? What, us? Jewish refugee's heirs: Australian museum's painting is a $5M Van Gogh – and "ours" | Times of Israel article: Manny Friedman admits it, Jews DO control the media
Down to the last drop: Twenty-four camp guards, mostly over ninety – including three women – face trial in Germany: and still the Jews ask, "Why us?"
The myth-makers: Poland to honor Jan Karski, partisan who "warned about Holocaust" | Correspondence about Karski on this website (or use our search engine: "Karski")
Whoa, look who just touched the third rail! Aroma-obsessed Rabbi Shmuley Boteach on "The Anti-Semitic Stench of Pink Floyd"
In 1970 letter, King Edward VIII sadly wonders if he could have stopped WW2: "At least I used any influence I had to warn against the folly of another holocaust" - in 1970 that word had not yet been assigned to the Jewish tragedy
History awards its Oscars: Adolf Hitler rated as seventh most significant person in History | Meanwhile: Bavarian Government pygmies mysteriously snuff his Mein Kampf, which was to be published for first time since WW2: German | English
Some Germans criticize Israeli cluster-bombing of civilians, for example: "hate" mail comes from "surprisingly well-educated" sources
Mustn't say that: Austrian Mayor resigns over call for journalists to be hanged like Jews
Paying the piper: European Jewish Congress rewards Greece's PM for ban on "Neo-Nazis"
This New Europe: "Regrets" hosting Rabbi Moshe Aryeh Friedman at sponsored event, accused of Holocaust Denial
David Irving's big Chicago dinner function fails: the hired scum smash up posh restaurant | traditional enemies gloat - but betray their own mole. (We use unique "markers" in emails: we turn the Rambo's identity over to the authorities investigating the criminal damage) - see in this general connection Professor Kevin MacDonald on "Jewish Defenses against Criticism"
The elastic concept: Outrage as Europe's anti-racism agency finds itself unable to define "anti-Semitism"
– And here's a little something we picked up from the Stasi: German Police test a Music App that can search for "Neo-Nazis" | Germany's Bundesrat moves to ban far-right NPD: In 2005, two NPD members left the Saxony parliament during a minute's silence for the victims of National Socialism. NPD leader Holger Apfel called 1945 Allied raid on Dresden a "bomb holocaust"
Kills all known Germs: Outrage over cleaning product called "Cyclone B"
So WW2 was in color? Hugo Jaeger, Hitler's personal photographer recorded Third Reich in Kodachrome. Daily Mail dutifully finds the pics "revolting"
Some sanity in the New Europe: Croatia rejects same-sex "marriage"
Ferdinand Porsche's Nazi Past Prompts Protest in "Czech" Birthplace: Father of the Volkswagen "Beetle", but that's not good enough for some citizens (guess who?)
Government in secret: Australia's prime minister quietly shifts to support illegal Israeli settlements in Palestine, tells nobody| Australian Jews brace for fight against repeal of "hate" laws | Outrage of MP Mark Dreyfus at plan to restore free speech in Australia - Says "it reflects ignorance of history" (or does he mean, "– of who's really in charge around here?") | "Holocaust denialists" back calls for repeal
Early draft of King George VI's 1939 Speech sold - about declaring war on Germany, dated one week ahead
Photo albums stolen from Hitler's library sold at auction
Greece, democracy at work: Concern for Golden Dawn's Rise in Poll Numbers
Another Holocaust fake: Oxford forensic lab tests Holocaust survivor's uniform (offered for £11,000), find threads, dyes, buttons all post-war. His family "furious" at exposure. And, in related news, Court says Holocaust survival does not entitle "survivor" to steal: orders his family to return $10M gold tablet to Berlin museum, rejects his "spoils of war" defense
Struck by the Curse of Irving: Judge sentences Stratfor hacker Jeremy Hammond to ten years (he led the violent attack on our Nov 2009 meeting in Chicago, and much else) | Earlier: US court seeks 10 year prison term for Hammond
New York Fraudster gets 8 years in $57M Holocaust scheme. (After all they have suffered)
Jim Goad on Another Word for "Holocaust"
LIFE magazine publishes:"Color Photos of a Tyrant Among the Crowds": Excellent pictures of unprotected Hitler moving freely among the crowds, rather unlike the leaders of today's "free democracies"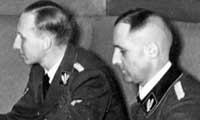 Gestapo chief Heinrich Müller (far right) was buried in Jewish mass grave - says puffed-up conformist German historian, quoted by newspapers around the world. But we think it highly unlikely. The general's real medals were

mysteriously returned to his widow years later - so they were not "in his uniform pocket" |The search for Müller | more | - The full story is in our coming Himmler biography: click book for a privileged glimpse
No comment: The Guardian publishes Top Secret NSA and Israeli "memorandum of understanding" on Intelligence |and furthermore... | An Australian Horror-Story: Israel and the Erosion of Democracy
Daily Mail's Guy Walters on the latest dumpster-diving discovery: the survival of Adolf Hitler to a great age in Argentina. (Unlike us, Walters never talked to Hitler's staff, who heard the shot and carried the bodies out of the Berlin bunker in 1945).
This New Europe: Poles and European Jewish Congress (we didn't realise there is one) call for a Europe-wide Sicherheitsdienst to monitor certain "identified citizens and groups"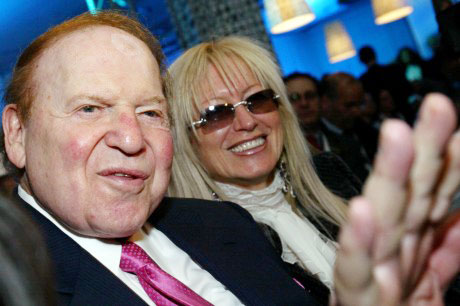 The real haters: "Nuke Iran to get it to talk business", says casino billionaire Sheldon Adelson (above left) | YouTube video

Daily Express:Unearthed yet again - the horrors of Hitler's WW2 death camp in Treblinka- New TV film: "Photographs show bodies littering the landscape as late as the early Sixties" | Real History note: Treblinka is one of the four "Reinhard" sites again included in our 2014 Wolf's Lair tour
Lewis Lapham: Princeton Poll Ranks Hitler Over Einstein - Business Week
There being no more urgent business: Italy could join 17 countries where "Holocaust denial" is a crime - UPI.com. (But in late news: the Italian Parliament has defeated the proposed new law) Daily Mail finds Amazon selling Holocaust denial, anti-Semitic, and white supremacist books (while the Mail just sells Nazi nostalgia and soft porn)
Can of worms opened: Radiation experts confirm polonium found in Yasser Arafat's clothing
"Hitler's Underestimated Charisma"- Der Spiegel interviews Volker Ulrich, author of a new Hitler biography. (No prize for guessing which major biography he relies on, but is not mentioned.) He claims to have discovered the Rudolf Hess Nachlass (papers): Uh, sorry, Mr Ulrich, we discovered, read, and listed those Hess papers long before you did, twenty-three years ago.

They are now in safety– in Switzerland's official archives
Reflections of a traditional enemy (of free speech): Lord Triesman admits that anti-Semitism existed within Fifa during his time as Football Association chairman. One of many reasons ("Why us?"): As General Secretary of the influential University Teachers trade union, Triesman called for an international academic boycott of Oxford if the university allowed David Irving to speak

Men of peace: Ribbentrop (centre) greets Chamberlain and the British ambassador Sir Nevile Henderson (with the habitual carnation in his buttonhole) in September 1938.
At last the BBC hails Prime Minister Neville Chamberlain as Britain's man of peace| Winston Churchill wanted to use "the most devastating chemical weapon ever devised" on Bolsheviks
How an honourable Press should be: The New York Times retracts an enemy lie about David Irving
This new Europe: Greece arrests Golden Dawn party leader and MPs, charged with heading a criminal gang. That'll teach 'em about Democracy. (Article 62 of Greece's constitution rules that MPs cannot be arrested. Evidently some exceptions apply?)
Murray Hunter: The Australian government's new stance on human rights? Cites the twenty-year ban on Mr Irving as a case in point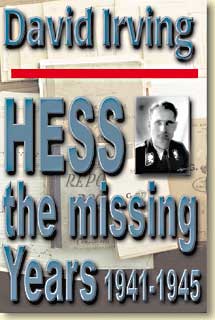 Catching up with Real History: Nazis "offered to leave western Europe in exchange for free hand against Bolsheviks" - Peter Padfield and The Daily Telegraph discover the 1941 Nazi peace offer -- which David Irving first revealed in HESS: THE MISSING YEARS in 1987 (but of course they give him no credit)
This new Europe #1: Czechs prosecute author, publisher over Hitler's speeches: "The charges were made on the basis of expert reports describing the content of the book." - Ah, expert reports. . .
This New Europe #2: Stuttgart, Germany, prosecutor indicts yet another 93 year old ex-SS-man who once did duty in Auschwitz. (As though he could have refused.) In German.
This New Europe #3: Germany fines British Bishop Williamson $2,500 for that Swedish TV interview | 3Sat | English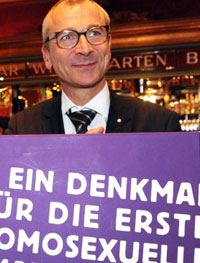 The Curse of Irving strikes yet again. Volker Beck (left), Green Party chief who organised the needless Berlin hotel ban on Mr Irving, resigns after paedophilia scandal. (He stood for the the decriminalisation of sex with children back in the 1980s)
The Times Higher Education reviews the latest book by Professor Richard Overy, the conformist U.K. historian and Jimmy Saville lookalike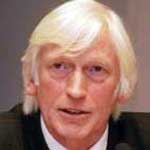 (right). It starts with a smear: "Popular perceptions continue to be influenced by the inflated figure fabricated by David Irving for the casualties of the bombing of Dresden in February 1945." The newspaper seems to have forgotten that they had to pay Mr Irving £48,000 damages over an even more stupid libel in an earlier article by Overy. As for the Dresden casualties, far from "fabricating" a figure, Irving cited the exact figure given him in 1961 by the German official charged by the city in 1945 with establishing the deathroll. Overy does not mention that Mr Irving has since found in government archives a decoded message dated March 24, 1945, in which the then mayor quotes figures wholly compatible with that deathroll. |

Our dossier on the Dresden air raid | and the death toll | THE publishes our reply
World safe again: "Nazi" magazine Landser ("The Squaddie") shuts down at Wiesenthal demand | Wiesenthal Center calls for end to long-running German pulp magazine | NYT | and ADL's Abe Foxman waddles onto the bandwagon. AWPOW?*

Daily Mail publishes thought-provoking series of colour photos of the easy life in Paris under the German occupation
The Independent: The spymaster and Nazi peacemaker Rudolf Hess - overpriced secret file fails to sell at auction

David Irving paused for a photo with his multi-national group outside the entrance to Adolf Hitler's gigantic fortified bunker at the Wolf's Layer in East Prussia, now in Poland. [Express interest in joining his 2014 tour. Next year's tour will include all four sinister "Operation Reinhard" sites]
---
Rochus Misch, last member of Hitler's escort, has died | obituary 1 | obituary 2 | Süddeutsche Zeitung | CBS (a lengthy obituary in English)
Mail madness #1: Hitler's Nazi swastika ring auctioned for £70,000 in USA after being found by an American soldier
Mail madness #2: Rudolf Hess was "murdered by British agents to stop him revealing war secrets but Scotland Yard was told NOT to investigate" (In fact, secret taped interviews in 1970s show he was already senile: we have heard them) | Scotland Yard releases 1989 file on Hess and Welsh doctor and writer Hugh Thomas | The Independent carries an article by its chief reporter Cahal Milmo about the release of this file | British Secret Service file on Hess's WW2 peace mission mysteriously turns up on a US auction block: facsimiles of the entire file posted on the Internet
"Revealed" yet again - and again: Hugo Boss's lucrative business manufacturing the Nazi uniforms. Still upsets the Jewish community (and Russell Brand) but nobody else
Guardian: Winston Churchill's shocking use of chemical weapons
TAZ: Munich court delay stops "Holocaust denier" David Irving from returning to Germany after a twenty-year ban. Levi Solomon of Jewish Forum rejoices at this new defeat for free speech | Die Zeit publishes the TAZ article, and early readers' comments are overwhelmingly against stopping Mr Irving speaking
Jewish experts agonize over a familiar conundrum: "Why Literally Everyone in the World Hates the Jews, and What To Do About It" - In short, Why Us?
Nuremberg rallies to repair crumbling Nazi heritage site

John Mearsheimer points out: Hitler Never Used Chemical Weapons (unlike the USA - white phosphorus, Agent Orange, etc.) The Germans had 30,000 tons of the deadly Sarin and Tabun nerve gases ready for use, but Hitler embargoed their use - he insisted that the enemy must use them first, and he would then strike back. The weapons were dumped in the Baltic after 1945, and the German government is now engaged in salvaging their remains.
The real haters don't give up. The Independent: "David Irving - the hate that dare not speak its name"
Irving's "sick jibe" at LGBT community for "their part in the AIDS epidemic" - while Manchester celebrated Pride Week - Are they now denying it? First they hijacked the word "gay" and now they have stolen "pride", neither of which seems appropriate in the circumstances | Mancunian Matters: Traditional enemies of the truth mobilise as David Irving set to give talk at secret Manchester location (they failed to stop him)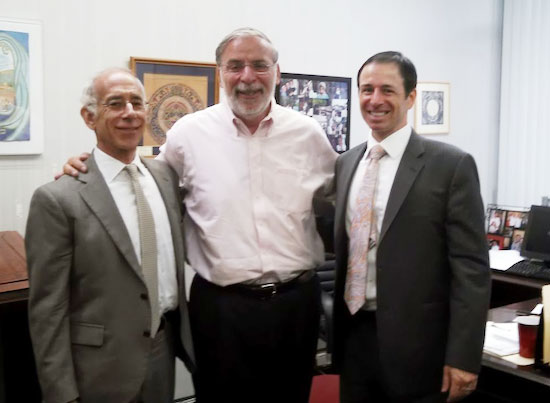 Feeling the heat: Assemblyman Dov Hikind (center) is pictured with Noah J. Hanft, general counsel and chief franchise integrity officer for MasterCard Worldwide (left) and Richard Santoro, MasterCard Worldwide's vice president of government affairs. Photo: Assemblyman Hikind's office
Brooklyn to censor Websites: MasterCard will cease doing business with "hate" groups | Brooklyn Daily Eagle. Another victory for the real haters?
Bradley Smith (CODOH) teases the US Holocaust Museum in Washington DC on the stolen Rosenberg papers, asking, "Why not simply scan and post the documents publicly?"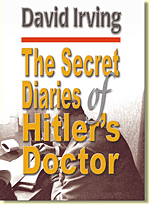 Along came a plagiarist and - Adolf Hitler's drug habit revealed: Führer took cocktail of medication - "based on recently-discovered records and letters from his physician Dr Theodore Morell" - but all these records were actually revealed by David Irving when he discovered and published Dr Morell's diaries in 1983
And who else? Israel's diplomatic policy chief forced to apologize over offensive Facebook remarks about Japan and Hiroshima ("they had it coming")
Read and marvel: New Nixon tapes show more anti-Semitism
Who's lying now? Jewish Chronicle on our UK speaking tour: "After years in a Florida retreat" (um, no) Irving back in UK to absolve Himmler; quotes Gerald Gable, the convicted Jewish bungler and housebreaker

But hey, who cares? It's the money, stupid: "Holocaust journeys" can cause mental health problems, say experts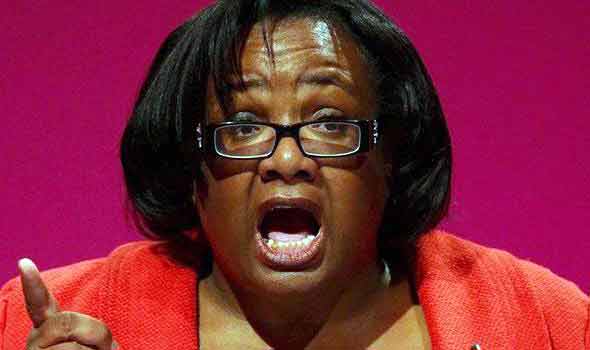 Let this be a lesson to the English: Outcry as Labour's Negress Diane Abbott (above) demands more immigrants into UK
Why the Germans are how they are: Nazi Toys. Daily Mail: "The toys that brainwashed German children" - Hitler, a marching band, and Rudolf Hess
Damn, he might have waited. Aged Hungarian Nazi "war crimes suspect" dies before judgment. Fury at Wiesenthal Center
Occidental Observer: The Corrupted Kingdom: Power and Privilege in Modern Britain. How the liberal media conceal the truth about corrupt coloured cops and sex criminals
"Holocaust-denier David Irving defies Berlin ban": "Inundated with offers" of accommodation after Hotel Association calls for ban | Truth check: In reply to Berlin journalist Tom Bristow's query Mr Irving said: "It is a cheap and nasty lie to call me a Holocaust-denier. Every time I visit Auschwitz, five times so far - this year will be the sixth - I lay a wreath at the foot of the execution wall where the Germans executed Polish heroes." No word of this in Mr Bristow's report. "Hypocrite," sneers convicted Jewish bungler Gerald Gable, the editor of Searchlight (who never visits the site, or lays a wreath)

* ASSHOL: Association of Spurious Survivors of the Holocaust and Other Liars
* AWPOW: Are we powerful or what! | YOUR LETTERS:
: Paul Grubach points out that even Jewish academics confirm the role of Hungary's Jews in their Communist regime and secret police
FRONT PAGE NOV 10, 2005: MR IRVING KIDNAPPED IN AUSTRIA