Perish the thought: Dutch cyber expert who said ISIS was part of Zionist plan keeping job - so comments the JTA
Jewish auctioneer: Mein Kampf signed by Adolf Hitler sells for £29,000 in online auction – the Führer signed it for Philipp Bouhler, later head of his euthanasia programme
President of German Jews says: »Keinen Freibrief für Holocaustleugnung« — Irving says: Widersacher Schilly hat recht. Es ist unsinnig, daß jeder Versuch, über die Tötung von Juden wissenschaftlich zu schreiben, für uns Revisionisten gefährlich ist und unter Umständen mit einer Gefängnisstrafe enden bzw. bestraft werden kann. Aber Unsinn erwartet man ja von den internationalen Gegnern der Meinungsfreiheit
Los Angeles: Pot of flowers painted, um, "by Hitler" to be auctioned | Daily Telegraph art critic's dismissive view of this "Hitler painting" - just in case
Francis Carr Begbie of The Occidental Observer on the consequences of Jihadi John and organised anti-"racism" in Britain
Website clean-up: Dutch police probe sale of RIF "Holocaust soap" said to be made from Jewish bodies. "It is saddening and disgusting to find out that there are people interested to make money from the Holocaust," said Ron Eisenman. Does that include . . . uh, no, forget it | Soap removed from sale on eBay: It was "not produced on an industrial scale," say historians
Henry Mazal: important German Archive winds up in Colorado
Raul Hilberg said the same to Irving: German government prosecutors told him they "found no evidence of Hitler's role" in Holocaust, said historian Hilberg. PBS deleted it from broadcast interview; but David Cole found original recording
Censoring music...: Youth Symphony cancels program that quotes "Horst Wessel Song" |

play the song | ... and musicians. Manchester Jews do not know free speech: Saxophonist Gilad Atzmon gig cancelled under pressure

Dutch police probe sale of RIF "Holocaust soap" said to be made from Jewish bodies. "It is saddening and disgusting to find out that there are people interested to make money from the Holocaust," said Ron Eisenman. Does that include . . . uh, no, forget it
Well, who put that old poseur Wiesel in the audience? Senior BBC journalist Jeremy Bowen under fire for accusing Israeli PM of "playing the Holocaust card"
Springtime over: Lawyers demand Prague pay huge compensation after losing case over Hitler speeches
BBC keeps quiet about the attackers' race: Social services did nothing to save hundreds of Oxford girls who were drugged, raped, and forced into prostitution - they "brought it on themselves" (Attackers were all Pakistani)
At taxpayer expense: New anti-Nazi propaganda center opens in Munich, Germany
Iran's Holocaust-themed cartoon contest: Israel demands UN condemn it
Court Halted Dime Edition of "Mein Kampf": Cranston Tells How Hitler Sued Him and Won
But ask, how did they get their hands on it in 1929? Jewish heirs to Nazi-era art dealers sue Germany over $226 million 'Guelph Treasure'
Retiring Judge, Joel A Pisano, in Weinstein fraud case criticises Orthodox community | more

Britain's latest citizens: what is David Cameron think of? Is he listening to the English – at all?
Insatiable: He helped sick prisoners, but . . . Germans charge Auschwitz hospital medic, 94 | ABC news
Jewish squabble: Jewess takes Yad Vashem to court for Schindler's list, claims millions | English | German | more • Death of Miami man who fabricated Holocaust memoir: Hollywood will still make a movie about him
Literary news: World Safe from "Hate" Book: Hitler's rights in Mein Kampf to be legally stolen, edited | The Washington Post: A historical tool, or Hitler's voice from beyond the grave?
Gotcha: that's their word. Australian PM Tony Abbott accuses Labor of causing "holocaust of jobs"
Sounds like an exam question: Hamas MP: Jewish treachery and conspiracies led to the Holocaust - discuss.
Britain asked to combat "anti-Semitism" using sex offender laws | Jerusalem bankers arrested for defrauding Holocaust survivor out of life savings | You gotta like them: New Greek finance minister accused of anti-Semitism. One size slur fits all
Australia, Sydney Morning Herald: Jews pressured sex abuse victims not to assist police - it's spoiling their Holocaust Day | Accused Melbourne Jew wrote that it is "acceptable to kill a Jew" who reports another to secular authorities. (We disagree: It is never acceptable to kill a Jew) | Sydney rabbi denies being aware child sex offender was behaving inappropriately | Rabbi Yosef Feldman tells royal commission he didn't know it's illegal for adults to touch children's genitals | Royal Commission hears Yeshivah Rabbi wants repentant Jewish paedophiles treated leniently | Rabbi Yosef Feldman says paedophiles should not have to feel like The Scum of the Earth
Taki's magazine: Multicultural Meltdown: Without a single vote being cast, or our opinion being sought, Britain has been hijacked | Occidental Observer: The Power of the Holocaust Lobby in Britain | Clampdown on Social Media | Robert Matthews, The Suppression of Free Speech
Jewish community's outrage over Cornish village's Hitler sign: it has been called Hitlers Walk since the 1930s
Actress Maureen Lipman "considering" leaving the UK due to rise in anti-Semitism.
She won't, and more's the pity. The last time we saw Lipman it was in 1992 outside our Duke St address, with a mob of uglies waving a banner reading Gas Irving. She shoulda stuck to The Rag Trade
German phobias: "What a nice surprise. We thought you were those horrid neo-Nazis."
Airbrushed out? N.Y. Times: For Auschwitz Museum, A Time of Great Change - And there is no mention of "gas chambers"
Proof?: Flight logs reveal trips Bill Clinton and Alan Dershowitz took on paedophile Jeffrey Epstein's private jet with anonymous women - We don't like Dershowitz (and he surely doesn't like us) but, "where's the beef"?
Sad: Fall of Jewish fixer Sheldon Silver Signals End of an Era in New York Politics
Hoorah: Feds clarify tax policy on reparations money inherited from Holocaust survivors – oh, some exclusions apply. If you're not descended from a "survivor", don't bother to write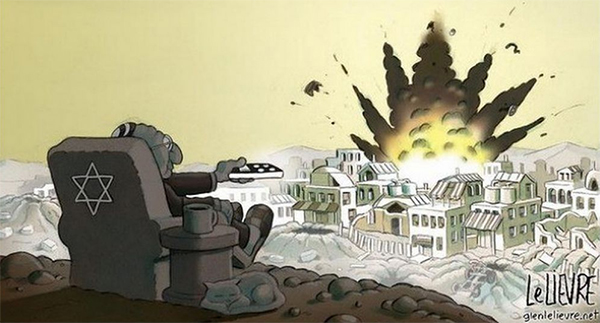 Free Speech latest: Sydney Morning Herald retracts powerful Gaza cartoon (above) – after it makes its point | but is punished (for Star of David and yarmulka): Press Council adjudication on the Cartoon| Berliner Zeitung apologizes for running fake "Charlie" cartoon about Holocaust | The view from Atlanta: Is Europe too dangerous for Jews? "Leading Holocaust historian" shares her rising level of alarm; that's Deborah Lipstadt, folks, easily alarmed | What Europe needs, more gun worshippers: Europe's rabbis petition EU demanding laws to allow Jews to carry guns| Mustn't say that: British police investigate George Galloway MP over "Israel-free zone" comments in (predominantly Muslim) Bradford
There being no further business of comparable importance: Hungary Court orders Holocaust revisionist article to be blocked. So much for Free Speech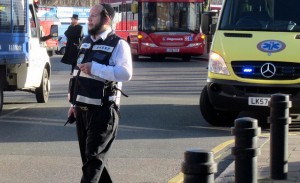 BBC: Why my grandfather translated Mein Kampf

Eine Liebe zu Deutschland: 25,000 German 'anti-Islamization' marchers in Dresden | Toronto Sun has an alternative view on that Paris march: A Unity March With Little Unity. Netanyahu (whose troops have just killed 2,000 innocents in Gaza) was not invited, had to push his way in
Things to come: Jewish police out in force in uniforms and their own police cars – in North London!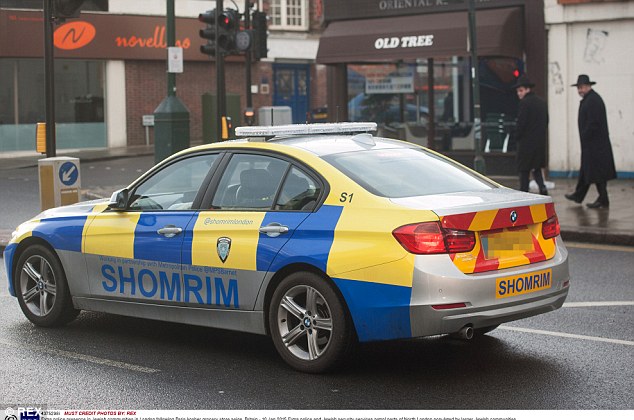 The Hijacked French Demo. BBC's "Anti-Semitic" Interview at Paris Demo (had the effrontery to ask if Jews feel ashamed at Jewish atrocities in Palestine) | Glenn Greenwald: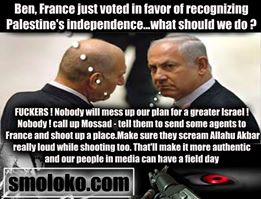 In Solidarity with a Free Press: Some more Blasphemous cartoons. – We regret that we did not see the original blasphemous Danish cartoon in 2006 (we were in solitary confinement in prison in Vienna for expressing our views eighteen years earlier)
We cherish freedom of speech here, even for [Bill] Cosby - but not for David Irving. By Luisa D'Amato, Waterloo Region Record, Canada.
The Occidental Observer: Charlie Hebdo: Elite versus non-elite mechanisms for censoring public discourse | France was gripped by tension even before the shootings
Germany awakes: Angela Merkel pleads with Germans not to attend anti-Muslim rallies after biggest march to date attracts 18,000 people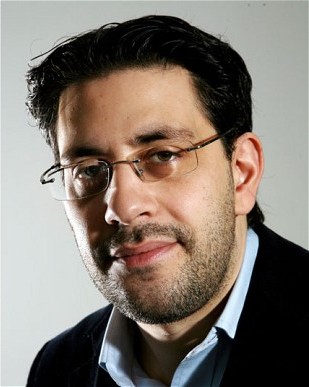 Jews agonize over the Holocaust and "hate" as Auschwitz memorial day (Jan 27) approaches | Meanwhile, 50th anniversary of Churchill's death (Jan 24) approaches, unnoticed so far
How do they get their jobs? The BBC's director of television Danny Cohen (right) as Ethnic Outsider | Cohen: Rising antisemitism in UK makes me feel more uncomfortable here than ever: And the answer is? (Madagascar) | BBC researches the "dark history" of Vienna's New Year's Day concert - You guessed correctly
BBC discovers Otto Skorzeny living in Ireland: a bit late, after his death, and who was that we dined out with at Horcher's in Madrid?
Rejoice for him: Abe Foxman's son marries partner in same-sex wedding
What price anti-Catholicism? Nazi-hunters condemn Mass for WWII Croatia leader of Ustaše | Jerusalem Post
BBC on Bletchley Park: No longer the world's best kept secret. David Irving knew it in 1964, but was persuaded to keep mum
Austria faces historic dilemma over Hitler's birthplace: Pull it down? The birthplace of the man who united the Germans and scored 49 million Yes-votes as a thank-you (and less than a hundred thousand No)?
Jewish outrage: European Parliament won't make special case for them, refuses to appoint Committee
James O'Neill: Why the secrecy on the MH17 shoot-down investigation? O'Neill is a former academic, has practiced as a barrister for 30 years
Alan Dershowitz is puzzled: Anti-Semitism Rising in the West. Dershowitz? Isn't he the Jewish lawyer who believes that torture is okay? | Senate report: Harsh CIA tactics [torture] didn't work | Kerry to Feinstein: Consider timing of CIA report
Not entitled to have private thoughts: Jobbik Leader Remains a Holocaust Denier, says journalist (and, uh, Holocaust survivor)
Gullible's Travels: Prime Minister David Cameron visits Auschwitz, photographed in front of site's fake gas chamber (Polish Government admits it was built after the war) | Amazing: Romanian Woman who survived Auschwitz because Nazis "ran out of gas" turns 101, says Daily Mail
Living in the past: Councillor denies making a Nazi salute during heating Tyneside meeting
France pays more: $60 million in reparations for Nazi survivors. But who actually gets it?
Canberra auction house sells large collection of Nazi memorabilia: Rabbi and another, Konrad Kwiet, take offence
And why not? Polish firm to keep making Nazi toys – i.e. toys with German uniforms
CNN: Police helicopter finds huge swastika in bottom of pool in Brazil: private property, nothing they can do about it
U.S. Holocaust museum gets $25 million donation from Levine family of Phoenix (with advert, now withdrawn, for "Walk-In Showers")
Deborah Lipstadt says President Assad had 102-year-old advisor on Holocaust: Death of Alois Brunner, bogey-man of the Jews | IHR: When Brunner talked about his past | "Mentally sick" Brunner-journalist made it up, says researcher
Independent: Is criticism of Labour leader Ed Miliband a coded form of anti-Semitism? (They seek it here, they seek it there; they seek that anti-Semitism everywhere)
History fight: U.S. Government pressed to release files on 1942 Battle of Midway
"Hitler" painting fetches $161,000 at Nuremberg auction: (unnamed) Experts generally consider Hitler's artworks to be of poor quality | Spiegel queries its authenticity
Scoop News: Will British Jewish funders' blackmail backfire?
Greville Janner latest: Police closing in on vile Westminster and Jewish paedophile ring | The Observer: Security services accused of aiding Westminster paedophilia cover-up
Don't bank on it: Auschwitz bookkeeper may be the last German tried for war crimes
"Decent Himmler" documentary is in the running for an Oscar. So, first Chaim Rosenthal steals 700 Himmler letters to his wife, then sells them to another Jew, whose daughter writes a film script, then…
Vladimir Putin says nothing wrong with Soviet Union's pact with Adolf Hitler's Germany
Inappropriate to seek the arrest of a "child of the Holocaust". US criticised for seeking Roman Polanski arrest in Poland – he jumped bail after conviction for paedophilia
World safe again: German "Nazi" classroom under investigation
Something for nothing: Holocaust compensation a "disgrace", Australian (Jewish) families say. (But what about the millions who lost everything and got nothing)
German museum displays 19th-century masterpiece stolen by Nazis back to front, and will only reveal artwork when it has paid its "legal owner". Wiesbaden Museum
needs £230,000 to pay heirs of Jewish businessman Max Silberberg
And we should think so too. MI5 on guard: Eric Hobsbawm and Christopher Hill had phones tapped, correspondence intercepted, and friends and wives monitored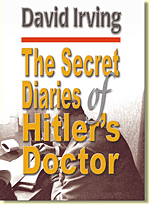 UK's Daily Mirror sells us more drivel: Adolf Hitler and Eva Braun "probably had sex without touching each other" | Daily Mail discovers a "recently released" U.S. Military Intelligence dossier claiming that Adolf Hitler was addicted to crystal meth (David Irving published that dossier thirty-one years ago in The Secret Diaries of Hitler's Doctor) | as were the details of Hitler's Hidden Drug Habit which The Guardian now reveals
Washington's legal top brass sent letters praising David Cole's video: Officials deny actually watching 'David Cole in Auschwitz — A Jew Questions the Holocaust,' now apologize – "wrongly assumed it was a conventional analysis of the Holocaust"
FrontPage magazine: Profs who blacklist Jewish State complain of being blacklisted by Jews
Czech Nurse honoured for sleeping with Nazi soldiers to give them STDs and kill them: sounds like a regular slut to us. Took the Hypocritic oath, perhaps?
A heads-up for all our Ohio readers: Noted scholar Professor Deborah Lipstadt to discuss anti-Semitism Oct. 19 at Temple Israel New Tamid in Cleveland. (Hint: Suggest she confront the Why Us? question. . .)
Revealed: The spymaster and Nazi peace-maker Rudolf Hess

Below: David Irving's Real History tour of the Nazi sites in Poland is off to the big "Reinhardt" site at Belzec on September 4, 2014, and inspects the now derelict railway building where victims' possessions were sorted in 1942 (for more movie clips see Radical's Diary). More clips soon.
"Thanks for such an enjoyable and interesting time in Poland," writes Englishman T.W. "It is was very memorable and I made many friends. If you're doing another next year, then I'd like to come along again."

Report: Inside the Secret Budapest Meeting of "Racial Realists"
FBI informant Hector Xavier Monsegur led hacks against 30 countries—now we know which ones – "the actual attacks were carried out by Jeremy Hammond": Ah, the Chicago thug who is now serving ten years, or so we are told
Sobibór Archeological Dig "No Proof" of "Gas Chamber" and Contradicts All Earlier Chamber Claims—Researcher | Red Faces at Smithsonian: "Star of David Tiles" found at Treblinka are not Jewish after all | Red Faces in Athens too: Greeks discover ancient friezes ca 350 BC and - imagine their surprise. Swastikas! Athens government orders total media blackout
U.K. Multi-culturalism latest: What can this rapper see in Miss Kate Rothschild, a mega-millionaire heiress? And what can she possibly see in him? We guess the rapping thrills her
Looking down from Hermann Göring's bunker: A few intrepid members of David Irving's 2015 tour group visiting Hitler's famous "Wolf's Lair" site in East Prussia
Radical's Diary: Our visit to historic locations in Latvia and Poland: we visit the Reinhardt sites at Belzec, Sobibór and Treblinka; and things nearly get ugly at Majdanek. Then our guests get their reward, three days at the giant Nazi bunker headquarters in the forests, treading in the footsteps of Hitler and Himmler, and thousands more. On Treblinka: "The Execution Site monument is designed with all the quiet good taste and understated stylishness for which the Jewish people are renowned."
World's leading Holocaust scholar Deborah Lipstadt fails to address the Why Us? question. Episcopalian chaplain provokes outrage by suggesting an obvious answer, is sacked by Yale University
More horror stories from Nazi Germany. Hitler's former food taster reveals the "horrors" of the Wolf's Lair: Some journalists are easily horrified. (Hitler had no "food taster")
Numbers shrinking: Former Auschwitz guard, 93, charged with 300,000 counts of accessory to murder - accused of helping operate the "death camp" between May and June 1944: court told that 425,000 Jews were brought from Hungary and 300,000 gassed to death in three weeks. Um, that's around thirty thousand tons of flesh being processed by a Sonderkommando of fifteen men ...
Two Documents Underscore the Middle East Legacy of George W Bush and Tony Blair: Enoch Powell's prophetic speech of Apr 21, 1968, the Rivers of Blood: Birmingham Post | Daily Telegraph – and how the Left have jeered at his name since then!
A Touchy Point: Outrage as Brigitte Bardot demands ban on kosher slaughter, calls it "ritual sacrifice". (Incidentally, Jewish lore requires that the victim-animal suffer pain, so – no stunning)
Why aren't we surprised: Nazi general Dietrich von Choltitz didn't "save Paris", says historian
Jonathan Bloch on Britain's still secret archives - they hold six hundred thousand files The Secret Archive. What is the significance of the Foreign Office's "Migrated Archives" and "Special Collections"? (pdf, 14 pages)
Chris Hedges: Why Israel Lies - (among other reasons)
Another Real History taboo broken: BBC reports on the Devastating British Bombing of French civilians before 1944 D-day and how the conformist historians have hushed it up.
Yes, finally. David Irving dwells on this forgotten corner of Real History at length in his coming Volume 3 of Churchill's War: The Sundered Dream. Air Chief Marshal Sir Arthur Tedder (Eisenhower's airman) told Churchill his bombers would need to kill about ten thousand French civilians in the neighbourhood of the bridges and other transportation targets. Occasionally Churchill asked him airy, How much do we have left of our "tariff" (his word) of ten thousand dead? The final total was over fifty thousand.
After the war any reference to the lethal pulverisation of Germany's cities was also taboo, until in 1961 Irving approached a German news magazine and offered them an article on Dresden. That broke the taboo. They eagerly commissioned the Englishman to write a full history, "Wie Deutschlands Staedte Starben". The series lasted for thirty-seven weeks and boosted their circulation by two million copies. The rest is history. We shall reprint the brilliantly illustrated series (later a book - published in Switzerland!), next year.
How they do it: The Double Identity of an "Anti-Semitic" Commenter Smearing a Progressive Website to Support Israel – A Common Dreams investigation has discovered that a thousand anti-Semitic postings were written by a Jewish Harvard graduate to sabotage discussion of issues involving Israel.
"Holocaust Survivor," Hedy Epstein, arrested in riots in Ferguson, Missouri, turns out to be another ASSHOL* (she spent WW2 in England)
In an OpEd Deborah Lipstadt ("He's a Holocaust Denier") wrings her chubby hands over the Rising Anti-Semitism, sees Another Holocaust Coming (but, like all her ilk, ducks the over-arching question, Why Us?)
The biters bitten: "British" Jewish leaders outraged at supermarket protests The 1933 originators of the global boycott find that it can turn against them
Gastronomic news: Swastika found sandwiched into McDonald's burger – Swastika outraged, to lodge complaint?
BBC reports: A Dutchman decorated by Israel for hiding a Jewish child in WW2 hands back the medal after Israeli air strike kills six of his relatives in Gaza | "British" newspaper Jewish Chronicle apologises to its readers for running an advert for the UK Disasters Emergency Committee's Gaza crisis appeal
Not a war crime? Israel criticised over army's "Hannibal procedure" in event of soldier kidnap: Tactic involves overwhelming fire that killed over Palestinians in Gaza | Shocking theory: Norman Finkelstein suggests Israel's actions are causing global rise in anti-Semitism
Well, we were wondering: Jerusalem Post says that Jews mourn the loss of "honorary member of the tribe," comedian Robin Williams, who hanged himself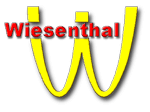 Jewfish Creek, Florida, next? Wiesenthal activists demand that French village change its name from "Death to the Jews"
Mustn't say that either: UKIP politician praises Adolf Hitler as "magnetic and forceful speaker" while coaching prospective party candidates
Other ways for nice folks to make money - literally: Feds target international counterfeiting ring - from, Guess Where?
Australian Prime Minister caves in to Jewish Lobby on Free Speech Laws | Tony Abbott (Australia) dumps free-speech changes to "race discrimination" laws: Seems some folks mustn't be criticised
Shocking: New York man hid mother's death to collect her Holocaust benefits, says Jewish Telegraphic Agency
Der Spiegel: The Mossad intercepted phone calls of US Secretary of State John Kerry
Nice folks - or criminals?: Israeli sniper brags on Instagram about killing 13 Palestinian children
Bad news: "The way things are developing in Europe, Jews will increasingly start to feel there is no future there." Where to next? Madagascar? | Moshe Feigling, Deputy Speaker of the Israeli Knesset, lets cat out of bag: calls for concentration camps in Gaza and "the conquest of the entire Gaza Strip." Plan includes shipping Gaza population across the world, while IDF would "exterminate nests of resistance". IDF has killed over 1,900 Palestinian civilians so far. A clear war crime?
Real History: Times of Israel deletes blog explicitly backing genocide in Gaza. Full text of this hidden vox populi
Self-hating: Jackie Mason finds nothing funny about celebrities tearing into Israel
Mustn't say that: Jewish outrage as Lord Prescott is accused of "trivialising Holocaust" by comparing Israeli-blockaded Gaza with a Nazi concentration camp