ACTION REPORT LATEST: Wednesday, September 1, 2004
New Zealand graves desecration
California man ups David Irving NZ reward offer to $10,000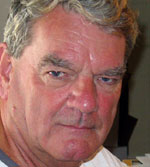 "YESTERDAY'S BBC report that a Jew had himself done the widely publicized arson damage to a Paris building and smeared the anti-Semitic graffiti," says writer David Irving, "bears out suspicions about the similar and well-timed incidents in Wellington, New Zealand."
Mr Irving originally offered a reward for information leading to the arrest and conviction of the culprits in New Zealand. Yesterday morning the reward stood at $6,000 -- five thousand from his own pocket and one thousand guaranteed by Swedish businessman. After twenty-one days of police investigations, it has not been claimed.
Last night, August 31, 2004, Sherman Oaks, California, businessman Harry S. phoned Mr Irving, who is in Ohio preparing the Real History convention, and put four thousand more dollars into the pot. This huge new reward massively increases the pressure on the New Zealand community, either to find the culprits or explain why no information has been forthcoming.
The reward offer now stands at ten thousand US dollars.
---
AT a reception at his Key West, Florida home on August 15 British writer David Irving announced that since authorities in New Zealand had not received new evidence on the recent attacks on two Jewish cemeteries in the capital Wellington, he was increasing his widely publicized offer of a reward to five thousand US dollars with immediate effect.
On August 10, 2004 Mr Irving had first announced that he would pay one thousand US dollars for information leading to the arrest and conviction of the criminals responsible. The offer was widely reported in the world's press.
Statements that leaders of the wealthy Jewish community were said to be considering offering such a reward inspired him to make this offer. (They have not yet done so).
For a time the NZ press carried reports linking an arrested rightwing "skinhead" to the cemetery outrages; but he denied responsibility, condemned the attacks in forthright language, and was not charged. It is understood that Wellington police have excluded him from their inquiries. The second attack, in which a building was also set on fire, was carried out at four a.m. on a cold night; the gate was reported as having been left unlocked for the first time. The cemeteries and building were insured.
Mr Irving is to visit Wellington in two weeks' time to accept a speaking invitation of the National Press Club. Leaders of the country's tiny Jewish community (one-tenth of one percent of the population) have pressed the Government to ban his visit, and used the cemetery outrages in part to justify their demand.
"I am not a wealthy man," said Mr Irving today in Key West, "and never have been. But in the light of the speculation, I want to do everything possible to unmask the perpetrators and bring them to justice." He expressed annoyance that the NZ community leaders had mentioned his forthcoming visit in connection with the outrages.
British authorities seized Mr Irving's two-million dollar Mayfair, London home of thirty-eight years with all his possessions including his research archives and library in May 2002 after the High Court ruled against him in his three-month libel action against American scholar Deborah Lipstadt. Funded by wealthy American friends and organisations, her legal defence effort had cost $10m, much of it spent on payments to her expert witnesses, who were invited to provide the Court with opinions on Mr Irving; she paid some of the experts as much as US$400,000.
He has invited the editor of the New Zealand Herald to act as reward arbitrator in the event of an arrest in the cemeteries case.

[Contact David Irving: email

| cell phone: USA 1 305 923 6259]

Dossier: attempts by New Zealand Jews to stop David Irving's 2004 visit
FAQ: Answers to frequently asked questions about Mr Irving's visit

... a medley of earlier cases

Jul 13, 2004: 'Anti-Jewish train attack' on Mother, baby in Paris now in doubt
Anonymous ex-student defends St. Anne's College, Oxford, against Dame Ruth Deech's allegations of anti-semitism
New Zealand Herald sacks cartoonist for two "anti-Semitic" cartoons on Israel | Our dossier about complaints about anti-Semitic cartoons| organizations complain about "anti-Semitic" cartoon in The Philadelphia Inquirer
Pomeranians torched own synagogue to claim arson insurance
Robert Goldstein's wife arrested in plan to blow up Muslim buildings
Trying to Blow up a Mosque? Meet the JDL fanatics
Judge Diamond wrote threatening letters to herself, N.Y. police believe
Outrages against buildings of Jewish community and other minorities are not always hate crimes: Miami, 1996 | Germany, 1960s
A 1989 case: leading Jewish student at the State University of New York in Binghamton charged with painting anti-Semitic slurs
Another 1989 case: acquittal of Waterbury man charged with harassment because he made anti-Zionist calls to radio talk show