Monday, August 30, 2004
---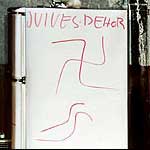 Jewish man held over Paris fire
Crude slogans at the scene suggested an anti-Semitic motive
POLICE in Paris have arrested a man in connection with a fire at a Jewish community centre that was initially assumed to be an anti-Semitic attack.
French media report that the suspect is a Jewish man who worked there.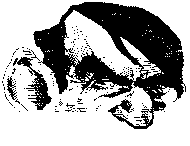 David Irving comments:
WHAT rotten luck for the international community. Our heart must surely go out to them. First the Holocaust, and now this.
This Paris public relations disaster comes just when they hoped they had successfully smothered the vile suggestion that they themselves had desecrated the two cemeteries in Wellington in order to distract attention from the Mossad passport scandal and my own forthcoming visit to New Zealand.
Incidentally, our much-publicised $6,000 reward for information leading to the conviction of the perpetrators [now increased to $10,000] has yet to be claimed, and the NZ Jewish community has failed to put up even a nickel of their own as a reward. Perhaps, whisper it softly, they fear the product of any real investigation of the outrages.
Here is a chance for France to atone for sinking the Rainbow Warrior in Auckland harbour. Send the gendarmes who unmasked the Paris perpetrator to New Zealand: then, as it used to say on the fireworks of my youth, "Light blue touch paper, and stand well back."

The centre was daubed with swastikas and set alight a week ago, prompting renewed pledges by French authorities to defeat anti-Semitism and racism.

In July, a French woman falsely claimed she had been the victim of vicious anti-Semitic assault.

Condemnation

Police sources have told the French news agency AFP that the person detained is a 50-year-old Jewish man who sometimes worked as a guard at the centre, but who management wanted to sack.

He was "more or less homeless" and "mentally unstable", they said.

Police are said to no longer be treating the arson as an anti-Semitic attack.

Swastikas and anti-Jewish slogans were scrawled on the walls of the community centre in east Paris before it was set ablaze on the night of 21 August.

The assumption that the fire had been an anti-Semitic attack led French leaders to speak out strongly and declare war on racism.

The visiting Israeli Foreign Minister, Silvan Shalom, toured the site a couple of days after the fire, condemning the attack but praising French efforts to curb a rise in anti-Semitism in the country.

Lied

Anti-Semitic acts have more than doubled in France in the first seven months of this year compared with 2003.

From January to July, there were 160 incidents - the corresponding period the year before saw 75 such acts.

Sensitivity over the issue was heightened last month when a 23-year-old woman said she had been attacked by a gang of Arab and African men who mistook her for a Jew. News of the alleged attack caused a national outcry.

She subsequently admitted she had made the story up and was given a four-month suspended sentence.

France is home to Europe's largest Jewish and Muslim communities, put at 600,000 and five million respectively.


Our dossier on the origins of anti-Semitism
Arsonists destroy Jewish center in Paris
New Zealand graves desecration: David Irving, in a Radical's Diary, ups reward now to $6,000 | California man ups David Irving's NZ reward offer to $10,000 | [index: Latest news on New Zealand's ban on David Irving] | Another Member of Parliament says New Zealand should let Mr Irving in | Sound Familiar? French investigators skeptical about unknown "Islamic" group that claimed responsibility for attack on Paris Jewish center