IN THE most cynical smear to be perpetrated against writer David Irving so far, early in 1996 international Jewish organisations decided to link him with what was possibly the worst crime inflicted on the American people this century -- the truck-bombing of the Alfred P Murrah Federal building in Oklahoma City on April 19, 1995 in which 169 people including nineteen infants died.
---
In 1997 Timothy McVeigh, 28, and Terry Nichols, 41, went on trial in Denver for this crime. McVeigh was sentenced to death, Michols to life imprisonment.
---
See too David Irving letters to Daily Telegraph journalist Nick Farrell, London, February 16, 1996 and to the FBI attache at the US embassy, London, November 11, 1995.
Jewish Agencies generate Lying Allegations that David Irving "supplied trigger for the Oklahoma City bombing"
[Adapted from Action Report]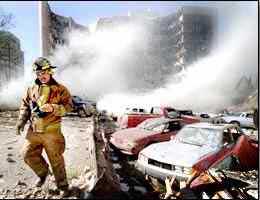 February 10, 1996 Basing its story on an Associated Press report, Sacramento's main newspaper The Bee reports in a story which would have been actionable if published in Britain that McVeigh's defence attorney Steven Jones has asked for subpoenas to be served on Mr Irving. The story wrongly identifies the writer as a "neo Nazi journalist" and member of the extreme right-wing British National Party (BNP). Jones has told KJRH--TV in Tulsa, Oklahoma, that he wants to know if three British nationals identified as Irving, John Tyndall -- leader of the BNP -- and Charles Sergeant supplied American right-winger Dennis Mahon with a detonator "possibly used in the bombing." The report continues, "Irving's pro-Nazi writings, speeches, involvement with the BNP and other radical right-wing groups have resulted in several investigations into his ties to suspected terrorist groups." It comments, "Although Irving is free to travel in and out of the U.S., he is not allowed to enter Germany, Australia, New Zealand and Canada."
Mr Irving is working at his base in Key West, Florida, when a phone call from Paul O'Donnell of the New York office of international news magazine Newsweek breaks news of this revolting twist in the campaign to him. McVeigh's lawyers, says O'Donnell, have asked for the author to be subpoenaed to answer questions about his links with "American neo-Nazis", identified as Mahon and young attorney Kirk Lyons.