---
Jews and anti-Semitism
Outraged Toronto Star editorial demands that Justice Minister throw Ernst Zündel out of Canada without trial | David Irving comments
Poll shows a rising tide of anti-Semitism
Finds that 46 percent of Europeans think Jews have "a different mentality"

Unfortunate When Canada Kodak used a well known symbol to embellish its products
New website feature: Henry Stimson's diary August - September 1944: How the Morgenthau Plan evolved; plans for the liquidation of captured enemy leaders | Letter: Dennis Donham wants the jaundiced spotlight of history turned more closely on Harry Hopkins
Hired mercenaries The Times mentions the Lipstadt Trial in an attack on the fees paid to "expert witnesses"
The foul-mouthed parrot at Winston Churchill's side during World War II is still alive and cursing Adolf Hitler | Mr Irving rather doubts it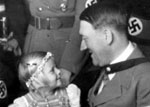 What the Wall Street Journal said about David Irving and Adolf Hitler
Holocaust at sea Remember the Wilhelm Gustloff: January 2004, 59th anniversary of its sinking

But it is not new! Frankfurter Allgemeine Zeitung discovers a "new" 1942 document on Hitler's role in killing Jews | Mr Irving's letter to FAZ | Die Welt says Nicht das Gesuchte
Marianne Meed Ward in Toronto Sun on Ernst Zündel's imprisonment without trial | Judge cites secret evidence Zündel loses another bid to be released while immigration case is heard
Saddam's large WMD stockpiles did not exist, admits David Kay, American who led hunt
David Irving asks: "So where does this leave US Secretary of State Colin Powell? . . . a fool or a liar?"
Trying again? David Duke, jailed by IRS, Considering Run for Congress
Great Shakedown latest Israel's own Bank Leumi is holding hundreds of dormant accounts of Holocaust victims
Revisionism Poll: One in seven Britons (and one in five school leavers) think the Holocaust is exaggerated
Action Report Lipstadt zu Irving: Happy Holidays - und jetzt her mit all deinem Eigentum | English text
For the record Shoe Bomber Sentence: Ruling by Judge William Young in the U.S. District Court January 30, 2003 in the case of The United States vs. Richard C. Reid
It's that book again Swedish High Court lifts ban on Mein Kampf publication

David Irving: A Radical's Diary, on documents in the latest Deborah Lipstadt claim, for all his possessions to be turned over to her
Fool Fell for Fatso Fakes Irish Taxing Master takes London court action over fake Göring dagger, items of Nazi memorabilia
Rats Kicking Pilots off Ship CanWest Global Communications (Aspers) sacks Conrad Black and David Radler from board
Debate: Should waiters be seen but not heard? Art Butz of Chicago is outraged at David Irving's rebuff to a chatty California waitress. So are others
The Guardian: Hate mail: Jewish activists opposing the Israeli government's policies face intimidation via email and on the internet

New Zealand Herald covers up reasons for sacking anti-Zionist cartoonist

Der Spiegel editor Fritjof Meyer has flattened the attempts by Auschwitz ex-director Franciszek Piper to destroy his arguments [German]
Britain puts online World War II photo reconnaissance archive | "New" (?) air photo of Auschwitz II (Aug 23, 1944) released

[Don't forget the established John Ball website of air photos of controversial WW2 sites]
US stars hail British Iraq war whistleblower: GCHQ worker Katharine Gun faces jail for exposing American corruption in the run-up to war on Saddam
Israeli ambassador kicked out of Stockholm Museum after vandalizing an artwork
The truth about that recent Orange Alert

Richard Evans: Why There Are So Many Books About the Nazis
"Evans looks confused for a moment. 'I've got someone flying in from the US to research the Irving trial' ..."
Small victory for Canadian Oberlander family Deportation of Accused "Nazi" Halted

Abe Foxman's instant outrage as Wall Street Journal cites David Irving on Churchill's tax problems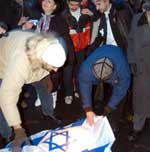 Kicking friends when they are down Globe & Mail publishes a really bitchy piece about Conrad Black and Barbara Amiel | Lord Black Removed As Chairman of Hollinger International

| Conrad Black ousted as The Daily Telegraph is sold

Budapest, January 11: A large crowd demonstrates against Leftist control of the government's Radio system. A section of the crowd burnt the Israeli flag. >>
The Independent British soldiers "kicked Iraqi prisoner to death"

| BBC reports four US soldiers (including two women) also discharged for brutality in Iraq

US accused of subjecting POWs to 'cruel, inhuman' conditions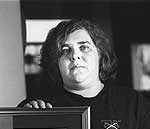 "Let's get the British bastard!" How emails from the badly leaking laptop of Sara Salzman (above) scuppered her violent plans in Colorado
Farewell to a revisionist Historian John Toland dies; Pulitzer prize winner
Eric Margolis on Iraq Pillaging resources, not enlightenment, were - and remain - the true colonial motivation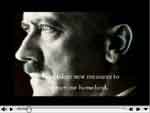 Drudge report MoveOn.org features ad comparing Hitler with Bush: advert is pulled after complaints | outrage at Simon Wiesenthal Center | Anti Defamation League, Foxman, call it "outrageous"
Corrupt press JTA bleats about how financial scandal threatens world of pro-Israel media baron Conrad Black | Conrad Black and Hollinger executives "diverted to themselves hundreds of millions of dollars" according to shareholders lawsuit | Syndicated columnist George Will concealed that Conrad Black paid him $25,000 retainer, wrote favourably about him | Scores of leading personalities whom Black corrupted with such retainers and investments | Mark Weber wrote in 1993: Lunch with George Will: How an Influential Journalist Distorts the Truth
Who forged the "Niger uranium" papers? asks Don Sellar of the Toronto Star
How Winston Churchill fought the Inland Revenue on WW2 '"second front"
More Israeli racism Israeli Soldier shoots Jew in West Bank, explains he thought protestors were all Palestinians
History flashback: Starvation and epidemic conditions in Bergen-Belsen camp: On March 1, 1945 commandant Joseph Kramer made a full report to his superiors
Israel
Bush war against Iraq
Hitler
Lipstadt Trial and Auschwitz
Free Speech
World War II History
Miscellaneous

AR-Dossier: casebook on the origins of modern antisemitism
[March 2003 AR-Online] [Latest Radical's Diary]
---
READERS' LETTERS
Sylvie Auguste, French writer has questions about Waldemar Fegelein
---
---