Friedner ... could not explain why it was found on his computer.

-- (I think we can perhaps help there).
---
Courier Post
Thursday, October 21, 2004
Official says he's subject of FBI probe Camden Co.'s Friedner denies making threat
By ALAN GUENTHER
Courier-Post Staff
CHERRY HILL -- RUMORS of an FBI investigation swirled around Lewis "Robbie" Friedner for weeks after he abruptly left his $66,000 job as head of Camden County's division of consumer services for the disabled.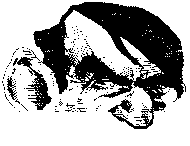 David Irving comments:
SO Lewis "Robbie" Friedner, who reported a bogus anthrax-laced letter a couple of years ago, is at it again. This time, he happened across a "terroristic letter" while splashing about in the bathroom aboard an Amtrak train.
The text of this selfsame letter was found on his office computer. S stage conjuring trick? No, Friedner suspects some sort of conspiracy motivated by revenge.
Friedner's lawyer, Michael Pinsky, insists: "I'm not sure there was an offense committed. Maybe there was, maybe there wasn't. I hope the government realizes who Robbie Friedner is."
Yeah, right.

On Wednesday, during an exclusive interview with the Courier-Post, he confirmed that he has been questioned about terroristic threats by the FBI but firmly denied any wrongdoing.

Freeholder-Director Jeffrey Nash did not return a call. County spokesman Ken Shuttleworth called Friedner a "great advocate for the quality of life of the disabled."

Here's how the trouble started, said Friedner: While traveling on an Amtrak train to the West Coast in mid-August, he found a threatening letter on the sink of a restroom. The letter said the train would "never reach its destination" in Los Angeles.

But instead of being lauded as a hero for turning the letter over to authorities, he was treated as a suspect, Friedner said. Federal agents boarded the train near Fort Worth, Texas, and searched him, he said. Agents also searched his home in Cherry Hill.
And near the end of August, Friedner said, the FBI discovered the letter had been generated on his computer in his county office at 600 Market St. in Camden. He said he did not write the letter and could not explain why it was found on his computer.
No charges have been filed, said Friedner's attorney, Michael Pinsky.
Friedner said he felt relieved to be able to tell his story because the FBI investigation has caused so many "crazy rumors."
"I believe they found the letter on my computer at work, or something led them to believe that I was involved in this case, which is ludicrous," said Friedner, 48, who has cerebral palsy. "I have theories. As a rule, I don't lock my door to my office."
Though he helps hundreds of disabled people every year, some are angry when they are denied services and could want some kind of revenge against him, Friedner said.
He has been on the county payroll since April 1985.
Shortly before Friedner took a paid leave of absence from work at the end of August, an FBI agent told him he was a publicity-seeker, Friedner said.
"You think I'm lacking attention? Look behind you," Friedner said he told the agent. The wall in his office was covered with newspaper clippings from Friedner's 19-year career of helping disabled people.
"I told him, `You think I need attention? It's like the pope looking for religion,' " Friedner said.
Several years ago, while there was an anthrax scare at the Bellmawr Post Office, Friedner said he reported receiving an envelope with powder in it. No anthrax was discovered.
"I was taken to the hospital. I was given medications and shots," he said. Far from getting publicity, the anthrax scare "inconvenienced me tremendously."
Friedner's attorney, Pinsky, said he has been trying to work quietly to resolve the matter.
"I'm not sure there was an offense committed. Maybe there was, maybe there wasn't," Pinsky said. "I hope the government realizes who Robbie Friedner is. I'm certain he never, at any time, had any criminal intent about anything."
Greg Reinert, spokesman for the U.S. Attorney's office in Camden, declined comment.
Shuttleworth said Friedner has applied for a disability pension and planned to retire. He said Friedner's departure was not announced because "he's off sick and there's nothing for us to say." Shuttleworth said he knew nothing of an FBI investigation - even though the FBI gained access to the county office and searched Friedner's computer.
Religious leaders and advocates for the disabled said Wednesday that Friedner would be missed.
"Robbie is a beloved friend, a dedicated family man," said Rabbi Ephraim Epstein of the Cherry Hill-based Congregation Sons of Israel. "He is very reliable and responsible. I feel saddened that he and his family are suffering."
Friedner has helped people with disabilities since the late 1970s, said Brian Fitzgerald, president and chief executive officer of Easter Seals of New Jersey in East Brunswick.
"The Robbie I know - this sort of thing does not fit his character, his personality," Fitzgerald said.
In the last few weeks, Friedner's office has been moved to Collingswood and merged with the county's division of senior services, Shuttleworth said. No announcement was made of the merger. The move was contemplated before Friedner left on sick leave, Shuttleworth said.
Friedner said he discovered the terroristic letter while traveling with his preteen son.
Especially with his son aboard the train, and given his long years of service helping hundreds of disabled, Friedner said it makes no sense that he would do something "so stupid" as to generate a threatening letter.
"What would be the purpose of throwing away all my years of credibility?" he asked. "I may not be an Ivy League scholar, but that stupid - I ain't." .

Staff writer Bernie Mixon contributed to this report. Reach Alan Guenther at (856) 317-7871 or aguenther@courierpostonline.com
Oct 19, 2004: Woman Charged In Swastika Graffiti Spree
Surprise arrest in hate campaign at Ryerson - Bid to Fuel Jewish, Arab Tensions on Canadian Campus |
Aug 30, 2004: Jew held over Paris fire: Crude slogans at the scene suggested an anti-Semitic motive
Outrage among New York Jews that FBI is not hiring them