[image added by this website]

---
California, Monday, April 26, 2004
Calif. Professor Charged with Hate Crime Hoax
by Reuters
LOS ANGELES (Reuters) - A Southern California college professor who received wide media attention when she claimed that racists had vandalized and defaced her car with ethnic slurs was charged on Monday with filing a false police report and insurance fraud.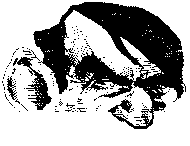 David Irving comments:
I HAVE no idea whether Ms Dunn is Jewish or not (some reports say that she is, and her behaviour is characteristic of the community, some of whose members have been prosecuted in past years for defacing their own synagogues, in order to protest about rising anti-Semitism).
We have examples of this in our dossier on the origins of anti- Semitism.
My concern is however about the criminal prosecution of this case. Were it not for the allegedly fraudulent insurance claim, the behaviour appers to betoken a clinical disorder rather than a criminal, and were I calling the shots I would have called for medical reports, a period of observation and treatment rather than criminal sanctions.
It reminds me of a book I read in my youth called Erewhon by Samuel Butler, I believe, in which the hospitals housed the criminals, and the prisons housed the sick. From my own two-week experience in London's Pentonville on a contempt of court charge (learn from it, Prof Deborah Lipstadt!), I can confirm the latter part.

Kerri Dunn, a professor of psychology at Claremont McKenna College, east of Los Angeles, portrayed herself as a victim of racists angered by her message of tolerance at a campus forum when she reported the vandalism on March 9. She then put in a claim with her auto insurer for damages to her car.
Her story drew media attention and prompted hundreds of students to rally in her name, joined by civil rights activists. But police and FBI agents who investigated the incident began suspecting Dunn of a hoax after witnesses came forward to say they had spotted the 39-year-old professor vandalizing her own car.
She was charged with one misdemeanor count of filing a false police report and two felony counts of insurance fraud. She faces three years in prison if convicted at trial. "False accusations that imply hate crimes prey on the legitimate concerns of the public who truly abhor violence based on race, ethnicity or sexual orientation," Los Angeles County District Attorney Steve Cooley said in a statement. "And those who make false claims should realize there is a penalty for doing so."
After Dunn's car was found covered in racial slurs, its tires slashed and windshield shattered, college officials offered a $10,000 reward for information leading to an arrest.

Claremont President Pamela Gann has said the college would conduct its own investigation before deciding whether to retain Dunn, whose contract expires later this year.

Above: Abraham Foxman of the Anti-Defamation League
in New York is unusually coy about the story
University Hillel staged an anti-hate meeting with Prof Kerri Dunn as key speaker