Author David Irving's Parents and Ancestors

Based on genealogical research by N J N Newington-Irving, to whom thanks are due; for the Antarctic exploration history, this is based on official records cited in "Discovering Antarctica," by Carol Irving, May 1999.
Family Origins of the Writer David Irving

Picture: Michael Hentz for New York Times
Alphabetical site index (text)

Beryl Irene Newington (the writer's mother) was born on 24 October 1896 at Saint Leonards-on-Sea, Sussex. Beryl became an artist, most notably as an illustrator for The Nursery World, Farmers Weekly, and The Radio Times; she was also a writer and broadcaster (BBC, Woman's Hour). Beryl's father was Capt. Charles Douglas Godfrey Newington, (late 14th Sikhs): her mother was Frances Maria Dolman, lately of 12, Outram Road, Southsea. Beryl had two married sisters, Gladys and Winifred, and two bachelor brothers, Campbell (planter, imprisoned in Malaya) and Malcolm (Colonel, Indian Army, latterly Fishhoek, South Africa). Beryl was married on November 18, 1921 in Rushbrooke, County Cork to Lieutenant Commander John James Cawdell Irving, RN.
FATHER

Notes:
* John Irving's antecedents were quite humble: his father John Irving (the Headmaster) was the son of a Cumbrian coalminer, Joseph Irving. James Cawdell was a Colour Sergeant in the 49th Regiment of Foot but served as Troop Sergeant Major in the Land Transport Corps during the Crimean War. James was married in 1846 at Mohill, County Leitrim to Eliza, the daughter of Thomas Jacques (an Irish Revenue Policeman) at the height of the Great Famine.
This John Irving (the writer's father) was born on January 22, 1898 in Cowley Saint John, Oxford, the eldest son* of John Irving, MA, Headmaster of Saints Mary and John School, Oxford, and of his wife Clara -- seen at left, below, on the Eastbourne seafront with her sister in 1938 -- a daughter of Sergeant James Cawdell).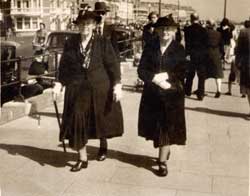 After being trained on HMS Worcester from 1912 to 1914, John (the son) served in the Royal Navy Reserve until 1917, seeing action at Coronel and the Falklands and at Jutland; in 1917 he was commissioned into the Royal Navy where he remained until 1922. He later became a writer and broadcaster on maritime matters; he was a keen yachtsman and helped to found the Little Ship Club in London.
He went to the Antarctic in 1929-1931 first as Chief Officer of RRS Discovery II under Captain Peter Carey (the writer's uncle, who was lost overboard on a later voyage in May 1933) and then in command of RRS William Scoresby. Irving Point on Visokoi Island, and Carey Point on Saunders Island in the South Sandwich Islands are named after the two officers, who had married the sisters Beryl and Winifred Newington of Southsea. He served in the Royal Navy again from 1939 to 1943. He stood for Parliament unsuccessfully as a Labour Party candidate in 1950 (Bassetlaw, Notts) but he is best remembered as a naval historian, author of works including the Dick Valiant series, Coronel & Falkland, In the Footsteps of Livingstone, and The King's Britannia, the official history of the Royal Yacht.
Beryl Irving died on October 15, 1965 near Chipping Ongar, Essex; John Irving died on July 23, 1967 at Bangor, Caernarvonshire.
See too David Irving: Information for Counsel on my Background (1970) and Torpedo Running (1985) | The Citizen (Gloucestershire), Aug 5, 2003: A Tale of Two Brothers
They had four children:
John Napier Beatson Irving, Ph D, a senior RAF officer, later a Wilshitre County Councillor and inventor; who was born on May 31, 1930 at 6 Belsize Park, London;
Jennifer Caroline Irving, former civil servant, who was born on September 22, 1935 at "Friern Manor", Dunton, Essex;
Nicholas John Newington Irving (now Newington-Irving), a retired civil servant of the Export Credit Guarantees Department, born on March 24, 1938 at "Park House", Hutton, Essex with his twin brother,
David John Cawdell Irving the writer.