David Irving's book:
Accident. The Death of General Sikorski

(original 1967 edition)
is now available as a Free Download on this Website
in Adobe Acrobat .pdf format (0.9MB)
It can be read by Acrobat Reader, version 3.01 or later, in a printable and searchable form (see panel below).
---
---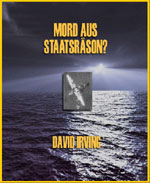 See Appendix III of Churchill's War, vol. ii: special download [36k]
RIGHT: GERMAN-LANGUAGE EDITION, UPDATED >>
DOCUMENTS like this book are stored on this website in Adobe Acrobat (".pdf") format. This format allows viewers to access documents in their original published form. To read Acrobat documents, you must have Adobe's free Reader 3.01 or later. Click below to download your free copy if you do not already have it.

PC-users only: Once Adobe Acrobat is downloaded, click on the file name (e.g. ar32e30.exe) from File Manager or Explorer (if you are using Windows) and the program will self-install. After installation, you can click on any Adobe Acrobat document on the Internet. To download these books, you must "right-click".
Left: Sikorski's plane lies on the MEDITERRANEAN SEABED, WHEELS up, in July 1943 after the mysterious plane crash. Photo from Accident
---
THIS site is best viewed in either Microsoft Internet Explorer 3.x or higher or Netscape 3.x or higher. Click on the icons below to download a copy of the latest version of these browsers:
Alphabetical site index (text)

PC downloading problem?
• Right-click on the link Free Download
• on the menu then revealed click "Save target as..." The download then begins.
• When asked which directory (file) either left-click to confirm the suggested file, or first navigate to a different file of your choice.
By default, downloaded files will normally be found in the Windows directory on the hard drive.