Four Hitler Paintings found in cleric's trunk
The paintings were found in the priest's trunk
THE four paintings offered for sale [two already sold] are expert-certified original Adolf Hitler watercolor paintings. These four paintings originally belonged to an historically important Austrian Priest, who was a personal friend of Adolf Hitler; he was in fact the cleric who buried Hitler's niece, Angela "Geli" Raubal, in the Central cemetery in Vienna in 1931. (The body has since been reinterred in a common grave.)
Click on image to enlarge

Karlskirche

Landschaft mit Burg am Fluss

Dorfstrasse mit Kirche

St. Ulrichshof, Wien
Until purchased by Ray and Josephine Cowdery, these paintings probably never traveled more than about forty miles from the place they were painted almost a century ago.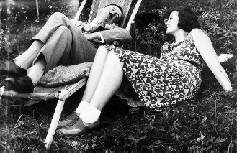 The Cowderys purchased these four paintings as a portion of a lot that included a trunk full of ephemera (above) which also belonged to the Priest. That ephemera consists in part of the original Cemetery Burial Receipt for the body of Geli Raubal (right, with Hitler), a large set of daily dairies spanning many years, the Austrian passports of the Priest, family and other photographs, letters, documents (including some signed by Theodor Cardinal Innitzer), newspaper clippings, maps, etc. The Priest died in 1959 and there are even photographs of his mortal remains in a coffin.
While subjects of some of these painting may be similar to other paintings by Germany's future twenty-third Chancellor, Adolf Hitler, these paintings are different and have never been reproduced or offered for sale before.

---
Our thanks to the vendor, art expert Josephine Cowdery, for the fine images

Early Hitler works found in Iran
What comments have you on these Adolf Hitler paintings etc?