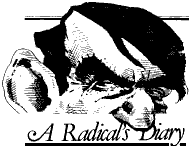 November 6, 1993 (Saturday)
Asheville, North Carolina - Newberry, South Carolina -
Phone Benté around 9 a.m. She says that CBS radio (?) phoned asking for an interview, they'll phone Monday. Says that Dublin students just phoned a few minutes ago, want me to go and speak; she told them I can't go for the next few weeks! Also asks if I am going to Germany? I hummed and hawed. Set out for Newberry, South Carolina, around midday. A long day's driving ahead.
November 7, 1993 (Sunday)
Fayetteville - Washington D.C. (airport) USA --
Leave around 8:10 a.m. on I-95 for Washington airport.
At Washington Dulles airport around 5 p.m.; flight back to London squashed next to rather pleasant American federal employee on his way to London and Moscow. Read book Mac for Dummies most of the night.
November 8, 1993 (Monday)
-- London, England.
Land around 6:30 a.m., taxi to Duke Street taking the American as my guest passenger (he apologises that his per diem does not allow him to contribute to the fare!)
I glance at the mail, and then go to sleep until one p.m. Out like a light. Spend the afternoon packaging up book orders and taking them to post office. A faxed invitation comes from Dublin students to address them November 16.
Andrew M calls around at 6:30 p.m. Tactlessly he inquires what time my flight to Munich tomorrow is (I have kept it from Benté, not wanting to spoil a pleasant evening.)
November 9, 1993 (Tuesday)
London - Munich (Germany)
Upn at six a.m., potter around; I phone S to say that I am in London (as camouflage); then leave around ten a.m. for the airport. Catch a noon flight to Munich; I intended to sleep, but a very pretty and agreeable girl, Michaela Schnellhardt, is assigned to the window seat next to me and we talk for latter half of the flight. Father is a Dresdener.
I am a bit nervous when all passports are checked. No problem. Difficulty in picking up rental car. 3:45 p.m. before I leave the airport, and speed along the autobahn into Munich. Chilly.
Arrive at the Mövenpick rendevous on the dot of 4:20 p.m. as promised. [The talk to Munich students is set down for early evening.] Stephan Wiesel is waiting outside. It would perhaps have been politic to move to somewhere else straight away; we do not. I phone S, using W's cellular phone -- another mistake probably -- to arrange dinner at Mövenpick at nine p.m. Ten minutes later a Kriminalkommissar Wolf of the Staatsschutz [State security police] and a female officer arrive brandishing a thick envelope containing two copies of a 33 pp. Aufenthaltsverbot [expulsion order] issued against me and date stamped today, November 9. That's torn it.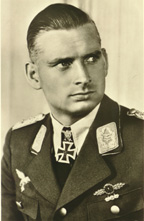 I read it through at leisure, and overhear him remark that he has something even grimmer to do (or to hand me) as soon as I have read it. It is obvious to me the police intend to serve on me the latest Strafbefehl [arrest warrant] personally, or perhaps even arrest me (Fred Leuchter is still in a German jail!) Wolf sends the female out to their patrol car to get it; I nonchalantly say I will of course have to phone my lawyer Hajo Herrmann, [a highly rdecorated former Luftwaffe fighter ace, right] and rise to get his phone number from my car.
"You're coming back?" asks the officer, and I say yes -- before climbing into the car and speeding off, nearly colliding with a pack of Jews wailing at the local Kristallnacht memorial.
Drive to W's and leave a verbal message to him to meet me at Hotel Drei Löwen. Then phone S and using coded language change the rendezvous to same place.
Seven p.m. I go to Hotel Drei Löwen for a tea; this time the Chefin tells me sternly to get out, she has "seen" the Inhaber, Herr Weiss, issue to me a Hausverbot "two years ago"; this is quite untrue. I say she must be mistaken about the person, "Ich bin Herr Irving!" Precisely, she says!
Turns out Weiss sold out to an investment group, she gives me name of his successor. I shall write and protest: thirty years as Stammgast! Somebody must have blackened my name. Thank you, Ewald Althans (who organised the "Hitler's Birthday" party there in April 1991)! S turns up, and we go to Lindenstuberl in Lindwurmstrasse for supper. W shows up and pleads with me to go ahead with the tour; I disillusion him -- I read to him the §§§ which make it plain that to leave and then re-enter Germany would be a criminal offence.
I asked him to speak with [lawyer] Dr jur Klaus Goebel tomorrow and see if we can get an Aufschub; if not, then Baden-Württemberg is also off as well as the rest of the tour.
November 10, 1993 (Wednesday)
Munich - London
At British Airways downtown office at 9:30 I change the return flight booking to tonight.
11 a.m. W phones me at the Institut für Zeitgeschichte, where I am working in the archives, to say that Goebel won't take the case. I: am leaving today. He wants me to sign books. Against instructions he uses his cellular phone again! That does it. I immediately flee from the Institut where I am working and drive to an anonymous cafe where I work on GOEBBELS for an hour. Then straight to the airport.
I again change the reservation from the nine p.m. flight to standby on the five p.m. flight to London, hoping thereby to lose any security policeman who has checked the British Airways computer. Fall asleep in the airport cafe, then check the time from a gormless Japanese gentleman who says "four two" and holds up the corresponding fingers. Later I check with a German, who says it is already 4:50 p.m.! Dash to the airport gate and get on just as they closed the doors. Back in London, Benté overjoyed to see me back after these adventures. I am now in London at least until the spring I hope.
November 11, 1993 (Thursday)
London
At 10:30 a.m. I phone [lawyer] Ed Wall in Australia, no reply. Fax from Homenko in Sydney, there is a report in today's newspapers about my expulsion from Germany. The Traditional Enemy moves with the usual speed! ... Phone Australian News Agency and give them a statement.
Send a press release to agencies and media [...] Press Association phones back for details. I find that The Daily Telegraph has a small story. Later the Evening Standard also runs a story, full of lies.
Worked all afternoon on a fax to Ed Wall answering his points. The Australian libel actions seem to be running into heavy seas, as the Jewish defendants are all asking for security for costs. This is an old trick, and it might break my neck. I warned Ed Wall about this a year ago. I think he's a greenhorn, probably. He made several procedural errors, apparently, too.
7:38 p.m. on my return from shopping, I find a lorry and workmen about to start unloading tons of granite and marble for Third Floor of No. 81 Duke Street. There seems no end to the purgatory, and I tell Mr Pillar, whom I meet on the stairs, so.