John Gilchrist wrote December 5, 2005 to Amnesty International:
I HAVE just learnt that Mr. David Irving, a renowned Historian has been arrested in Austria for nothing more than expressing historical opinion at a meeting of students. I have no method of communicating with this person or any knowledge whether he is being adequately represented. Can you tell me what steps you are taking to secure his release?
---

Amnesty International replied after a week, December 12, 2005
THANK you for your email concerning Amnesty International's position on David Irving's arrest.
Amnesty International's position on the issue of 'Holocaust denial' is based on international human rights standards. The International Covenant on Civil and Political Rights (ICCPR) states, in Article 19, that everyone shall have the right to freedom of expression, but that certain restrictions may be placed on that right if they are necessary for the respect of the rights of others; Article 20 states that any advocacy of national, racial or religious hatred that constitutes incitement to discrimination, hostility or violence shall be prohibited by law.
In line with this and other international human rights standards, Amnesty International works for the right to free expression and adopts as prisoners of conscience people who are imprisoned for exercising their right to freedom of expression, however it will not adopt as prisoners of conscience people who are imprisoned for using hate speech to deliberately or recklessly incite acts of violence, discrimination, or hostility against another group.
The language used to advocate hatred is not always explicit or direct. Sometimes it uses euphemisms which, over the years, become well known, such as denying the occurrence of the Holocaust and thereby alleging that the extensive documentation of the Holocaust is fraudulent and that its victims are lying. Since Jews, Roma, gay persons, and disabled persons were the principal victims of the Holocaust and are still subject to discrimination, this can constitute advocacy of hatred and an incitement to discrimination and hostility against those groups.
In line with its normal practice, when applying the policy to individual cases, AI [Amnesty International] considers each case on its own merit. In cases where it determines that an individual who has been imprisoned for denying the Holocaust has, in effect, advocated hatred as described above, AI would not adopt them as prisoners of conscience. This is the reason why we will not adopt David Irving as a prisoner of conscience.
Marie-Anne Ventoura Supporter Care Team
Amnesty International UK Tel: 020 7033 1777
Amnesty International UK
The Human Rights Action Centre
17-25 New Inn Yard London EC2A 3EA
---

John Gilchrist then wrote to Amnesty International:
I MUST say that I am rather disturbed by your insensitivity towards this man's plight. Not the response I would have expected from an organisation reputedly dedicated to helping people who are the victims of conscience.
I am not aware of the allegations of racial hatred you are directing towards Mr. Irving. To my knowledge, having read several of Mr. Irving's books, he does not mention anything about "Holocaust denial", nor has he ever written a book on that subject. His books diarize in great detail the events of the second world war - warts and all; something that other historians either fail to report or are too lazy to research.
I think any reasonable person will agree that the truth, however unpopular, is far more important than lies, which distort history and offer no real hope of peace in this unstable world. Palestine and Iraq for example are the main ones that come to mind.
If in your opinion Mr. Irving has committed a crime then why hasn't he been arrested, in the USA or indeed his own country the UK? Aren't your actions rather reminiscent of past dictators in judging a person solely by his reputation?
I am not too young to remember the 'Soviet Gulags' for which so many innocent people found their way for no other crime than to express opinions contrary to the ruling elite; and were allowed to rot for precisely the same reasons you are condemning Mr. Irving. Perhaps I am witnessing for once the true face of your organisation.

ITEMS FROM OUR DOSSIER ON THE ARREST, TRIAL AND IMPRISONMENT OF DAVID IRVING
Mr Irving's arrest on Nov 11, 2005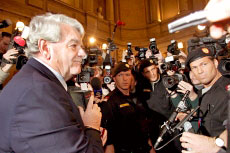 Show Trial in Vienna, Feb 20, 2006
IMPRISONMENT 2005-2006 awaiting appeal
Mr Irving's appeal court victory on Dec 20, 2006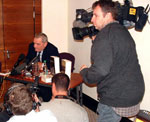 PRESS CONFERENCE, London, Dec 22, 2006 and aftermath
Click here for hi-res images of David Irving's Dec 22, 2006 press conference in London: [1][2] [3] [4] >>
David Irving: A Radical's Diary: The Appeal, and Release A very filthy cell. . . I lie down and wait for the glaring ceiling light to go out. It stays on all night.
The tragedy is that David Irving has emerged as a champion of free speech, says Joan Bakewell
Letters to Deutsche Welle - a German-government website - unanimously praise David Irving and his appeal court victory
American Free Press: David Irving is Back in London - was Railroaded into Jail by his own Attorney
Lipstadt changes her spots. Remember how Deborah Lipstadt wailed that it was a crime for David Irving to be imprisoned for his opinions? Well, now she's wailing that it is a crime for him to be released. See her web campaign against the right-minded Austrian judge: Irving given probation | Judges in Irving's probation hearing [sic] | More on Judge in Irving's Austrian case
Irving says will bring Austria before UN Human Rights Council | Wiener Zeitung: Irving geht vor Menschenrechtsrat der Vereinten Nationen |
Austrian Socialist party demands only Left-wing judges try such cases in future: OLG-Entscheidung nicht nachvollziehbar: Es stellt sich die Frage, ob Richter Maurer der geeignete Senatsvorsitzende in einer solchen Sache ist | Why was David Irving allowed out of Jail? asks Wiesenthal Center's Efraim Zuroff | YNet, Israel: Law without justice
BBC video of Mr Irving's Dec 22 London press conference: video | audio | interview with an opponent (three times longer)
BBC Today radio dialogue between star interviewer John Humphreys and Mr Irving on Dec 23, 2005: He shows no remorse
Here's an odd thing The result of the post-trial History News Network poll "Jail David Irving?" has been removed - but all the other postings have been left on | Flashback to Jun 2000: Australian poll, should historians be silenced?
RAW writes Sunday, January 7, 2007 10:41 pm:
"I just finished listening to audio of a BBC reporter interviewing you after your release. What jackasses these people are!"
Canadian Online newspaper Orato exclusive: "Holocaust Historian David Irving Released From Prison: His First Interview From The Outside"
Vienna's left wing press whining at the Judge who ordered Mr Irving's release The right wing judge gets grouchy | German original | Germany wants Holocaust denial to be EU-wide crime [Memo to Berlin: you blew it last time you tried to call the shots, in 1945; remember?] | International Herald Tribune: Berlin seeks to bar Holocaust denial in EU
On Jan 7 the brilliant journalist Christopher Hitchens (right) on TV Ontario defended the right of David Irving not be imprisoned in Austria for his views. [audio link or Click this link and then "Christopher Hitchens" - each time we post the actual TVO link it is changed].
In German: Deutsche National Zeitung publishes Exklusiv-Interview mit Irving: "Ich habe im Gefängnis 4.000 Seiten geschrieben" David Irving ist frei - jetzt geht er in die Offensive