Letters from a Vienna Jailhouse
from political prisoner number 70306
---

. . . to a friend in Chicago, April 12, 2006
ANOTHER Thursday. I was given a radio (new) by one of the guards yesterday, which brightens the cell a lot, I must say. I found a radio station called "Radio Stephansdom", which appears to be the local Catholic station: it plays classical music all day long, interrupted with occasional Catholic and Vatican propaganda.
I get a lot of writing done, though sometimes I nearly run out of ink. Fortunately, the Protestant chaplain visits every week and sometimes he brings ink cartridges. He explains that prisoners are not supposed to have ink in case they use it for tattooing each other. Yeah, right, I can just see me tattooing one of these gangsters.
I have got a good history institute in Munich sending me documents I need for the work on Himmler, so my time here is not completely wasted. I write about ten pages a day. Today less, as I spent six hours on the 2nd floor (your 3rd) seeing my new lawyer, firing my old one, and then signing up my new one -- Dr. Herbert Schaller, who will fight the appeal in 2-3 months time. We have to lodge the documents on the appeal in ten days' time and we have Easter in between. The old lawyer [Dr Elmar Kresbach] did not inspire me with any confidence any more. Very weak. As I was taken out of the courtroom [on February 20] I said, "I am shocked", when asked by TV reporters: In fact I was shocked at how weak he had been! The old lawyer was 46; the new one is almost twice as old.
My writing style if not my handwriting, has improved enormously in prison. I have read a lot of Raymond Chandler and Mickey Spillane, although in the latter books rather a lot of dames end up getting stood up, whereas Chandler just sweet talks them. . . I have also read Tom Wolfe's Bonfire of the Vanities &endash; same kind of thing, with a rather fizzled out kind of ending.

. . . to a friend in London, May 3, 2006
THREE weeks ago I applied for permission to extract my lecture notes from my possessions held here in the prison. The judge authorised it -- "no objections" -- and yesterday finally I was escorted to the Property Room to pick them up. Here I was screamed at by some high ranking prison officer in plain clothes -- all the uniformed staff cringed as he appeared. The actual papers, 30 pp., have however vanished with all my other papers from my luggage.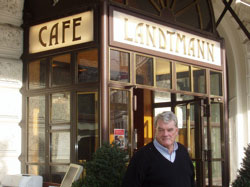 David Irving on Nov 10, 2005, at the famous Cafe Landtmann, shortly before his kidnapping. He was already arrested here in 1984. He forced Austria's Minister of the Interior to pay damages damages for wrongful arrest.
We served our appeal on time, April 22; the State Prosecutor has also served a rather lame notice of appeal, demanding an increase in the 3 year sentence. He has pointed to my "hundreds of lectures around the world", in justification; of course, this pretends that the Banning Law is in force in all those countries too (in fact it holds force only in Austria); and it also pretends that I was talking about the Holocaust and praising the Nazis in all these lectures.
This too is absurd, as my audiences know I talk about Churchill, Poland, Sikorski, atomic research, Rommel, and Hungary's Revolution of 1956, to mention just a few topics. It is all smoke and mirrors; he would make a good rival for David Copperfield!
I don't think the five judges of the Supreme Court of Austria who hear the appeal in 2-3 months' time will be very impressed by his efforts. Unless of course . . . but then, this letter goes through prison Censorship, so the rest of the sentence will have to remain in the eye of the beholder."

. . . to a friend in London, May 29, 2006:
THE Appeal documents have now all been served on the Austrian Supreme Court (OGH), as of Friday, May 27. Dr. Herbert Schaller, 83, has done a magnificent job displaying a legal expertise and fighting energy that was shockingly absent from his youthful (46) predecessor, criminal attorney Dr Elmar Kresbach, who had previously made a name for himself in narcotics cases.
Depending on the initial court response, Schaller will decide whether to apply for my release on bail pending the Appeal hearing due later in the Summer. I would however have to surrender my passport, and reside in Vienna. Legal experts say that if I appeals to the European Court, Austria will face a massive compensation claim.

. . . to a correspondent in Chicago, June 2, 2006
MY big problem (legal) now is with the Trustees in London [Baker Tilly]. They hold almost one-quarter of my archives and library, having illegally seized them all in 2002, and having illegally disposed of three-quarters by sale or destruction!
I have issued a High Court Writ against them for compensation; the dogs are now threatening to destroy the rest. I feel very powerless in situations like this. The London lawyers I hired [Frank & Co., of London W1] turned out to be yet another firm of do-nothing deadbeats like the one I first had here (and fired) [Kresbach]. Every time I hear people innocently inquire, "Why did you not use lawyers?" -- against Lipstadt -- I could scream with fury at such ignorance. Anybody who has had experience of lawyers and has hired them knows the answer to that one.
My glasses are failing. My opticians are in Key West. Everything takes so long, when you are locked up 23 or 24 hours a day! All over by Christmas -- or rather, "the holiday season" -- I hope.

. . . to a Canadian friend, June 9, 2006
FIRST, I apologize for using this paper. A coffee disaster this morning has effectively polluted most of my remaining paper -- but you're "family" so I can use it on you without (many) qualms. Next, thank you (to the power of ten) for the attached photographs. I liked the T-shirt, and greatly appreciated the logo, "Austria Sucks!"
I expect to see you when I am released, and we have now served our appeal. So I hope it will be in the winter, and after 2-3 months repairing fences in London. I shall embark on a lecture tour. You could of course come and help me on all or part of the tour.
This imprisonment has made a huge hole in our finances, un-refundable airline tickets, lecture fees at universities, etc. Around $300,000 -- that's the hole I would expect to have to refill. Problem is, I can't write and drive. Himmler is going well, I don't have many idle hours in the week. I have about one visitor a month.
A month ago a nice visit from one daughter, from Madrid.
Keep an eye on my website. I cannot access the Internet; so I have no idea what's on it about the imprisonment.
Gotta go now. Well, not exactly "go", I have a hundred letters to write. Well not exactly a hundred, but a LOT.
---
Bulletin dated London, June 16, 2006
L.M. has had an email from Lucy Popescu at the English PEN. She is Programme Director of the Writers in Prison Committee at the English Centre of International PEN.

"We continue to discuss the David Irving case, on a national and international level, and individual PEN centres have been responding in different ways."

The Writers in Prison Committee of English PEN agreed to write a letter regarding his imprisonment.
Her address is
6-8 Amwell St, London EC1R 1UQ
Tel: 020 7713 0023
Fax: 020 7837 7838
Email: lucy@englishpen.org
www.englishpen.org
Ms Popescu may devote a future column in the British Literary Review to Mr Irving's situation in prison.
---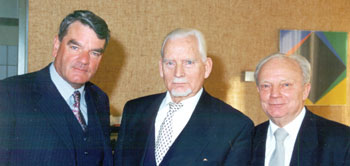 Photo: David Irving in the Munich courthouse in 1993 where he has just been fined DM30,000 for expressing an opinion. (Centre of picture is his attorney Dr Hajo Herrmann, at right is Dr. Herbert Schaller.) Click image for high-resolution version.

. . . to a friend in London, June 16, 2006.
IT looks as though the Viennese criminal authorities are hoping for a second bite at the cherry. Oblivious of the colossal worldwide outcry that followed my Feb. 20 three year jail sentence for expressing an alleged illegal opinion at a small restaurant meeting with 50 guests here in Vienna seventeen years ago, the Austrians are now contemplating prosecuting me again for an article published by Vienna newspaper Die Presse on March 3.
The article was allegedly based on a jailhouse interview with me which had been initiated by the newspaper, and specifically authorised by the Judge Peter Liebetreu. The prosecutor Dr. Michael Klackl is understood to object to a passage in which I allegedly drew attention to the fact that nearly one hundred thousand Jewish prisoners survived Auschwitz until the camp was abandoned in January 1945. More irksome for the criminal authorities was the title for the whole-page article, chosen by the editor: AUSTRIA IS ACTING LIKE A NAZI STATE. In the present vindictive mood, if the consequent irony of their new action is lost on the authorities here, I will again be prosecuted. "Once again", says I, "the truth is no defence."
I was therefore summoned before a new investigating judge Dr. Frederic Artner at 9:10 a.m. this morning to be interrogated about the article, and about a dispatch issued by the same journalist for the Austrian Press Agency APA, and no doubt also about the BBC "Today" interview -- although the judge did not get that far as I refused to answer any question at all, on the instructions of new defence lawyer Dr. Herbert Schaller. My continued imprisonment is costing Austrian taxpayers over $1,000 a week. The cost to me is incalculable, of course, and that is what the traditional enemies of free speech are banking on.
PS Costs. You are very kindly incurring expenses on my behalf. Please keep a list of them and I will of course reimburse you as soon as possible.

. . . to a friend in Chicago, June 20, 2006
LETTER No. 69 [of a final total of 114] goes off to Jessica and Bente. Coffee bubbling on a chair in the corner. In this Cell, Number 19 in "C1"-Block, everything is within arm's reach. Humid and 33 degrees C today, the cell is boiling. I am now into the eighth month of my Austrian taxpayer-funded Sabbatical. I am very keyed up about the Big Search I shall launch as soon as I regain my freedom.
One problem is that the "treasure" is located in a region where I am, ahem, forbidden to set foot. Not much of a clue for the enemy there. Delicate negotiations would seem to be called for.
My new lawyer, since April 20, is Dr. Herbert Schaller, 83, veteran member of the Ernst Zündel defence team in Mannheim. He shuttles between Mannheim and Vienna, ministering to our needs. A great guy. He is optimistic about this appeal; I warn him that in all countries which have Ministries of Justice it is politics amd politicians that ultimately call the shots.
I remind him of the last big trial in Munich where he acted for me, in 1993: his German co-lawyer Klaus Gobel arrived at court palpitating with fear -- he had that morning received a letter from the Bavarian Rechtsanwaltskammer [Bar Association] which he showed me, advising him not to defend me, on penalty of permanent suspension; fortunately I also had Colonel Hajo Herrmann as an attorney, a bearer of the Knight's Cross and hence not easily intimidated -- still alive in Düsseldorf today, he fought as a Luftwaffe pilot in the July 1942 battle for Convoy PQ.17 -- and of course Dr. Herbert Schaller too, again fighting for my freedom today. (Schaller's address is Gusshaus Strasse 6, A-1040 Vienna.)
I have today lodged a formal complaint with the Vienna Rechtsanwaltskammer about Schaller's predecessor, the feckless leftwinger Dr. Elmar Kresbach. . . I do not seriously expect them to act. These professional bodies rarely do.

Schaller also saw the interview of historian Raul Hilberg in Der Standard (Vienna, June 10, 2006). I think highly of Hilberg; he has a degree of intellectual honesty not often found in historians.
Here are a few translated extracts:
"Standard: Mr. Hilberg, do we know all there is to know now about the Holocaust?
Hilberg: As good as twenty percent. . .There hasn't been the research, because people did not want to know certain things, for example that the poor died first, and only then the well-to-do. . .
Standard: One topic at the Wiesenthal Symposium was his memorandum to the Austrian Government forty years ago, stating that Austrians were disproportionately involved in the Holocaust.
Hilberg: (Agrees, with many details).
Standard: Should we be imprisoning David Irving for Holocaust-denial [sic]?
Hilberg: To be honest, no. He is a megafraudster (Hochstapler).
Standard: As an historian, yes. But he has provided legitimacy to the deniers. Should Holocaust denial be criminalised at all?
Hilberg: Not in my view. I am for freedom even for these people. We can even learn from them. They're like children who say: Prove it! And so we must, prove it!"
Schaller has included the whole article in a fresh submission to the Viennese Supreme Court. I remind Schaller that the unfortunate Dr. Hilberg was called as a well-paid prosecution expert at the trial of Ernst Zundel in Toronto Canada. He crumpled under Douglas Christie's fierce cross-examination, and when the Crown asked him to testify again at the 1988 retrial (at which I was also called) Hilberg flatly refused, stating that he never wanted to go through that ordeal again. Hence, I rather suspect, Hilberg's wan admission that only twenty percent is known; which is not to claim that we non-conformist historians know the other eighty percent.
Schaller and I, we both chuckled loudly, and I am escorted by a friendly officer back to Cell 19. "Air conditioning's out in my cell", I jest. "Whole building", he grunts, and the bare wax-polished corridor, lined with steel bank-strongtroom-type doors rocks with more jovial laughter.
Here in the afternoon a Notice is brought to me by a different prison officer. Evidentally the prison is investigating whether I have breached regulations by having a copy of Henri Roques' [right] brochure about the Gerstein Report in my cell. Not much mileage for them in this new game, I fear: this book and an accompanying letter from Dr. Roques were cleared through Censorship to my cell by Judge Peter Liebetreu himself. How wonderful to live in a free democracy. I shall look forward to it on my release.

. . . to a correspondent, June 23, 2006
I was threatened with disciplinary last week because of a book in the cell, which I had received perfectly legally (see above). Everything is monitored here. . . An Italian nobleman is paying Jessica's next school fees. The world is full of Irving-lovers (and Austria-haters).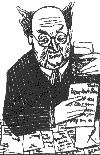 I'm still reading Evelyn Waugh's Decline and Fall (his son Aubury Waugh, right, was a good friend, who once wrote in The Daily Telegraph "I cannot help asking myself what sort of truth it is that requires" the protection of fines and prison sentences to survive.)
I was recently wondering why I was taking prison so very much in my stride, then found this in Decline and Fall (1928) in which our hero Paul Pennyfeather similarly muses, whilst in jail:
. . .anyone who has been to an English public school will always feel comparatively at home in prison. It is the people brought up in the gay intimacy of the slums who find prison so soul-destroying.
That was written before those other ghastly people hijacked the word gay.

. . . to a Chicago correspondent, July 4, 2006
I HAVE hung that excellent copy of the Magna Carta on my wall. I just hope the turnkeys can read it when they search the cell, as they often do. Tip: Become a controversial historian. Assemble forty-five years of stuff. Watch it ALL being seized and destroyed. Simplifies subsequent moves, evictions, removals, etc. no end.
[Mr. Irving now has a small television in his cell.] The TV is about two feet from my nose, so it takes minimum effort to adjust it. It's off all day, however, except for the Russian channel's "Novosti" (news) at midday and CNN in the evening. Oh, and C.S.I. Miami (for glimpses of favorite haunts) and, of course, Monk with Tony Shaloub. Fortunately Austrian TV is still running the first series with Sharona as his busty (bustiferous?) sidekick, not her unappealing successor. Most of the time I have my small radio on, tuned to the St. Stephen's Cathedral radio station (Stefansdom) nearby, which provides wall-to-wall (in my case a distance of five feet) classical music. I miss my Bose sound system.
As for this continued incarceration, I regard it now as an Oscars-style "Lifetime Achievement Award", made in recognition of writing forty years of inconvenient history.

. . . to a friend in Chicago, July 21, 2006
A LADY in Killara, New South Wales, Australia, wrote me June 19, 2006:
"About three years ago when there was a little in our press concerning Deborah Lipstadt, I jokingly said to a librarian in our local library that they probably did not stock your books. I was unprepared for her reply. I was informed pleasantly, but in no uncertain terms, what a brilliant historian you were, and that they had all of your books with the exception of Uprising!, which I said I would be happy to donate."
Well, that will put Killara's local library on a par with the Widener Library at Harvard University, which boasted forty-two of my books the last time I checked. Occasionally I do check such things. It's like pinching yourself to see if you're dreaming. Thus: forty-two titles in the Widener, ergo sum.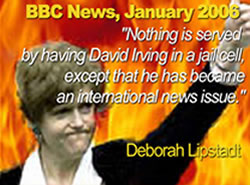 I hope these libraries all have lots of Author J's and Author K's. I would not like to spend my days and nights too close to Lipstadt on their shelves. (Feeling's probably mutual.)

. . . to a correspondent in London, July 24, 2006
THE Procurator-General has refused to allow our application to set aside the February 20 judgment to go to the Supreme Court (OGH), lawyer Dr. Herbert Schaller was today informed, after three months; Schaller will now demand an oral hearing of the application by the OGH, to which he is entitled.
If that fails [it did], the main appeal will be heard by the lower appeal court, the OLG. Either way, it is expected that the appeal will be heard in September [in fact late December].
I have been in solitary confinement on political charges since November 11, locked down 23 or 24 hours a day. I am continuing to write, and thank the hundreds who write me from all over the world every month, especially those writing anonymously from Germany and Austria -- evidence, in my view, that these citizens still fear they are living in Nazi-like police states.

. . . to a correspondent in London, August 16, 2006
WORK on Heinrich Himmler progresses. I have finished reading the diaries of his wife, and written one hundred and twenty pages of notes based on them. It is a sad document -- she in her fifties, he seven years younger; she fiercely protective of their daughter, who is still alive today. He began in 1939 to take his custom elsewhere; the other woman (now dead) bore him two children, in 1942 and 1944, of whom one also survives.
I have been very intrigued by the media coverage of this Israel-Hisbollah conflict. I get the Süddeutsche Zeitung every day and Die Zeit brought regularly to my cell by helpful prison officers, and I follow the news bulletins on my tiny TV -- we get Moscow Channel One, Turkish TV, CNN, two Austrian, one German and a scattering of other channels.
The main German government channels were scolded yesterday by former president Richard von Weizsäcker for showing too much of the carnage inflicted on Lebanese civilians by those nice folks next door, whose ambassador to the U.N., the racist Dan Gillerman, actually called the Lebanese "just animals" in one live broadcast; I have seen only one newspaper reference, in the SZ, to that Freudian slip.
I am more robust. In one 1990 speech to a Bavarian audience of thousands I said that I had heard that people sometimes wrote letters to "Richard von Speichellecker" -- Richard von Lickspittle -- and that German postal workers knew who that was and delivered them to his palace too!
And there has been no mention that Germany supplied many of the tanks, guns, shells and bombs used against Lebanon, free of charge!
But I digress. The war bulletins. Unlike other recent wars, we have seen nothing of any actual ground fighting between Israeli troops and Hizbollah guerrillas. (Perhaps, as with Schindler's List, Mr. Spielberg will later oblige). Correspondents were "embedded" -- i.e. in bed with -- the IDF forces, but I never saw them step outside that compound of artillery howitzers, whose mission was to create a holocaust among the Lebanese villages, a clear war crime, by the way.
The fighting stopped four days ago. We have still not been told how many IDF tanks and armoured vehicles were destroyed by rocket propelled grenades -- and those tanks don't come cheap [A Lebanese expert later told me the Hizbollah figure is 112 tanks]. We cannot attach much credibility to IDF casualty figures, as their admitted cumulative tally bore no relation to the in-detail numbers given each day: 24 were admitted one day, and the total increased only by five. But these folks always did have a problem with casualty figures.
Other battlefield incidents have just vanished as though they never happened. Hizbollah claimed to have shot down an aircraft. Israel denied it. I saw with my own eyes on the Turkish news bulletin a large flaming object brought down over Beirut. Israel suggested it was "a container". Robert Fisk saw the wreckage, mostly unidentifiable but including what looked to him like a helicopter rotor blade. (The British embassy here sometimes sends me The Independent.)
Later, Hizbollah destroyed another helicopter. Hizbollah claimed a second warship was attacked. Israel muttered that a "Colombian freighter" had been sunk. Again, nobody followed up. As for the tank casualties, the wrecks were pushed into the famous media Memory Hole, like in that popular TV series where the losing robot warrior is toppled into the pit.
Once, an early news bulletin showed telephoto footage of a short column of tanks, and the lead tank receiving an RPG smack in the mouth and blowing up. It vanished from all subsequent bulletins, into the Slough of Israeli Despond; as did a later picture of RPG damage done to the tracks of a main battle tank. Toward the end there was another brief glimpse of an attack on three tanks -- the rear tank going into reverse, either also hit or billowing out a white smoke screen. This clip also vanished from later bulletins. It had not happened; and we are all just animals.
We conspiracy-theorists and incorrigible extremists all know Who Controls the Media. But that is not the answer here. Hizbollah must surely have filmed their engagements at close quarter, and rushed the tapes out to the Western Media: They after all knew which tanks they were going to hit. If they did, I have yet to see any of it broadcast. I cannot wait to read -- and, more important, see -- the Real History of this short war. The media have served us poorly so far, and they have some explaining to do.

BACK in 1977, Germany's leading leftwing novelist Günter Grass wrote to my main publisher in Germany, Hoffmann and Campe, who had just published my Rommel biography as a huge best-seller, and threatened that unless they refused to publish any more books by "the Nazi" David Irving, he would withdraw all his books from them, and so would others. HoCa complied.
This week, Oh Joy!, the German press revealed that Günter Grass had a "dirty little secret". He had fought for the Waffen SS as a volunteer, 1944-1945. In a letter to Süddeutsche Zeitung I criticise him, not for that, but for his hypocrisy. [The SZ did not publish it.]
And there's another blasphemous question that troubles me: The United States' closest ally in the Middle East was just able to field 30,000 troops and massive weaponry [and lose 112 AFVs] for this latest aggression against the Lebanon. How come they have not volunteered one single man for Bush's adventure in Iraq? It's not as if he doesn't need them.

. . . to his Family, September 5, 2006
MY lawyer Dr Schaller visited today, Tuesday, having heard on radio and TV this morning that the Supreme Court (OGH) has refused to hear my appeal against the February 20 verdict; so the remaining appeal (against sentence) will now go to the lower appeal court; the OLG. It seemed odd to him that he had to read this in today's newspapers before the Court had notified him! As recently as Friday the OGH told him there was no decision.

. . . to a friend in London, September 27, 2006
THIS letter contains several self-pitying whines from me -- just like a Jew -- and one or two suggestions.
Normally I begin by saying I'm fit, but I'm not -- my muscles are all beginning to ache; lack of proper and variegated exercise (cell is only five feet by ten, and mostly filled with its double bunk [illegal under EU prison regulations] -- the cot is two inches too small for a 6' 2" man -- cupboard and table and two iron chairs) and yesterday for no reason being given we were locked down for twenty-four hours altho' it was sunny outside; worst, in the long run, is the cheap food, mostly cast-off and out of date, rice, rotten fruit, thin soups with the powder still floating etc. It is impossible to get any salads or greens -- none is provided and none is for sale; in the long run this will do me no good.
I have bought a litre of pure lemon juice to get the vitamin C, or I'll go down with scurvy; and a litre of orange-coloured syrup. Yesterday night at the wee hours, emphasis on the wee, I mixed a drink of lemon and syrup; it foamed instead of fizzed, not a good sign. . . lay curled up in the cot wondering why the drink left a burning taste, realised the cell cleaning detergent comes in a one litre bottle of same size, shape, and colour as the lemon juice standing next to it. Well, at least I'll be clean inside for a month or two.
My cash is now down to around 150 euros, which will last 2 weeks -- mostly spent on stamps and phone cards. I am getting a hundred letters a week, half from strangers; I answer them all, and letters to the USA cost 1.30 € (around $2.00. . .)
Still waiting for the appeal hearing, presumably in November. Writing is going well, tho' today I am stricken by a Great Lethargy, to which the detergent may have contributed. At least it wasn't bleach. That might have had the Coroner guessing.
A new period of official foot-dragging now begins, for which I was always prepared, being by nature less optimistic than lawyers, and we both now expect the hearing against the three-year sentence to be heard by the OLG in November.
My writing is making good progress, so it makes little difference to me until then. I don't think Bente or Jessica expected any different either, as I have been very realistic to them. We all know who is really calling the shots here!

. . . to a friend in Chicago, September 29, 2006
BENTE is becoming very ill. I have given five instructions to Jessica on comportment while Mummy's ill. No.3 reads, "Cars run on gasoline; Mummies run on hugs. So fill her with gallons and gallons of hugs to keep her running smoothly till I am free."
Because of this developing emergency we made a formal application to the Courts for my temporary release from this prison on word-of-honour, an Austrian procedure evidently. The application was swiftly dismissed in a ten-minute hearing by a Judge who was a Martin Bormann look-alike -- paunchy, scowling, bull-necked, poorly-shaved -- at 2:30 p.m. today.
"Anything to say?" he concluded. I replied, "I was born in 1938, two weeks after the Austrian Anschluss" -- when Austria became part of Nazi Germany. "I have changed a lot since then," I added, with the barest emphasis on the first-person singular. He shrugged and scowled. History evidently isn't his strong point.
A friendly lawyer has sent me an extraordinary document he found while browsing through the foot-thick Court file on my arrest and trial by Judge Peter Liebetreu [Viennese Landesgericht File 409 HV 3/05y]. Eighteen days before the Feb. 2, 2006 trial, Liebetreu wrote to the Austrian Staatspolizei authorities -- the Stapo is now fashionably renamed the "Anti-Terrorism Police," which doesn't quite have the same je-ne-sais-quoi as "Stapo" -- pleading for extra police measures for the trial-day, because of my worldwide fame and popularity as an historian.
Seems they genuinely feared an attempt to rescue me. All I noticed, apart from barricades and helicopters overhead, was that after sentencing I was surrounded by eight special forces police in combat gear with drawn Glock automatics, and hustled away through a labyrinth of back passages and external staircases to my cell. Now I know why.
[see German original text of Judge Liebetreu's letter of Feb. 2, 2006]

. . . to a friend in Virginia, November 10, 2006
YES, it's getting real risky to be a Real Historian in Europe nowadays. The good news is however that I've had around two thousand letters since I was kidnapped and put on trial here in Vienna and all (except for two hate-letters) were supportive, a fact which alarmed the Judge so much that for the day of the trial he secretly ordered, and asked for, massive special protection for the courtroom (Austria's largest), no doubt in case two hidden Waffen-SS divisions turned up in full battle gear with Otto Skorzeny at their head to rescue me! Their paranoia here is boundless.
Work on Himmler is benefiting from the solitary confinement; it will upset a lot of people, I fear, including H's daughter Gudrun, who (wrongly) predicts I will demolish her late father purely in an attempt to rehabilitate myself. That's what I hear. I don't do things that way; and that's probably why I am writing this letter to you in a five feet by ten feet cell, locked-down 23 or 24 hours a day . . .
Copyright © David Irving 2006

David Irving arrest in Vienna (dossier)