DAVID IRVING, the writer, allows himself a belly laugh ...
... at the misfortune suffered by his near namesake.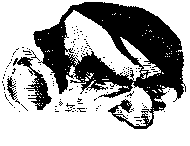 Lord Irvine is a controversial figure in the British legal system, a crony and former law partner of the prime minister's, and now as Lord Chancellor the much-loved head of the entire British legal system.
There is indeed said to be an outstanding Interpol arrest warrant out for me (the writer) in Austria, issued by the Salzburger Landespolizei on November 8, 1989, the day the Berlin Wall came tumbling down.
I had completed two thirds of an Austrian lecture tour, with the express consent and agreement of the Austrian police, whose officers noddingly tape-recorded every one of my speeches and gave them post facto their blessing. All went well until Vienna, where the Jüdische Gemeinde under a Mr Gross organised violent staged communist demonstrations against my appearance, engaging hundreds if not thousands of riot police in the city centre near Schloss Schönbrunn. Questions were asked in the Austrian Parliament.
The Justice minister defended me, but that was not good enough. Within hours a phoney arrest warrant had been issued by complaisant officials with the intention of preventing me ever speaking again.
My own lawyers issued a complaint against Mr Gross for public incitement to violence, but it will surprise nobody that no further steps were taken on that. Since then, the international Jewish community has incessantly reminded the Austrian government of its duty to arrest me if I cross their borders. For some years I repeatedly did so, for example when researching the biography of Dr Joseph Goebbels -- e.g. in July 1993, to interview Lida Baarova (below) -- and the police happily looked the other way. Yes, these are exciting times to be a writer of modern history.


Irving interviews Baarova in Austria, 1993