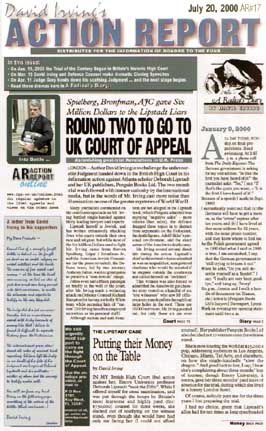 The original trial costs were estimated at six million dollars but ballooned, as the trial went into two appeal phases, and ended closer to thirteen million dollars. The defence lawyers paid some of the neutral experts witnesses fees of half a million dollars each.

David Irving's Action Report No.17
"Trial Diary:
Round One"
Mr Irving's personal diary of his British High Court Action against Penguin Books Ltd and Deborah Lipstadt is now available as a Free Download in English and German

The 32-page special including many illustrations has been uploaded as a compressed PDF file (1.2 MB). It will print out best on legal size paper.

Instructions: Expand the down-loaded file using StuffIt Expander (if you don't have this, use the pulldown menu to get it free) and read or print it with Acrobat Reader -- get it from the same menu

Note: your server may not permit large file-downloads.
[ Click for full German translation ]
David Irving Legal Fighting Fund (DIFF)
P O Box 1707, Key West, FL 33041, USA
Alphabetical site index (text)