London, Monday, February 4, 2002
Illustrations added by this website; the picture of
Traudl Junge is from her interview in The Fatal Attraction
Bunker typist tells of Hitler, the friendly boss
By Toby Helm
in Berlin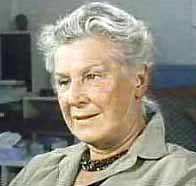 HITLER'S former secretary has given an intimate account of her "easy going" and "friendly" boss.
Traudl Junge, 81, who typed Hitler's last will and testament in his Berlin bunker tells of the fascination she felt for the Nazi leader she loved working for in a book entitled To the Last Hour.
It is one of the most vivid -- and probably the last -- first-hand accounts of his final hours from a member of his inner circle.
"I have to say I was fascinated by Adolf Hitler and he was a pleasant boss and a fatherly friend," she writes. "I deliberately ignored the warning voices existing inside me and enjoyed the time with him almost to the bitter end."
It was only after the war that her feelings changed. "Following the revelations about his crimes, I will have to live with a feeling of guilt until my last hour." She describes the events of April 28, 1945.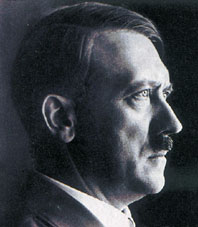 Russian bombs and shells were pounding the centre of Berlin; Hitler had decided that defeat was inevitable and that suicide was the only way out.
He asked Ms Junge: "How are you my child? Have you had some rest? I want to -- dictate something." It was his final will and testament.
He told her to "make three copies and then come in". She recalls: "I wrote as fast as I could. My fingers worked mechanically and I was surprised that I hardly made any typing mistakes."
Later Hitler married Eva Braun in the room where the will was typed. The couple committed suicide two days later.

Relevant items on this website:
Gitta Sereny: "Traudl Junge, Hitler's secretary from 1943, says the Führer she knew was kind, paternal and fond of gossip"
David Irving: Hitler's War (based on Traudl Junge's then unpublished original and unexpurgated memoirs and on Mr Irving's 1960s interviews with her). Free download of new Milllennium edition
---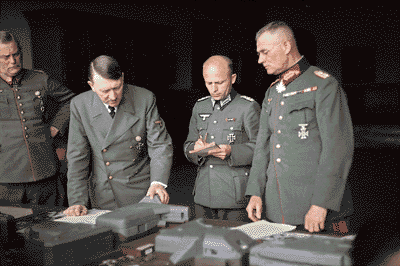 Illustration from David Irving: Hitler's War. [Buy this picture as a 2' x 3' Focal Point poster]