These laboratories found no significant residues of hydrogen-cyanide compounds except in one structure, which was commonly agreed to have been the building in which the slave labourers' clothing was fumigated with Zyklon B gas. Here there were massive quantities of the poison residue still impregnating the brickwork.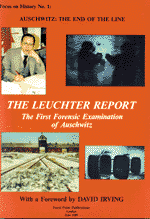 The Leuchter affidavit setting out these findings was introduced to the Toronto court which was hearing the criminal charges against Zundel. For legal reasons, the court refused to allow it to be introduced as an exhibit.
It was later published unamended as The Leuchter Report, and achieved world-wide cult-status.
Although completely a-political, Leuchter in consequence became the object of global insults (as a "neo-Nazi") and harrassment. Visiting England in November 1991 at the invitation of David Irving's Clarendon Club, to lecture at Chelsea Town Hall in London, he was arrested on-stage by Metropolitan Police officers at the request of the Board of Deputies of British Jews, held in the cells, and deported without appeal back to the United States.
In Massachusetts, he was victimised, assaulted, and prosecuted at the instance of local Jewish bodies on the hardly relevant pretext that he had been practicing as an engineer without proper registration (as did over half of that state's engineers). Fred Leuchter was forced out of work, hounded out of his home, and obliged to change his identity and residence.