I've got the cops on my side. I know everyone. I know this [porn] industry. I'm a lawyer.

Sat., November 13, 2004 Cheshvan 29, 5765
---
"Pimp" King Hunt
By JEANE MacINTOSH, LARRY CELONA and DAN MANGAN
A notorious New York porn king is being sought by cops who want to bust him for allegedly pimping call girls in a multimillion-dollar Manhattan operation, The Post has learned.
Jason Sylk Itzler, 37, disappeared from his Hoboken home after New York cops raided the Worth Street offices of his NY Confidential escort agency last Friday, law-enforcement sources.
Itzler is on parole from a New Jersey prison, where he served six months of a five-year sentence for smuggling 3,869 "ecstasy" pills on a flight from Amsterdam in 2001.
During the raid, cops arrested six women and a man who worked at NY Confidential on such charges as promoting prostitution, money laundering, falsifying business records and criminal possession of a controlled substance.
The 79 Worth St. office was used as headquarters for the agency, sources said.
Customers called to order one of nearly 100 women who signed on as contractors for the company, and paid average rates of $800 per hour to have sex with them, sources said.
Higher-priced hookers could be had for up to $2,000 an hour, according to the sources.
NY Confidential -- whose ad in New York magazine boasts of being "The Ultimate Girlfriend Experience!" -- grossed an estimated $300,000 per month, or $3.6 million annually, sources said.
"I run a great agency -- I don't break the laws," Itzler told The Post last month.
"I've got the cops on my side. I know everyone. I know this industry. I'm a lawyer -- I know what I can and can't do," said Itzler, a law school graduate who never took the bar exam.
Itzler, who also uses the last names of Sylk and Lubell, has bragged about making millions operating "900" telephone sex lines in the 1990s.
He first made waves in New York City by setting up a faux fashion model agency that was used to lure pretty women into his real operation, a cybersex site featuring women masturbating on-camera and chatting with clients over the Internet.
Itzler's short tenure at that game ended after he was forced out by partners in 2001, just before his drug bust.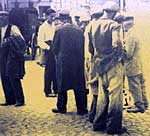 Ze'ev Rosenstein, Jewish Drug-Ringleader Caught
In other related developments: Israeli jailed over $17m ecstasy haul
History of the Jewish mob in Eastern Europe: An Israeli historian on Jewish organised crime in eastern Europe before Hitler's armies wiped the slate clean »»»»
Real History and those nice new immigrants next door | Slave trade and Lev Trachtenberg | Detectives smash massive ring trafficking in women | Police smash crime ring suspected of trafficking in women
Report slams Israel on sex slavery | Police say they find largest sex-trade ring in years
Portrait of a modern slave trader, Ludwig Fainberg
Former Israeli minister Gonen Segev arrested for drug smuggling | Segev indicted for smuggling 30,000 'Ecstasy' tablets | Former Israeli minister Gonen Segev investigated also for cheque (check) and credit card frauds | Ex-minister suspected of second drug-smuggling attempt | Los Angeles police uncover Israeli drug ring, headed by an Israeli national

Israel's links to the global ecstasy trade ...

The agony of the ecstasy
International Ecstasy smuggling racket: three Israelis arrested
Israelis at center of the international Ecstasy drug trade
Ecstasy: A gift from "our best friend and ally"...
Ultra-Orthodox couriers ran drugs for major international ring, reports Reuters
international money-laundering ring run by New York Hasidim washed millions of dollars in cocaine proceeds for the Colombian cartels
Real History, Drug rings, and Israel: Reports from DEA field offices state young Israelis claiming to be art students and had been attempting to penetrate DEA offices
Police raid Michel Friedmanns house for cocaine. Drogenrazzia beim Vizepräsidenten des Zentralrates der Juden in Deutschland, Michel Friedman.