[images added by this website]

The only financial wrongdoing, he said, were the accountant's payments to himself, which he attributed to that man's possible dementia.

-- Isn't that always the way?

---
New York, November 30, 2004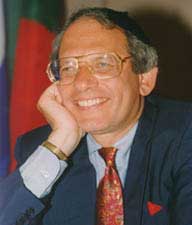 Money-Shifting Uproar Shakes World Jewish Congress
Rabbi Israel Singer, WJC chief
By Stephanie Strom
THE World Jewish Congress is in turmoil, two decades after the billionaire Edgar M. Bronfman Sr. (below) rescued it from crushing debts and propelled it to remarkable successes.
With just a few dozen employees and an $8 million annual operating budget, the congress, a nonprofit organization, brought to light the Nazi past of Kurt Waldheim, the former United Nations chief, [Website note: Waldheim turned out to have been G2, Intelligence officer, in a minor Wehrmacht unit] and forced Swiss banks to pay more than $1 billion to settle Holocaust-related claims.
Now the organization that criticized those banks for their lack of transparency and accountability finds itself under attack on similar accusations -- and from within the Jewish community.
An odd series of money transfers totaling $1.2 million first to a Swiss account and then to one in London has critics crying foul and questioning whether the money was improperly moved by Israel Singer, the 62-year-old rabbi (above right) who has generally led the organization since 1985.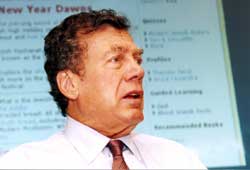 Four people who pressed for a full audit of the money transfer have left the congress or been dismissed, and another has been suspended from a subsidiary organization
The Geneva accountant who, together with Rabbi Singer, signed for the money's transfer to an account in London has been fired for paying himself roughly $1,900 a month more than his approved salary. The Geneva office was then ordered closed -- although after two employees who raised questions were let go, the organization has since decided to keep it open.
None of the transferred money is missing, and a review of the paper trail by the congress's auditor uncovered no irregularities, said Stephen E. Herbits, who was brought in by Mr. Bronfman in September to complete an overhaul of the organization that began last year. The only financial wrongdoing, he said, were the accountant's payments to himself, which he attributed to that man's possible dementia.
Mr. Herbits said he was concerned that the uproar over the money transfer threatened to destroy the organization and that it had complicated efforts to strengthen oversight and rewrite the group's constitution. "I am horrified by the time and cost and embarrassment and potential damage that this is doing and for reasons that are not substantive and have come up by pure desire for influencing politics and having prestige," Mr. Herbits said.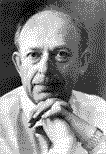 Isi Leibler, a retired Australian businessman, [actually a billionaire, right] said the Geneva money transfer was symptomatic of the organization's feeble controls over management and money. Mr. Leibler was ousted in September from the organization's steering committee but remains senior vice president, a titular role.
"I want a clear investigation," Mr. Leibler said. "If people have done wrong things, they should go, and the organization should establish financial transparency, accountability and checks and balances over its money."
Mr. Bronfman, who built the Seagram Company Ltd. into one of the world's premier purveyors of liquor, was virtually the organization's sole backer at one point, and he continues to contribute about $2 million a year.
For years, Mr. Bronfman and Rabbi Singer ran the congress as a fief, Mr. Leibler said. "I accepted that because I felt that Mr. Bronfman was himself giving the bulk of the funds," Mr. Leibler said. "I'm now aware that about 80 percent of money comes from 400,000 donors who provide money to the American section, but the organization is still effectively controlled by Rabbi Singer, who operates under jurisdiction of Mr. Bronfman."
Rabbi Singer, who is responsible for billions of dollars in Holocaust reparations and restitution through his leadership of the Claims Conference and the World Jewish Restitution Organization, declined to comment. So did Mr. Bronfman, the president of the congress. Mr. Herbits said he was speaking on their behalf.
The $1.2 million was moved out of the congress's New York account into a numbered UBS account in Switzerland in five installments from October 2002 through February 2003.
The people running the Geneva office were unaware of the account, according to a letter to Mr. Herbits from Daniel Lack, a lawyer who had worked for the congress in Geneva for 29 years.
But the Geneva office did discover a problem with the accountant's pay soon after a young lawyer, Maya Ben-Haim Rosen, took its helm. She told the man his services would no longer be needed, and briefed Rabbi Singer and another official about the problem in London in July 2003, according to Mr. Lack's letter.
Two days after that meeting, Rabbi Singer flew to Geneva. He coaxed the accountant out of a medical center, where he was recuperating from a heart problem, and took him to the bank to sign the order transferring the $1.2 million to a London account of Zvi Barak.
The transfer order describes the money as "for the pension." Mr. Barak, a lawyer in Israel who has handled pension business, is a friend of Rabbi Singer and declined to comment on the matter.
According to the letter, Mr. Lack and Ms. Ben-Haim Rosen learned of the account only when they received a statement in October 2003 showing that it had been overdrawn by $40 because no money was left in the account to cover the transfer charges.
Mr. Lack's letter, dated Sept. 19, 2004, was supplied to The New York Times by Facts, a Swiss news weekly against which the congress has begun legal proceedings. Mr. Lack, whom Mr. Herbits described as a disgruntled former employee, declined to comment.
Ms. Ben-Haim Rosen and Mr. Lack were dismissed when the Geneva office was closed.

WHEN questions arose about the transfers, Rabbi Singer was quoted in a Jewish publication as saying that the money had been given to the World Jewish Congress by the Jewish Agency for Israel, possibly to create a pension for him. In later publications, he said the money was for pensions for the organization.
But Mr. Leibler and other critics say they suspect he was trying to create a personal pension account. Rabbi Singer is paid $226,000 a year as an "ex gratia pension" for his previous work and now serves as chairman of the governing body.
The Jewish Agency denied that the money had been set aside for pensions. "That is totally incorrect," said Michael Jankelowitz, a spokesman for the agency, which helps immigration to Israel. He said the agency sent $1.5 million in 2001 to the congress's general account in New York.
Mr. Herbits said that the bulk of that money was transferred to Switzerland to broaden its pension plan. Only the employees in Geneva had pensions, and the organization wanted to cover all its roughly 30 employees, some of whom are part time.
He said the money was put into a dormant account -- not a secret one -- to avoid giving discretion of so much money to a new employee.
"A statement went to the office each month and was opened by the secretary," Mr. Herbits said.
Ultimately, he said, the plan to build a pension program in Switzerland failed. The money was then transferred to Mr. Barak because he is an expert in pensions, Mr. Herbits said. Mr. Barak is chairman of the Jewish Agency's employee pension fund.
The transfer was retraced by Loeb & Troper, a New York accounting firm that has done work for the congress for years. "Based upon our review of the documents, we are not aware of any irregularities," the firm wrote in a letter to the congress.
Mr. Herbits said that report, which was repeated by German and Belgian law firms, established that the $1.2 million never left the organization's control, as critics have contended.
But some others say that these reports merely traced the movement of the money and lacked independence because of Loeb & Troper's history as the congress's auditor.
"We also asked why this money movement was done and who had ordered it," said Alfred Donath, a retired professor of nuclear medicine who is president of the Swiss Federation of Jewish Communities. The Swiss group, with Mr. Donath, has been suspended from the governing body of the European Jewish Congress because of its persistent demand for more information. "Those questions were not answered."
Mr. Herbits said he had answered all the questions of the Swiss Federation and had addressed all the critics' concerns. He also noted that Mr. Leibler had voted to close the Geneva office in his previous role.
The restructuring at the Congress is starting to take hold. Mr. Herbits has created a personnel manual with guidelines on travel spending, has installed a cash management system, has put together a finance committee that will meet next month and has created new policies to govern the hiring of consultants and the disbursal of money.
"Governance and financial management have been weak," he said, "and I'm fixing it."

Copyright 2004 The New York Times Company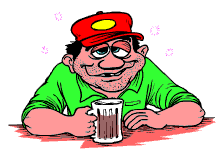 Billionaire Edgar Bronfman (right) is stated in the Jewish press to have been one of the major financial contributors to Deborah Lipstadt, paying the millions of dollars that were used to finance her neutral expert witnesses to testify as they did in Mr Irving's libel action against her.

... on this website

Our dossier on the origins of anti-Semitism
Another fine squabble at World Jewish Congress HQ: Edgar Bronfman, Elan Steinberg (right), Isi Leibler, call eachother names
Schindler, the Leiblers, and the Keeping of Lists
World Jewish Congress and Adolf Eichmann's 1944 "Jews for trucks" offer
Lawrence Eagleburger urged Washington Bar not to dismiss thief Neal Sher
Lawrence Eagleburger admits: His International Commission on Holocaust-Era Insurance Claims has spent $56 million to obtain offers of claims payments of $35 million
Bronfman, Leibler exchange bitter words over Israel
A Talk by Edgar M. Bronfman: "Jews and Justice"