The interviewer ends by apologising to viewers for having inflicted me on them. I won't be invited there again in a hurry, I fear; with or without my harp.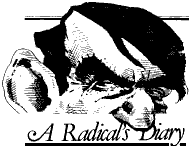 January 26, 2005 (Wednesday)
London (England)
JESSICA has an interview today at [...] School, one of London's best, so the morning starts easy. She is very stubborn about the passport sized photo she has to bring with her; she takes one with her cameraphone, very poor quality, and insists on taking that. Obstinate, pig headed. I print up a sheet of regular passport style photos for her to take just in case.
The Guardian has an article about Auschwitz. The sixtieth anniversary of its liberation being tomorrow, there is a veritable tsunami of "Holocaust" propaganda welling up on the print horizon. I write this reader's letter to them,
Your dutiful Auschwitz report today is headed "Vast labour and death camp killed up to 6,000 a day." Perhaps true, but it's hard to square this with the standard Auschwitz folklore that has the 445,000 Jews deported from Hungary being killed there in the first three weeks of May 1944. And small beer compared with the bombing holocausts in Hamburg, Dresden, Brunswick, Darmstadt, Pforzheim, etc., where we killed tens of thousands in the space of one or two hours each time. "Bomber" Harris told me once that given the choice between being gassed, or burned alive with your family by fire bombs, he knew which he would choose every time.
Not for publication, I add: "Incidentally, a stunning photo on your front page of the RAF plane landing by moonlight bringing back the detainees from Guantánamo. Not easy to get a picture like that. Pity you did not credit the photographer."
New Jersey lawyer Gary Redish

fulminates: "Re: Congressman Tom Lantós -- you have some nerve calling this holocaust-survivor a rat. [On my front page: Historic first: As battleship slowly sinks, rats go aboard]. He is a fine man -- you sink lower and lower." He concludes by asking a jeering question, whether I am looking forward to losing yet again in the High Court on Thursday. Yes, these folks are the architects of their own misfortunes.
5:38 pm: I reply, "I did not know he was part of the all-expenses-paid junket to Auschwitz. Once a rat, always a rat. He flees to the land of the First Amendment, then tries to get an Act of Congress passed banning me from setting foot in the USA. It was thrown out. Holocaust-survivor: Official definition (by Simon Wiesenthal Center), 'any Jewish person who was within the confines of German domination, including North Africa (!), at any time from 1933 to 1945.' My definition: 'Somebody to whom not very much harm was actually done.'"
6:25 pm: The L. school phones, one of the other top London establishments, they are inviting Jessica for a scholarship interview on February 5, as she scored in the top 20 (out of 800 applicants!). I say, "I can't conceal that it would be very welcome to us, in our circumstances." Jessica bursts into tears of happiness when I tell her. She has concealed the examination strain very well up to now.
January 27, 2005 (Thursday)
London (England)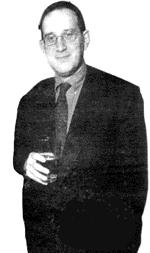 At 7:30 a.m. I take Jessica to school. Then at midday by taxi to the High Court. Lawyers for all parties are there, including the comely Laura Tyler for Professor Lipstadt. What a difference between them: chalk and cheese. Substantially more bearable than Anthony Julius, the old soak, anyway. Which does not mean that she has not picked up the wiles of her evil trade.
Her strategy becomes plain shortly, when she claims as we go in that she has not received the Witness Statement (affidavit) in support of my application. I show her the Xerox copies of the covering letters -- in fact I mailed it to her firm Mishcon de Reya three times since December, and none of them was returned to me, so it is plain that they did arrive: but this is their last resort.
I am asking the Court today
(a) to dismiss Deborah Lipstadt's extraordinary and greedy claim for all my possessions to be handed over to her, which was dated December 2003; and

(b) to make an Order for her to pay my legal costs from that date to now, if her claim is dismissed.
Tyler makes plain both outside and in the hearing that they will not now oppose (a), but they are adamantly against her being ordered to pay me anything. The humiliation of it. We are talking many thousands of pounds -- such being the kind of fees that lawyers and barristers now charge.
The judge, a Registrar, is amiable, blinks over his spectacles a bit, sees at once that the fifteen minutes allotted to the case will not suffice, and the whole shooting match is postponed to the next available date, March 4, when we can go at each other for two hours or more.
Alas, I will be on tour in the USA by then. However, all very satisfactory: Lipstadt's claim is finished, and the only matter open to debate is whether she should pay for her folly or not. The Court shall decide, and if we get the Order -- that is when the sport really begins. Apart from which we have something else up our sleeve to entertain her, when the time comes, namely [...].
Afterwards I lunch with barrister Adrian Davies at the Argentine steakhouse. Much ribaldry at our enemies' expenses. (Adrian picks up the tab, though I would willingly have paid as he did well; but he insists).
In the afternoon I pick up Jessica. She is still on Cloud Nine, but rather peeved that her mama has opened the letter from the school today announcing the triumph; it is however addressed to the parents, not to her. I would have let her open it, but Benté has got to it first.
5:18 pm K. emails to me the Library Journal (January 15, 2005), preliminary verdict on Deborah Lipstadt's forthcomimg book on the great libel trial. "History on Trial: My Day in Court with David Irving." Originally her book was to be titled My Struggle. That might have aroused allegations that she was passing it off as another great world-bestseller, of course. Library Journal has a difficult time explaining why their heroine refused to set foot in the witness box (to enable me to cross-examine her on her racist beliefs and other matters):
On her lawyer's instructions, Lipstadt (Judaic studies, Emory Univ.) did not publicly defend herself when Holocaust denier David Irving sued her for libel. Now Lipstadt breaks her silence, revealing her personal experiences while reflecting on the trial's relationship to questions of academic freedom and historical veracity. In recounting how she became interested in Holocaust studies and how the trial disrupted her life, Lipstadt effectively blends her story with the wider political worlds of academic publishing and politics. Although readers know that she was completely vindicated, Lipstadt manages to convey the tensions of the trial. She also gives a touching account of the outpouring of support she received from many quarters, not all of them Jewish. Although excessive detail sometimes slows the narrative, the book provides significant insight into how Holocaust deniers ply their trade. Three other books have been published so far on the Irving-Lipstadt trial (Richard Evans's Lying About Hitler , Robert Jan van Pelt's The Case for Auschwitz , and D.D. Guttenplan's History on Trial ) and belong with this insider's account in all libraries. -- Frederic Krome, Jacob Rader Marcus Ctr. of the American Jewish Archives, Cincinnati
So she has stolen the title of Guttenplan's immensely readable book. A typical trick employed by parasites like her. I reply to K.: "Please look out for more; we intend to [...] in the UK (don't tell anybody). Library Journal is of course largely Jewish, shares the same offices as Kirkus (ditto) and Publishers Weekly. Their reviewer effectively calls her book turgid. But in the nicest possible way, of course."
---
6:20 PM by taxi to the TV studio on the Albert Embankment. The window behind me looks out over the Thames to Parliament and Big Ben. The programme title is Contracorrente, ("against the stream") and is in Italian, but there is a simultaneous English translation. The interviewer Corrado Formigli is polite, and -- a little ambush evidently -- there is an academic of the conformist sort, Professor Rusconi of Turin, to oppose me (I suppose he has been wheeled in, as a sop to the traditional enemy, at the last moment).
His debating technique is to shoot a variety of epithets like Nazi, fascist, anti-Semite (i.e. somebody whom the Jewish community dislikes), and denier from his verbal peashooter's armory at me. He does not like it when I draw attention to this routine weakness of the conformists -- this penchant for smearing, rather than reasoned debate on the documents. But the revisionist reliance on documents is also something he finds offensive.

There is some debate on whether Hitler knew what was going on. I refer to the March 1942 Schlegelberger document, and the October 1943 Möllhausen / Ribbentrop telegrams about Rome. Oops, more documents.
The program now says it will show an eye-witness statement, which turns out to be an over-long interview filmed with a lady who was four years old when shipped, she says, to Auschwitz; she describes life there in graphic though routine detail, the mounds of bodies, death all around, etc. I reply, after the break, by saying nobody will deny that Auschwitz was a place of death, but I ask the interviewer how much he can reliably relate of his own life when aged four.
"Trauma," says Rusconi, the conformist academic, and he wades in, as I interject, with more insults and ad hominem remarks (the Holocaust ennui is taking its toll on my attentiveness, and I briefly wonder if Turin professors even know Latin).
I am asked whether I believe gas chambers existed at Auschwitz. I point out that the only chamber they show the tourists there was built in 1948, as the Poles themselves admit. Why not show the tourists one of the real ones? Professor Rusconi fudges round that answer, and says, well the others were too derelict, so of course they have had to be "rebuilt." All the usual arguments are there, Fred Leuchter, Zündel's book on Hitler, etc. The interviewer ends by apologising to viewers for having inflicted me on them. I won't be invited there again in a hurry, I fear; with or without my harp.


Kirkus review of Lipstadt's book: "It has dry patches" - like the Sahara.