What did David Irving write (1994)?
From chapter 15 of David Irving, Goebbels. Mastermind of the Third Reich:

SINCE Ritschel was living in Belgium, Auguste chose the infant's names herself -- Johanna Maria Magdalena, or Magda for short. Ritschel arranged for the girl to be raised from 1906 in a convent at Thild in Belgium. Auguste visited her behind these forbidding and often chilly walls with [Richard] Friedländer, her Jewish boyfriend whom she had (perhaps) married in 1908.
Upset by the draughtiness of Magda's dormitories her mother transferred her to another convent, at Villevoorde. It was thanks to her convent upbringing that Magda grew up loving music and the arts; by the age of ten she was intelligent, gifted, and precocious. She adored Schopenhauer.
Her placid existence was interrupted by the Great War. The expatriates in Brussels were shipped home to Germany in evil-smelling cattle trucks. It took six days for the Friedländer family -- they had all adopted his name -- to reach Berlin. In a refugee camp an East Prussian woman, a Mrs Kowalsky, read Magda's palm. 'You will one day be a Queen of Life,' she pronounced. 'But the ending is fearful.'
Magda, always a romantic, often retold this prophesy. She dramatised it sometimes, making the fortune-teller a gypsy, and having her appear mysteriously aboard the refugee train. Friedländer became manager (or perhaps only an employee) of the four-star Eden Hotel in Berlin. Their milieu was Jewish: Magda's first real friend was Lisa Arlosorov, whose parents were Russian Jews living in Wilmersdorf. Ritschel paid for his daughter to attend Berlin's Kollmorgen Lycée and sent her three hundred marks as monthly pocket money. Friedländer, the German Jew, faded from the picture and history does not what relate what became of him.
Documents on the Life and Times of Dr Joseph Goebbels
---
Wednesday May 2, 2001
Nazi Leader Goebbels' Jewish Relative Died in Camp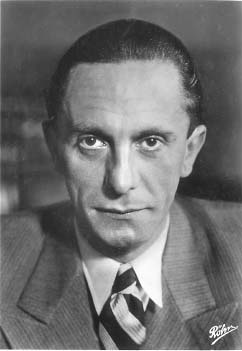 BERLIN (Reuters) - The wife of top Hitler aide Joseph Goebbels, one of the most fanatical anti-Semites among the Nazi leadership, had a Jewish stepfather who died in a concentration camp, a German television channel said Wednesday.
The documentary series "Hitler's Women" on the public channel ZDF said Magda Goebbels' stepfather, Richard Friedländer, who[m] her mother divorced when she was young, died in a camp because he was Jewish and could not get help from his powerful relatives.
"At one point my grandfather had the idea of speaking to his son-in-law and went to the ministry," Michael Tutsch, Friedländer's grandson, told the program, referring to the Berlin Propaganda Ministry that Goebbels headed.
"When he got to the office he must have been shocked to recognize his father-in-law. He turned to his aide and said 'ask what this Jew Friedländer wants here'," he said. "He did this and thus the conversation was finished for my grandfather."
Friedländer was sent to do hard labor at the notorious Buchenwald concentration camp near Weimar in 1938. He died there the following year.
"One word from his daughter-in-law or her prominent husband could have saved Friedlaender's life," the program concluded.
Although historians have long known Magda Goebbels' mother, Auguste Behrend, had married and divorced Friedländer, who was working as a waiter in a Berlin cafe when he was arrested, his eventual fate had not previously been well known.
Magda and Joseph Goebbels killed their six children and then committed suicide in Hitler's bunker in the closing days of World War Two.

Related files on this website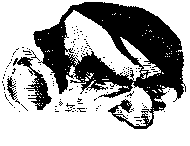 David Irving comments:
THIS is probably true. Very little was known about Richard Friedländer after the war, not even his first name apeared in any publication. I asked the historian Prof. Klaus Herrmann (a Jewish expert of Montreal University and a good friend until his death) to investigate the Friedländer case in Berlin, and he drew a blank, reporting to me that there was no trace of him in Berlin Jewish registers and circles even before the war. I found no evidence that he even married Magda's mother, and suspect from the way that Auguste (the mother) skirted the issue in her own memoirs that she did not. Note incidentally the name Arlosoroff (left-hand panel): Magda started an affair with her brother, just before dating the young Dr Goebbels -- and this was the famous Zionist fanatic Arlosoroff who was eventually assassinated in Palestine.
In the autumn of 1919 Magda Friedländer matriculated and was found a place at the exclusive Holzhausen ladies' college near Goslar. Even at nineteen she was a girl of considerable presence. Travelling down to Goslar on February 18, 1920 she shared the reserved compartment of a Dr Günther Quandt, a prematurely balding, wealthy entrepreneur just twice her age. His first wife had died in a 'flu epidemic two years before, leaving him with two baby sons Hellmut and Herbert; he related all this to Magda during the train journey.
Strongly taken by this teenage girl with the foreign allures, he visited the college more than once claiming to be her uncle, and took the matron and Magda out in his open landau. She dropped out of college, and phoned him instead; one thing led to another, she invited her mother out to his lakeside villa at Babelsberg, outside Berlin. Events moved rapidly toward matrimony.
As a first step Quandt required her birth certificate to be amended so that she was declared the legitimate daughter of Ritschel, to expunge the undesirable name Friedländer. Ritschel lodged the necessary application in mid 1920. As a second step, Quandt required his bride to embrace the protestant faith. They were married on January 4, 1921 at Ritschel's parental house in Godesberg. After the honeymoon, said her mother later, Magda rushed into her arms wailing, 'How could you have let me marry him!' But as their first and only child Harald was born just ten months later the matrimonial ardour evidently flickered just long enough.

Related file on this website:

Our dossier on Haim Arlosoroff
Copyright 1996 David Irving, Focal Point Publications, London