---
Sydney, Australia, Saturday, March 12, 2005
Stalin's secret Hitler book to be published
A SECRET biography of Nazi dictator Adolf Hitler commissioned by Soviet dictator Josef Stalin is to be published later this month, the book's British publisher said today.
The work, Hitler Book, was presented to the Soviet dictator in December 1949, in a limited edition of one, and was put in his personal archive before being discovered in 2004 by German historian Matthias Uhl.
"A second copy of the biography was made in 1965 and placed in a separate archive, which was used as corroborating evidence that the first book was authentic," a spokeswoman for publisher John Murray said.
A statement said the book would be published by Lübbe in Germany in March [2005] with its UK publication due in November.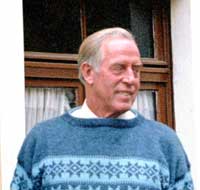 The biography was based on two years of interrogation in Moscow with two of Hitler's close associates - his butler Heinz Linge and SS adjutant Otto Günsche (left, in 1982)
The two of them worked for Hitler for 10 years before being captured by Soviet troops in Hitler's bunker after disposing of the bodies of the Nazi dictator and Eva Braun.
Hitler married his long-time companion Braun shortly before they both, according to generally accepted accounts, committed suicide on April 30, 1945.
Stalin commissioned Hitler Book because he wanted to understand the psychology of Hitler as well as being sure the Nazi dictator was dead, the publisher said in a statement.
"This is a compelling and powerful document, with an extraordinary narrative and astonishing detail and insight," said John Murray's publishing director Gordon Wise.
"Hitler remains an object of eternal fascination, but particularly remarkable about this book is the invisible but brooding presence of Stalin, for whom it was created."
In 1983 the German magazine Stern published diaries purported to be Hitler's. They were later revealed to be forgeries.

Reuters

David Irving exposed "Hitler Diaries"as fakes at 1983 press conference
David Irving protests in Radical's Diary at the allegation that the Hitler Book has only just been discovered: he used it in the late 1960s, writing Hitler's War, and discussed it with Linge and Günsche

David Irving's Hitler's War (free download)
Link to Verlagsgruppe Lübbe and to announcement:
http://www.presseportal.de/print.htx?nr=655816
Einladung zur Pressekonferenz zum Erscheinen von "Das Buch Hitler"/ Verlagsgruppe Lübbe Ursprünglich wurde das Buch nur für einen Leser verfasst: Josef W. Stalin
8. März 2005 - 14:35 Uhr
Bergisch Gladbach (ots) -
Liebe Kolleginnen und Kollegen,
knapp sechzig Jahre nach Kriegsende wird in russischen Archiven ein Dokument von höchster historischer Brisanz entdeckt: "Das Buch Hitler". Verfasst exklusiv für Josef W. Stalin, enthält es die Erinnerungen von Hitlers persönlichem Adjutanten Otto Günsche und seinem Kammerdiener Heinz Linge, die direkt nach Kriegsende vom sowjetischen Geheimdienst NKWD in Berlin festgenommen wurden. Über viele Jahre bewegten sich diese beiden Männer in nächster Nähe Adolf Hitlers, erlebten ihn als Regierungschef, als Oberbefehlshaber der Wehrmacht in Sieg und Niederlage. Ihre vom NKWD für Stalin zusammengestellten Erinnerungen gewähren höchst erstaunliche Einblicke in das tägliche Funktionieren des Führerstaats.
Das Buch erfährt auch im Ausland größte Beachtung, Verträge mit Frankreich und Polen wurden bereits geschlossen, in den USA, England, Dänemark, Schweden, Spanien, Ungarn, der Tschechischen Republik, der Slowakischen Republik, Kroatien, Japan und der Volksrepublik China laufen Auktionen.
Die Herausgeber Henrik Eberle und Matthias Uhl, zwei junge Wissenschaftler aus Berlin bzw. Halle/Saale, deren Forschungsschwerpunkte auf dem Dritten Reich und dem Mauerbau von 1961 liegen, entdeckten dieses Aufsehen erregende Dokument im Russischen Staatsarchiv für Zeitgeschichte. Die Authentizität wurde durch Prof. Dr. Wladimir Chaustow bestätigt, der im Archiv des Präsidenten der Russischen Föderation feststellte, dass Stalin das für ihn bestimmte 400-seitige Dossier tatsächlich gelesen hat.
Zur Pressekonferenz mit den Herausgebern Dr. Henrik Eberle und Dr. Matthias Uhl, Prof. Dr. Wladimir Chaustow und dem Übersetzer Dr. Helmut Ettinger möchten wir Sie herzlich einladen:
Am Dienstag, dem 15. März 2005 um 12.00 Uhr im Dachgartenrestaurant im Deutschen Bundestag Platz der Republik 11011 Berlin
Aufgrund der Sicherheitskontrollen bitten wir Sie den Eingang West C (ebenerdig) zu benutzen und ausreichend Zeit einzuplanen.
Bitte lassen Sie uns bis zum 14. März 2005 wissen, ob wir mit Ihrem Kommen rechnen dürfen. Per Fax an: 02202 - 121-550 Per Mail an: presseabteilung@luebbe.de Per Telefon: 02202 - 121 -307/ 308
Mit freundlichen Grüßen
Barbara Fischer Presseleitung Verlagsgruppe Lübbe GmbH & Co. KG
Originaltext: Verlagsgruppe Lübbe GmbH & Co. KG Digitale Pressemappe: http://presseportal.de/story.htx?firmaid=52051 Pressemappe via RSS: feed://presseportal.de/rss/pm_52051.rss2
Pressekontakt: Verlagsgruppe Lübbe GmbH & Co. KG Presseabteilung Scheidtbachstraße 23 - 31 51469 Bergisch Gladbach Tel. 02202 - 121-307 oder -308 Fax 02202 - 121-550 E-Mail: presseabteilung@luebbe.de