Arkansas Democrat-Gazette
Tuesday, Oct 14, 2003
---
Aide who burned Hitler's body dies
The Associated Press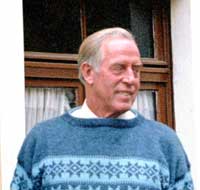 BERLIN -- Otto Günsche, an aide to Adolf Hitler, who burned the Nazi dictator's body to keep it falling in the hands of the advancing Soviets in the final days of World War II, has died at age 86.
An SS officer and a member of Hitler's inner circle, Günsche spent the last hours with the Nazi leader in the Fuehrer bunker in Berlin before Hitler and his mistress, Eva Braun, committed suicide April 30, 1945.
After the war and several years in Soviet captivity, Günsche lived quietly in West Germany.
He died Oct. 2 of heart failure at his home in the town of Lohmar, near the former capital of Bonn, his eldest son, Kai, said.
Otto Günsche said in a recent interview that Hitler personally ordered him to burn his body.
When the day came, Hitler's chief of staff, Martin Bormann, tried to set the corpses of Hitler and Braun afire in the garden of the Reich chancellery in Berlin. But Günsche threw a burning rag that started the fire.
Günsche was accompanying Hitler when the Nazi leader survived an assassination attempt July 20, 1944.
Red Army troops captured Hitler's aide at the end of the war.
Born Sept. 24, 1917, Günsche joined the Wehrmacht and rose to the rank of SS major, according to prosecutor Kurt Schrimm, the head of Germany's central office for investigating former Nazis.
The agency's files show no investigation against Günsche for Nazi-era crimes, Schrimm said.
Günsche, a widower, leaves three children. His body was cremated, his son said.