Hitler, a 1937 candid camera snapshot by Eva Braun
detail at right -- click images to enlarge >>
THIS is an original deckle-edged private snapshot of Adolf Hitler labelled in ink as being taken "by Eva Braun on August 12, 1937" wagging an admonishing finger at somebody out of sight. It is personalized front and back by Eva Braun with a dedication dated Sept. 20, 1937. It was given to Frau Lina Braunmüller, a local hospital worker, by Eva Braun. Mrs. Braunmüller also worked for Hitler and was a personal friend of Eva's; Sept. 20 was Lina's birthday -- it was a birthday gift from Eva. Lina died in 1999.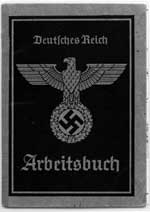 The picture was (and still is) kept between the pages of her Arbeitsbuch (work log) with a swastika on the cover [see image at left]. All her work attendance dates are handwritten inside the log; several positions are mentioned in it ranging from sales clerk, when she first started, to hospital work in 1943. There are also Radio activities mentioned; the log will stay with the picture.
That these items are authentic, there is no doubt.
Although these items are not yet on the market, the Arbeitsbuch will probably soon be for sale with the hitherto unkown Hitler photo, and a picture of Lina Braunmüller.
Note that Eva signs the dedication to Lina using the familiar ("Deine") form rather than "Ihre", the formal German version, as they were close friends.

[Comments are invited]
---
David Irving comments:
IN the National Archives, Washington DC, there is a 1935 diary by Eva Braun which she herself faked when trying to woo Hitler into inviting her to live permanently up at his home (roughly, "If he doesn't invite me, I shall kill myself" -- she then faked a suicide attempt to frighten Hitler, successfully, into issuing the invitation). Yup, that's how women scheme. I also have a good copy of one of her earlier exercise books, and one in which she wrote in her own handwriting a film script on her life.
Her photo albums -- captured in 1945 by a CIC agent, the late Robert A Gutierrez -- are in the National Archives, and they show that she took many candid pictures; but this is one of the best I have seen.