Mein Kampf' Czech Publisher Gets Sentence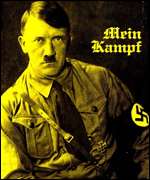 PRAGUE, Czech Republic - The publisher of a Czech translation of Hitler's "Mein Kampf" received a three-year suspended sentence Wednesday on charges of promoting Nazism, Czech radio reported.
In 2000 Michal Zitko published a Czech-language edition of the book in which Hitler expressed his hatred of Jews and desire to conquer territory in Eastern Europe.
He received a three-year suspended sentence in 2001 on charges of promoting Nazism.
The sentence, however, was overturned by a higher court, which ruled that the first trial had been riddled by procedural errors.
Last August, a district court in Prague again found Zitko guilty, but reduced the original sentence to 22 months, saying it could not be proven that Zitko influenced any neo-Nazi groups by publishing the book. Both Zitko and the prosecutor appealed.
The Prague Municipal Court on Wednesday re-imposed the original three-year sentence after experts testified that the book could have influenced neo-Nazis active in the country, the radio report said.
The first Czech translation of "Mein Kampf" was published in 1936.
A second edition, published in 1993 -- four years after the fall of communism -- was not considered offensive because it was only a partial translation and included anti-Nazi commentaries by former Czechoslovak Foreign Minister Jiri Hajek.

© Copyright 2004 Associated Press

German Government tries to ban Hitler's book Mein Kampf | Simon Wiesenthal Center also tries to ban book from giant Internet bookstores | Internet comment on antisemitism provoked by such bans | Amazon still banning sales at request of German justice ministry | Mein Kampf voted one of the 100 books of the 20th century -- banned from Frankfurt book fair | Swedes tried, failed to ban Mein Kampf | Czech Mein Kampf Publisher Charged (2000)
The above news item is reproduced without editing other than typographical