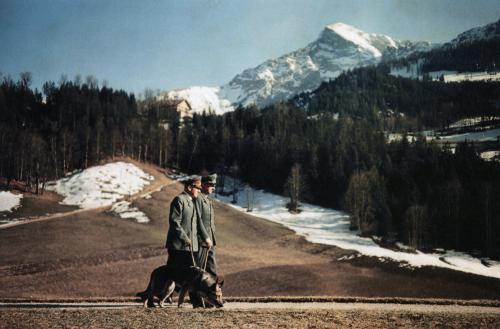 Above: Walther Hewel walks with Hitler (foreground) and 'Blondi" in the Alps (Photo: Walter Frentz)

---

On Dec 8, 1970, while researching for his Hitler biography, David Irving visited the widow of Walther Hewel, who had been liaison officer for Joachim von Ribbentrop at Hitler's headquarters. Among other items she loaned him Hewel's 1939 notes, his 1941 private handwritten diary, and an album of memorabilia along with many original photographs for his book.
The papers of Walther Hewel
SAMMLUNG IRVING [in Institut für Zeitgeschichte, Munich]

Deckblatt

Handschriftliches Original on Microfilm DJ-75*
1. Kurzbezeichnung

Handschriftl. Aufzeichnung Walther Hewel's, Tagesverlauf am 10. März 1959 (Abschrift)

2: Personalien des Verfassers:

Walther Hewel, Gesandter geb. [23?] 25. 3. l904, Selbstmord
2. 5. 1945 Berlin. Mitglied des Stoßtrupps Adolf Hitler 1923;
Auslandstätigkeit nach Festungshaft in Landsberg; Ständiger

Vertreter des Reichsaußenministers beim Führer, 1938-1945.
8. Benützungsbeschränkung die Genehmigung zur Einsicht muß eingeholt werden bei; der Witwe,

Blanda-Elisabeth (geb. Ludwig), jetzt Frau Blanda Benteler, 4811 Heepen bei Bielefeld 72 ( Fernruf 0521/542201)
(Heiratete Walther Hewel am 12. 7. 1944)

4. Standort des Originaldokuments

bei Frau Benteler (1971)

5. Allgemein
Anliegende Unterlagen wurden dem Institut für Zeitgeschichte in München, zur Disposition von Herrn Dr. Anton Hoch, übern lassen. Sie stellen einen Teil der Aktenbestände dar, die Mr. David Irving für sein im Jahre 1975 erschienenes Werk über Adolf Hitler zusammengestellt hat. Diese Akten wurden in den Jahren 1964 1974 gesammelt, teilweise in einer chronologischen Kartei verzeichnet (Stempel: Indexed), teilweise auf Mikrofilm im Original verfilmt vor Rückgabe der Akten an den Originalbesitzer, teilweise als Fotokopien kopiert. In den meisten Fällen unterliegen diese Akten Benützungsbeschränkungen, und der Benutzer muß vorher die Genehmigung zur Einsicht von dem Besitzer einholen. David Irving selbst verzichtet auf jegliche Beschränkung in dieser Richtung. Vielmehr soll Herr Dr. Anton Hoch vorerst die Entscheidungen treffen.
* I no longer have the files which were used writing the book "Hitler's War" (Millennium Edition, 2002); readers can however order microfilms of them from
Microform Academic Publishers Ltd.
Main Street,
East Ardsley,
Wakefield,
West Yorkshire
WF3 2AT England

0044 1924 825 700
0044 1924 829 212 fax