A heads up for Down Under: for readers in Australia and New Zealand only

London, Saturday, August 23, 2003
Australia 'sexed up threat posed by Iraq'
By Nick Squires
in Sydney
THE Australian government "sexed up" the threat posed by Iraq to justify going to war, a former intelligence analyst said yesterday. Andrew Wilkie, a former Australian army officer, told a parliamentary inquiry that intelligence material the government used to justify committing troops was "sexed up" and that qualifications such as "probably" and "could" were often dropped.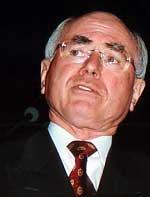 He told the first day of the investigation, which has some parallels with the Hutton Inquiry in Britain, that John Howard, the prime minister (right), lied about Iraq's weapons programme. "It was sexed up. Sometimes the exaggeration was so great, it was clear dishonesty," Mr Wilkie said.
Australia contributed a 2,000-strong military force to the US-led war against Iraq, including special forces, warships and aircraft. Mr Wilkie resigned from the intelligence-evaluating Office of National Assessments in March in protest at Australia's staunch support for Washington and London.
Mr Howard vehemently denied Mr Wilkie's accusations, saying the government had made a "bona fide judgment" on the intelligence reports it received at the time.
He added: "If he [Wilkie] has got evidence, let him produce it, otherwise stop slandering decent people."
© Copyright of Telegraph Group Limited 2003.

In a dispatch peddled by Jewish Telegraph Agency on Jan 27, 1997, Jeremy Jones states David Irving is taking legal action against Australian Prime Minister John Howard
Jewish community orders Australia's Labour leader to stop pro-Palestinian backbenchers from speaking in debate on Middle East
Both political parties depend on Jews for major cash
Jewish members of Australia Parliament support Israel first, Australia second
New Zealand Herald, Feb 25, 1993, analyses origins of Jewish influence on successive Australian governments