A heads up for Down Under: for readers in Australia and New Zealand only

London, Friday, August 22, 2003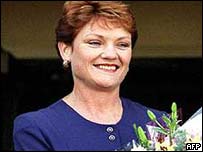 Australia backs jailed rightwinger
From Roger Maynard
in Sydney
PAULINE HANSON, the right-wing standard-bearer in Australia, began her first full day in jail yesterday for electoral fraud as supporters called her the country's only political prisoner, and likened her to Nelson Mandela.
There were also concerns about the safety of Ms Hanson, the founder of the One Nation Party and a harsh critic of Asian immgration and Aboriginal welfare, who has been locked up in a high-security wing of Wacol women's prison near Brisbane. The jail has a large proportion of Aboriginal inmates. With radio talk-show callers describing her as a Joan of Arc figure, she has won far more support behind bars than she ever enjoyed on the campaign trail.
Debbie Kilroy, a member of the Queensland prisoner advocate group Sisters Inside, said Ms Hanson could expect a difficult time in jail. Yet the irony of the harsh sentence is that her former detractors have united in their condemnation of her judicial treatment.
Suddenly the former fish-and-chip shop owner, who was once the favourite target of the chattering classes, is being described as a political detainee. By late yesterday radio stations were reporting an unprecedented groundswell of support for her. One media monitoring organisation estimated that at least 71 per cent of callers were rallying behind Ms Hanson, with the figure rising to 89 per cent in Western Australia and New South Wales. On her official website, an unsigned statement described the three-year sentence as a political milestone and compared the prison term to the former incarceration of Mr Mandela.
One of Australia's most prominent state political leaders, Bob Carr, the Premier of New South Wales, who had been a "diehard critic" of Ms Hanson's policies, said:
"Prison is basically there to get violent people away from us. Is prison the right way to treat an offence of this type? I don't think so."
Bob McMullan, the finance spokesman for the Labor Party, agreed that the penalty seemed extreme for the crime.
But Mark Latham, the federal treasury spokesman for Labor, said: "She's just been a candidate in the recent NSW election campaigning for tougher penalties; now she's got one."
Copyright 2003 Times Newspapers Ltd.
---

London, Friday, August 22, 2003
By Nick Squires in Sydney
(Filed: 22/08/2003)
AUSTRALIANS were shocked yesterday by the three-year prison sentence on Pauline Hanson,
THE DAILY TELEGRAPH
OPINION
Mrs Hanson's crime
ALTHOUGH Pauline Hanson, the founder and former leader of the Australian anti-immigration One Nation Party, has been found guilty of election fraud and illegal registration of the party, her sentence of three years' imprisonment does not seem to fit the crime.
Mrs Hanson has strongly divided opinion within Australia, and has caused tension with its neighbours, ever since the 1996 maiden speech in which she said that Australia was being "swamped" by immigrants who "have their own culture, religion, form ghettos and do not assimilate".
The crime of which she has been convicted was to pass off 500 casual supporters as party members, which made it possible for One Nation to be registered and so become eligible for almost £200,000 in state funding for the 1998 Queensland state election.
In that election One Nation obtained almost 25 per cent of the vote and held the balance of power. Mrs Hanson received no direct personal financial benefit from her crime, and One Nation supporters are not alone in thinking the severity of her sentence politically motivated. Mrs Hanson has committed a crime and should be punished.
It should be remembered, however, that her party did win, in a fair and secret ballot, a million votes. She has not been found guilty of stuffing ballot boxes or getting people to vote early and often.
There is a lesson to be gleaned from this. When parties are partly funded by the state, the political dynamic becomes frozen. It is impossible for a new party to break through without funding. It being extremely difficult to become eligible for funding, leaders of new parties, as in the case of One Nation, will be tempted to bend the rules.
Mrs Hanson, in other words, was strongly incentivised to cheat by a system where the state, effectively, licenses political parties. Justice would be best served by Mrs Hanson serving a community sentence - working, perhaps, at a refugee centre.

the former leader of the anti-immigration One Nation party.

Radio phone-in programmes were inundated by callers, with the majority saying they thought the sentence was too harsh. Some politicians agreed.

There were fears, too, that the former fish and chip shop owner might be attacked by Aboriginal prisoners, resentful of her past statements about white Australians being subjected to "reverse racism".

Hanson, 49, and her One Nation co-founder, David Ettridge, 58, were each jailed for three years on Wednesday after a Brisbane district court jury found them guilty of illegally registering their party in Queensland.

Hanson, condemned by her critics as a racist, was also convicted of dishonestly obtaining almost £200,000 in campaign expenses.

Yesterday the Labour premier of New South Wales, Bob Carr, said a jail sentence for electoral fraud was inappropriate. He added: "Prisons should be there for the people who commit violent offences, sexual assault or who sell drugs. Not for people who commit these sort of offences. Make them clean graffiti." [Website comment: Or scrub sidewalks with cameras looking on?]

Andrew Bartlett, the leader of the minority Democrats, said he was "shocked" and felt sorry for Hanson. But some politicians applauded the sentence.

A Labour frontbench MP, Mark Latham, said: "She's just been a candidate in the recent New South Wales election in which she campaigned for tougher penalties - now she's got one."

The divorced mother of four was transferred early yesterday to a women's jail in Wacol, a suburb of Brisbane where she was once the MP. She was handcuffed and subjected to a strip search before being given a brown prison uniform.

Several politicians warned that there was a danger Hanson could be made a martyr and a statement on her website made the unlikely comparison between her and Nelson Mandela. It said: "A landmark decision not seen since Nelson Mandela was thrown in jail for representing the views of the oppressed voice of South Africa. Pauline now sits in jail for following the same ideals."

Her lawyers yesterday filed an appeal against her conviction.

© Copyright of Telegraph Group Limited 2003.

Jewish community orders Australia's Labour leader to stop pro-Palestinian backbenchers from speaking in debate on Middle East
Both political parties depend on Jews for major cash
Jewish members of Australia Parliament support Israel first, Australia second
New Zealand Herald, Feb 25, 1993, analyses origins of Jewish influence on successive Australian governments