Australian Associated Press
Friday, July 4, 2003
Tribunal adjourns decision on Holocaust film
A TRIBUNAL today adjourned a decision on whether to allow the screening of a film by Holocaust revisionist David Irving after the film festival director failed to appear.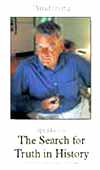 Judge Michael Higgins told the Victorian Civil and Administrative Tribunal (VCAT) that the director of the Melbourne Underground Film Festival, Richard Wolstencroft, had faxed a letter to him requesting an adjournment so he could prepare a defence.
But Mr Wolstencroft failed to attend the VCAT where Judge Higgins was due to decide this morning whether he should grant a request by the Jewish Community Council of Victoria (JCCV) for an injunction preventing the screening of The Search for the Truth in History.
Judge Higgins temporarily adjourned the hearing and unsuccessfully attempted to contact Mr Wolstencroft to ask him to make an appearance.
When he returned to the VCAT Judge Higgins said he would adjourn until Monday.
"If he doesn't turn up at 10 am on Monday, I'll deliver judgment," he said.
Outside the court, JCCV president Michael Lipshutz said the film festival management had shown little regard for the tribunal.
He accused Mr Wolstencroft of being available to the media and not the tribunal.
"They are playing it to the media on a freedom of speech issue, which it's not," he told reporters.

- AAP
---
Herald-Sun
Brisbane, July 4, 2003
Holocaust film anger
By Kate Jones
A JEWISH group has launched a legal bid to block the screening of a controversial film by British historian David Irving.
The Jewish Community Council of Victoria believes Irving's film will incite racial hatred.
Irving, known internationally for his claim the Holocaust did not happen, has been banned three times from entering Australia.
Council president Michael Lipshutz instigated legal proceedings at the Victorian Civil and Administrative Tribunal yesterday.
He is seeking an injunction to stop the Melbourne Underground Film Festival screening Irving's The Search for Truth in History and a live phone discussion with the British historian next week.
"We are seeking to defend our rights," Mr Lipshutz said. "This is not a freedom-of-speech issue.
"We don't have unlimited freedom of speech in this country, we don't go around saying death to the Aborigines, death to the Catholics or death to anyone else because it wouldn't be appropriate."
Richard Dreyfus, QC, for Mr Lipshutz, said the film and another film, The Israel Palestine Conflict from a Palestine Perspective, were offensive to the Jewish community.
"These films were designed to vilify Jews by denying the Holocaust," he told the tribunal.
Festival director Richard Wolstencroft said he did not agree with Irving's beliefs, but said the public had a right to view his film.
"People should be able to have different arguments about history," Mr Wolstencroft said.
"I'm not going to defend Irving because I don't agree with him, but I believe he should be able to express his point of view."
Irving's theories on the Holocaust have sparked global fury and in 1992 he was convicted in Germany for defaming the memory of the dead.
The tribunal is due to deliver its decision today.


Jews want holocaust film banned from festival
Australia's Jews protest plans to screen a film made by Irving
Feb 1993: "The Search for Truth in History", videotaped speech to Australians, after Labour Government refused David Irving permission for a third tour
Sam Lipski reviews Irving video in The Australian, May 21, 1993