[Translation]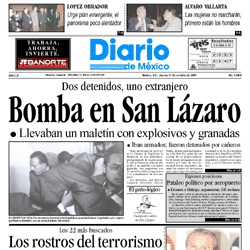 Diario de México
---
Thursday, October 11, 2001
Two arrested, one a foreigner
Bomb in San Lázaro
Were carrying attaché case with explosives and grenades
Carrying guns, were arrested by guards
THERE was uproar in the Chamber of Deputies, provoked by the arrested of two individuals, presumed to be of Israeli origin, who were carrying a high power gun and an attaché case with nine grenades, three magazines with 53 cartridges and C-4 explosives, considered to be highly powerful.
The arrested men who said they were called Salvador Gerson Sunke, of Mexican nationality, and Sar ben Zui, who said he was a colonel of the Israeli special forces, remained in custody for over three hours in the legislature building, during which they said nothing, before they were interviewed by officials of the Public Prosecutor's office (PGR) who removed them from the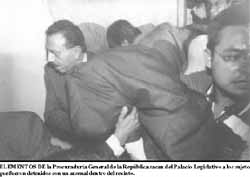 Legislature Palace, concealed in hoods, and placed them under arrest.
[The article continues on an inside page by saying that the two arrested Israelis were also found to be carrying Pakistani passports]
Photo: Officials of the Public Prosecutor's
office remove the two men arrested
in the Legislature Palace
with an arsenal of weapons
Related file on this website:
Two Mossad agents arrested in the Mexico Congress Chamber with guns, explosives: no word since then
---
[original Spanish text]
Dos detenidos, uno extranjero

Bomba en San Lázaro Llevaban

Un maletín con explosivos y granadas

Iban armados; fueron detenidos por cañeros
GRAN movilización provoco en la Cámara de Diputados la detención de dos individuos, presuntamente de origen israelí, que portaban un arma de alto poder y un maletín con nueve granadas, tres cargadores con 53 cartuchos útiles y explosivos C-4, considerados de alto impacto.
Los detenidos, que dijeron llamarse Salvador Gerson Sunke, de nacionalidad mexicana, y Sar Ben Zui, quien dijo ser coronel de los grupos especia-les de Israel, permanecieron detenidos por mas de tres horas en el recinto legislativo, durante las cuales no declararon nada, para luego ser entregados a elementos de la Procuraduría General de la República (PGR), quienes los sacaron del Palacio Legislativo, cubiertos ron capuchas, y se los llevaron detenidos.