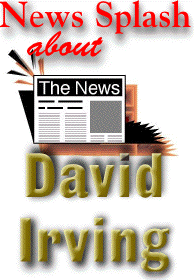 Free
of David Irving's books
Bookmark the download page to find the latest new free books
London, Sunday, January 9, 2000
---
David Irving will be at the centre of a marathon legal clash in the High Court over the issue of 'Holocaust denial', writes David Cesarani
Judgment day for the Holocaust historians
[The sharp minds with a war to win]
The battle looming in the High Court between David Irving, the most controversial of Britain's historians, and Deborah Lipstadt, an American expert on the Holocaust and anti-semitism, promises to be one of the most gripping of modern times. If the clash between Neil Hamilton and Mohamed al-Fayed provided onlookers with scenes worthy of Gilbert and Sullivan, the action for defamation brought by Irving against Lipstadt and Penguin Books this Tuesday will be more reminiscent of trench warfare.
The consequences for both parties will be enormous and the shock waves will reverberate far and wide.
The issue goes beyond the reputations of two individuals and a publishing house. It was triggered in 1995 when Lipstadt, a professor, published Denying the Holocaust: The Growing Assault on Truth and Memory. The book grew from her concern about the worldwide proliferation of the claim that there was no systematic mass murder of Europe's Jews during the second world war.
She was also appalled by the confused response on American campuses to advertisements in college newspapers proclaiming that Auschwitz was a myth concocted by Jews to make the world feel sorry for them and pay reparations to Israel.
Lipstadt sought to demonstrate the links between this denial of the Holocaust and the activity of white supremacists in America and neo-Nazis in Europe. It was, she argued, not just a distortion of history that pained the Jews, but also part of a global effort to rehabilitate Nazism and, hence, a threat to liberty itself.
In the book she referred extensively to Irving, whom she considered one of the most dangerous exponents of Holocaust denial. She believed him to be a potent force because he knew how to use historical sources, wrote well and, thanks to his bestselling publications, carried considerable prestige. Yet, she asserted, he was associated with well-known Holocaust deniers and like them distorted history in the service of a noxious ideology.
This was not the first time Irving had been attacked, but her assaults on his reputation presented a challenge he could not afford to ignore.
IRVING has been a quixotic figure on the British literary scene for more than 30 years. A Germanophile since his teens, with marked right-wing political leanings, he won attention with a string of heavily researched but controversial second world war books. In 1963 he touched the raw nerve in Britain and Germany over the bombing of Dresden. In 1970 he had to pay £40,000 in damages for allegations he made in a book on the ill-fated Arctic wartime convoy PQ17.
Hitler's War, his 1977 book, took him into a different realm of controversy when he alleged that Hitler had not known about the mass murder of Europe's Jews until 1943. According to Irving, "the incontrovertible evidence is that Hitler ordered that there was to be 'no liquidation' of the Jews."
This caused consternation and provoked Martin Broszat, the leading German historian of the Third Reich, to write a minutely documented critique of Irving's methods and his thesis. But Irving responded to the furore by offering a cash reward to anyone who could find a document directly linking Hitler to the Final Solution.
At this stage he was taken seriously by many historians, but in the 1980s what was excused as eccentricity or provocation for the sake of publicity took the form of something more disturbing. In 1979 Irving's German publisher apologised for printing in Hitler's War that Anne Frank's diary was a forgery and paid compensation to her family. Irving now became a presence in extreme right-wing circles in Britain and attended conferences of the Institute of Historical Review in the United States, the leading forum for those who deny the Holocaust ever happened.
From the mid-1980s he regularly addressed neo-Nazi groups in Austria and Germany, where he assumed almost heroic status among them. But did they warm to him because he was "one of them" or because he attacked existing orthodoxy? In 1988 he went to Toronto to testify on behalf of Ernst Zundel, a Canadian on trial for spreading "false news", denying that the holocaust had taken place. Zundel also called as a witness Fred Leuchter, an American expert on execution techniques, who claimed as a result of scientific tests that Zyklon B cyanide gas was never used at Auschwitz-Birkenau.
The judge dismissed the scientific evidence, but Irving went on to publish a version of the Leuchter report under his own imprint. In the foreward he wrote that British intelligence had spread the "propaganda story that the Germans were using 'gas chambers' to kill millions of Jews and other Undesirables".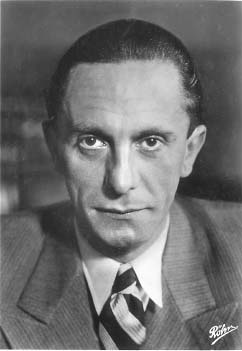 When he spun this line to a far-right meeting in Munich he was charged by the German authorities, found guilty in May 1992 and heavily fined. Yet in Britain and America, Irving was still widely regarded as a scholar of substance, wayward but not beyond the pale. His biography of Goebbels, the Nazi propaganda chief, won plaudits from the likes of Hugh Trevor-Roper, Donald Cameron Watt and Bruce Anderson. But his comeback only spurred on the efforts of those determined to stigmatise him.
In 1997 [sic. 1993] a Munich court upped the earlier fine and barred him from entering Germany, cutting Irving off from his archives and contacts. Then he was banned from Canada and Australia where he had conducted lecture tours and promoted his books. Finally, St Martin's Press in New York ditched his book on Goebbels: for American publishers Irving had become too hot to handle. One of his most important markets was in jeopardy.
It was probably a combination of these developments that prompted Irving to sue Lipstadt. The label of "Holocaust denier" that hung around his neck was strangling him.
Irving rejects the accusation that he denies the Holocaust took place, but he defines it to mean the slaughter of millions of civilians and not just Jews. He can point to references in his books to the mass murder of Jews by shooting or at the Chelmno death camp, but he insists that if gas chambers existed at Auschwitz or other extermination camps it was for "experimental" purposes. He insists that all his findings can be sustained by the legitimate interpretation of original sources.
It will be crucial for him to prove this in court, because the outcome will determine his credibility as a historian. Win or lose he will be a hero or a martyr for the far right, but if he loses his stock will fall.
Irving sees himself pitted against what he calls a "global conspiracy" led by Jews that is devoted to leaving him boycotted and broke. For those on the far right such as Jean-Marie Le Pen, who regard the Final Solution as a "detail" of history, or Jörg Haider, who would like the world to take a more relaxed view of Hitler, the trial has considerable political significance.
If, as Lipstadt believes, the record of Nazi atrocities is indeed a barrier which constrains the far right, a heavy burden rests on her defence. Yet the historians will know that its ramifications for them are no less profound. Implicit in the issue of individual reputations will be the larger question: who can be trusted with the past?
David Cesarani is professor of Jewish history at Southampton University
The sharp minds with a war to win
The court case between David Irving and Deborah Lipstadt is expected to last three months and is bound to be phenomenally expensive.

Irving, proud of his forensic mind, is to represent himself, while Lipstadt's case will be fought by Anthony Julius [left], the solicitor who represented the Princess of Wales during her divorce. It will be the first big test of his newly acquired skill as an advocate. He has already tried his hand at writing, authoring a book exposing T S Eliot's anti-semitism.

The case is to be held without a jury, which is unusual, both sides having agreed that the complexity of the issues would drag the hearing out if a jury were to try it.

The battle will be fought out in front of Charles Gray, the judge, who is himself a distinguished libel lawyer and one of the so-called "fashionable four" libel QCs headed by George Carman. Gray's biggest win - in a case that dealt with a shameful episode during the second world war, the extermination of the white Russians - was £1.5m for Lord Aldington, the Tory peer, against Count Nikolai Tolstoy.

Gray also appeared for Jonathan Aitken, the former Tory MP, in his notorious libel suit against The Guardian.

At stake is Irving's reputation as a historian. The Sunday Times is to play a small role in the drama. A former Sunday Times writer involved in the newspaper's serialisation of the Goebbels diaries, which Irving edited and translated, is to give evidence, along with several Holocaust experts.

One of the key witnesses for the defence will be Richard Evans, professor of modern history at Cambridge, who has written on German history and is the author of a book outlining the historian's role in modern society. He has been asked to examine Irving's work and pronounce on its worth.

Though both sides insist the case is about Irving's academic credibility and deny they wish to use the court to "refight" the war, it is the subject rather than the characters that gives this case such power.

Margarette Driscoll

Copyright 2000 Times Newspapers Ltd.