The Star
Johannesburg, May 6, 1992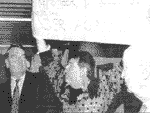 Confrontation at court . . . right-wing British historian David Irving (left) sidesteps a Jewish protester during Mr Irving's trial in Munich yesterday on charges of slandering the dead. Mr Irving claims the Auschwitz gas chambers were a hoax.
Picture: AP
BRITISH historian David Irving was fined 10 000 marks (about R16 200) by a German court yesterday for denying that Jews died in the gas chambers of the Auschwitz concentration camp.
Judge Thomas Stelzner rejected Irving's appeal against a previous R12 000 fine for expressing such views. He said he was increasing the fine because of Irving's lack of understanding. Sapa-Reuter.
---
In 1993 the fine was increased to DM 30,000 (about $22,000).