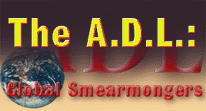 ---
Use of the above image is copyright free. Feel free to lift it and place it on your own website.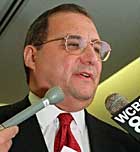 ADL's Abraham Foxman
ADL To Launch Innovative Law Enforcement Initiative
WHO: -- Anti-Defamation League (ADL) -- Abraham H. Foxman, ADL National Director -- Chief Douglas Scherzer, Vice President, New Jersey Association of Chiefs of Police; Chief, Morris Plains, NJ Police Department -- Chief Donald Martin, President, Bergen County (NJ) Police Chiefs Association; Chief, Edgewater (NJ) Police Department
WHAT: Press Conference to announce ADL's Law Enforcement Initiative and Demonstration of new Internet Web site
WHERE: ADL National Headquarters, First Ave. between 46th& 47th Streets
WHEN: Monday, June 18th at 10:30 a.m. ADL's Law Enforcement Initiative, a comprehensive and innovative initiative to assist law enforcement in the battle against extremists and hate groups, will be launched.
The press conference will include a demonstration of a new Web page designed specifically for police officers, investigators and other criminal justice professionals.
For more information, contact ADL Media Relations at (212) 885-7749.