Court says Jewish group must disclose files
---
SAN FRANCISCO, November 16 (AP) - Pro-Palestinian and anti-apartheid activists are entitled to learn whether a Jewish civil rights organization illegally disclosed confidential information about them, a state appeals court ruled Monday.

The ruling by the 1st District Court of Appeal should enable the activists to go to trial in their long-stalled suit against the Anti-Defamation League of B'nai B'rith, said the activists' lawyer, Pete McCloskey.

"It breaks through this almost incredible claim by these guys that they were immune for any violation of law," said McCloskey, a former congressman whose wife is one of the 17 plaintiffs.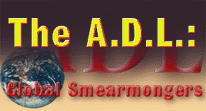 Lawyers for the ADL were not immediately available for comment. They appealed a previous unfavorable ruling by the same court to the state Supreme Court.
Some of the information sought by the activists is contained in more than 17,000 ADL files seized by San Francisco police in 1992.
The activists, who include the son of a former Israeli defense minister and other Jewish dissidents, were notified by police that their names were in the files. They contend the ADL illegally obtained confidential records, such as driver licenses and Social Security numbers, from the state and used them to get people blacklisted among the organization's supporters.
The ADL denies having a blacklist and says it was merely keeping tabs on hate groups and terrorists.

Copyright 1998 The Associated Press.