A DOSSIER on the Anti-Defamation League's penetration of US and San Francisco police agencies and its illegal use of police databases. ADL officials were prosecuted for this felony, and subsequently reached an out of court settlement with the District Attorney under which they paid a substantial penalty -- to be used for combatting racist groups.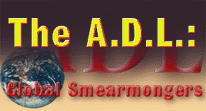 Website visitors are encouraged to submit authentic materials, information, correspondence, press clippings, etc., to this dossier.
The Anti-Defamation League's Spy Scandal of 1993
Summary: The "Anti-Defamation League" (ADL) was found to be spying on Arab Americans and Progressive Organizations, and sharing the information with Israeli and South African Intelligence agencies.
In early 1993, an employee of the (so-called) Anti-Defamation League of B'nai Brith was found to be spying on Arab Americans and a large number of progressive organizations. He had collected files on over 10,000 individuals and 600 organizations - everyone from the Arab Amercian Antidiscrimination Committee and the ACLU to the African National Congress and the Centro Legal de La Raza, to the Earth Island Institute and Greenpeace, including even twenty San Francisco area labor unions and a large number of Central America solidarity organizations. Information on anti-apartheid activists was passed on to South African intelligence agents.
---
At the time, a number of articles was written covering this spy scandal. Most appeared in west coast newspapers. The case was also covered by progressive magazines such as The Nation. Related articles which are not reproduced on this website are referenced in the list below.
Phil Bronstein, Suspect in Cop Spy Case Tells his Story, San Francisco Examiner, January 22, 1993.
Richard Paddock, San Francisco Probes Private Spy Network, Los Angeles Times, February 26, 1993, Page 1.
Dennis Opatrny, Scott Winokur, Police Said to Help Spy on Political Groups - Anti-Defamation League Seeks Info Nationwide, San Francisco Examiner, March 9, 1993, Page A-1.
Robert Friedman, in the May 11, 1993 issue of The Village Voice.
Chip Berlet and Dennis King in Tikkun magazine, July/August 1993.
Alexander Cockburn in his bi-weekly Beat the Devil column, published in The Nation. [Cockburn predicts (correctly) that the case will be dropped due to political pressure on the district attorney and mayor's office.]
San Francisco Examiner, May 11, 1993.
Unfortunately, during this entire episode, there was barely a mention of the case in the New York Times.
---
Index