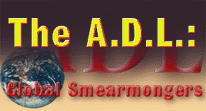 ---
HOLOCAUST DENIAL
Institute for Historical Review
The California-based IHR, which split with Willis Carto in 1993, remains the world's single most important outlet for Holocaust-denial propaganda. While the IHR seeks to gain credibility by working under the guise of scholarship and impartiality, many of its staffers and Editorial Advisory Committee members often participate in pro-Nazi and anti-Jewish activities. Current director Mark Weber was an activist in the National Alliance during the 1970s, and editorial advisor Robert Faurisson was convicted three times of violating French hate-crime laws because of his anti-Semitic activities. Other active participants in IHR include David Irving, the leading Holocaust denier in England[*], and Ernst Zündel, Canada's most notorious neo-Nazi.
In addition to distributing a wide array of Holocaust-denying books, IHR publishes a bi-monthly magazine, The Journal of Historical Review (JHR), and organizes periodic "revisionist" conferences. At a 1983 IHR conference, British neo-Nazi Keith Thompson's declaration that "if, in the end, the Holocaust did take place, then so much the better!" was met with thunderous applause.
From 1996 to 1998, IHR Associate Director Greg Raven housed extensive IHR materials at his "personal" Web site, which he claims is "not supported, sponsored, or financed by the Institute for Historical Review." To head off charges that the materials published by his site are anti-Semitic, Raven makes the following disingenuous statement on his Home Page:
If you find material on this Web site that is untrue, please tell me and I will change it. If you find material on this Web site that is racist or hateful, please tell me and I will remove it.
Raven's "personal" site continues to exist, though he moved all of his IHR materials to a separate, "official" IHR site in March 1998.
The IHR Web site contains hundreds of online "revisionist" pamphlets, books, and articles, as well as a complete index of the JHR. Among IHR's leaflets, one finds "Auschwitz myths and facts," which claims that "Auschwitz was not an extermination center" and that "the story of mass killings in 'gas chambers' is a myth." Many JHR articles are reprinted in their entirety, including "Is The Diary of Anne Frank genuine?"
Additionally, IHR publishes the full text of a few books at its site, such as Did Six Million Really Die? by British "revisionist" Richard Harwood. Explaining why it is so urgent for neo-Nazis to suppress the reality of the Holocaust, Harwood complains in his book that awareness of the Holocaust overshadows Nazi "ideals" such as "nationalism" and "racialism" while promoting "the need for international tolerance and understanding."
---
OTHER items in the latest ADL expose:
David Irving
Campaign for Open Debate on the Holocaust