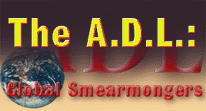 ---
The Anti-Defamation League continues its assault on David Irving
---
[A bogus Question & Answer session on the historian, posted by the ADL on the Internet in New York on June 6, 1996, in the aftermath of their suppression of his biography of Nazi propaganda minister Dr Joseph Goebbels]
---
FOR THIRTY-FIVE years the international Jewish organisations have been harassing British historian David Irving. Again and again he has been shown examples of the furtive "backgrounders" and smear-sheets circulated by them in an attempt to blacken his name.
Q & A ON DAVID IRVING
TO: EDITORS/COLUMNISTS

RE: Q & A ON DAVID IRVING

DATE: JUNE 4, 1996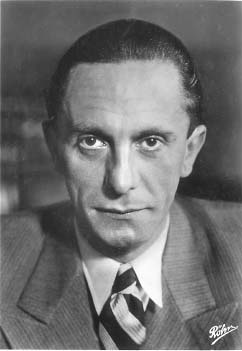 THERE HAS been a storm of controversy surrounding the publishing of David Irving's most recent book, Goebbels: Mastermind of the Third Reich. A prominent Holocaust denier, pseudo-scholar and Hitler apologist, Mr. Irving published the book himself in England. It was then scheduled for publication in this country until St. Martin's Press withdrew its contract after historians, critics and the Anti-Defamation League brought Mr. Irving's questionable scholarship and research to light.

Mr. Irving's background and links to the Holocaust-denial movement are described in the following Q&A, which may be reproduced in its entirety or excerpted with proper credit.

Q: How long have Irving's right-wing views been known?

A: David Irving's allegiance to right-wing causes has been public knowledge since 1959: in that year he printed a publication at London University which included a "spirited defense" of South African apartheid, an appreciative article on Nazi Germany, and the allegation that "the national press" in Great Britain "is owned by Jews."

Q: What was Irving's reaction to questions about the views expressed in his 1959 publication?

A: When asked at the time by The Daily Mail about his political beliefs, he replied, "[Y]ou can call me a mild fascist if you like. I have just come back from [Francisco Franco's] Madrid...I returned through Germany and visited Hitler's eyrie at Berchtesgaden. I regard it as a shrine."