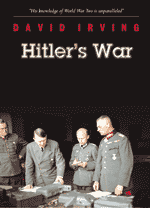 Click image to download the latest English-language download edition © Parforce UK Ltd 2002
THIS edition is uploaded onto the FPP website primarily as a tool for students and academics. It can be downloaded for reading or study purposes only, and is not to be commercially distributed in any form.
---

READERS are invited to submit any typographical or other errors they spot to David Irving via email at info@fpp.co.uk. Informed comments and corrections on historical points are also welcomed.
---

The 1991 updated UK edition published by Focal Point.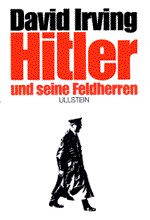 Jacket text:

Jahrzehnte nach seinem Untergang ist Hitler noch immer im Gespräch. Von der heutigen Geschichtsschreibung wird er als »Mann des Jahrhunderts« apostrophiert, da er wie kein zweiter das Rad der Geschichte dieses Jahrhunderts bewegt und das Gesicht Europas durch »seinen Krieg« auf verhängnisvollste Art verändert habe. Die Maßlosigkeit seiner Ziele, das Ausmaß seiner Taten und die Hemmungslosigkeit, mit der er seine Herrschaft auszudehnen trachtete, machten ihn zu einer der ungeheuerlichsten Gestalten der Geschichte.
Und immer wieder wird die Frage gestellt: Wer war dieser Hitler? Was für ein Mensch war er?
In seiner mit Spannung erwarteten Hitlerbiographie ist es dem Engländer David Irving wiederum gelungen, wichtiges neues Material aufzuspüren, auszuwerten und Wesenszüge eines Mannes zu erhellen, die niemand zuvor gesehen hatte.

---
History of this edition. Motto: It's a Jungle Out There
IN May 1975 Ullstein Verlag of Berlin published -- simultaneously with Joachim Fest's book on Adolf Hitler, which was however based on non-archival research -- David Irving's first biography of Adolf Hitler: Hitler und seine Feldherren. Ullstein had refused Mr Irving's plea to see proofs.
Two days later, Mr Irving ordered the book pulled from Germany's bookstores, as he found that Ullstein had tampered illegally with the text, in many cases actually reversing the opinions he had expressed. Ullstein complied.
For a dozen years Ullstein refused to release the rights or, more importantly, the manuscript - the only copy in existence. Lawyers were brought in. Eventually Mr Irving republished the work in Germany in the correct form, in a three-volume edition (Langen-Müller Verlag, Munich: LMV) and Heyne Taschenbuch Verlag, Munich. A new edition appeared some years later in LMV, with the latest materials added, as Führer und Reichskanzler (the free download on this page).
Unfortunately, as can be seen, Langen-Müller Verlag (LMV) each time omitted the Bildteil and Anmerkungen, for commercial (cost) reasons.
After Mr Irving was banned from the Federal Republic by Bavarian leftwingers in November 1993, for many years LMV continued to publish the book scot-free, i.e. without paying royalties to
Mr Irving; they even sold "rights" in it without his consent to Druffel Verlag, an extreme right-wing publisher, again paying nothing to the author.
A new authorized and updated edition of "Hitler's War" (Millennium Edition, 2002), the latest version, is in preparation by Erich Kaden Verlag, of Dresden, with the title Adolf Hitler. Führer und Reichskanzler.
Late in 1977 the Institut für Zeitgeschichte director Prof Dr Martin Broszat published a virulent 37-page attack on David Irving's biography, Hitler's War, in their quarterly journal (pdf, in German); they refused to publish a reply