David Irving
"Churchill's War"
vol. i: STRUGGLE
FOR POWER
This volume was first published in Australia in 1987, where it stayed for some weeks on the Sydney Morning Herald best-seller list, rising to the No. 1 position there; and republished by Hutchinson (Arrow Books, London) and Avon Books (New York). There is also a German edition.
We expect to publish Volume III in 2007, and will start posting finished chapters soon [bookmark this link]
Churchill's War, vol. i: download free

Download from here. The book's four parts are PDF files.

Part 1 1.6MB

Part 2 1.6MB

Part 3 2.1MB

Part 4 0.5MB
THIS website is in debt to Linda Nelson of Illinois for preparing the PDF version of this book for Internet users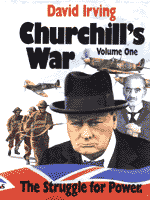 ---
SINCE the original 5-inch discs (anno 1986) holding the text at the Australian publisher's proved to be unreadable, such is the march of technology, we scanned the whole of vol. i and are posting this as a corrected and updated PDF free-download version of this book.
---

Saturday, April 19, 2003
Winston Churchill
Dustjacket text ("The blurb"). Of course this 1986 text has been partly superseded by archival events like the final release of most of the Churchill papers into the public domain; and volume iii, which takes the story up to Potsdam, is due for release in 2007, thirty-five years after the contract was signed. -- Website note.
"Churchill's War", vol. I: "Struggle for Power"

WHEN I was born in 1938," observes the author, "the British Empire was at its greatest extent. By the end of Churchill's war, it was becoming extinct."
In one hundred years this book may be regarded as having started the collapse of the Winston Churchill legend. It begins in 1936, with Churchill struggling to survive in a hostile political environment. It ends with Potsdam and electoral defeat.
After seven years' research in British and foreign archives like Washington, Moscow, Paris -- because the Churchill trustees still refuse access to his papers to any except their official biographer -- Irving has built up an unusual portrait of the man who brought devastation to Europe and ruin to his own people, while leading them to a Pyrrhic victory. Unstinting in his praise of the achievement of an old man in uniting and inspiring a moribund Mother Country to make one last great effort, Irving conceals little of the uglier detail, like how Churchill thwarted the only chances Europe had of peace in 1939 and 1940, or how he unleashed the cruel bombing war that killed one million Europeans. There are touching sidelights on Churchill' s strained relations with his own family, cast by the unpublished papers of his daughters; but a harsher light is thrown on the demi- corruption, hard drinking, cynicism, brutality, deceit and callousness of Winston's regime. He rejoiced in killing, was intoxicated by the sound of cannon, exhilarated by his own graphic language.
This is a stout picture of a hard old man, aged sixty as the book begins -- emerging from a political wilderness to fight a war with a toughness that appalled men even half his age. "Some chicken, some neck!" was his famous epigram at Ottawa at the end of 1941. He applied it to Britain; this book applies it to him.
Irving is one of the world's most widely read dissident historians: unwilling to rely on published biographies or histories, he cuts across fresh ploughed country, searching in unlikely places for the bare rock of history: diaries, files, and private papers. When Irving offers new theories, sometimes adventurous ones, these are never demolished. "Churchill," he concludes in this book, "was a man who destroyed two empires, one of them the enemy's."
DAVID IRVING was born in Essex, England, in 1938, son of a Navy officer, father of four teenage daughters. After unorthodox education in London University and a Ruhr steelworks his first book, The Destruction of Dresden, became a beststeller in 1963. He applied the same research methods to other controversial works: his biographies of Hitler and Rommel are the best known. Using primarily original documents and diaries, Irving's conclusions often differ startlingly from accepted views. He began researching this Churchill biography in 1976.

[Website note: In fact the contract with Michael Joseph Ltd was signed in 1972].