David Hebden points to certain unexplained dots on the 1944 air photos of Auschwitz, Friday, February 6, 2004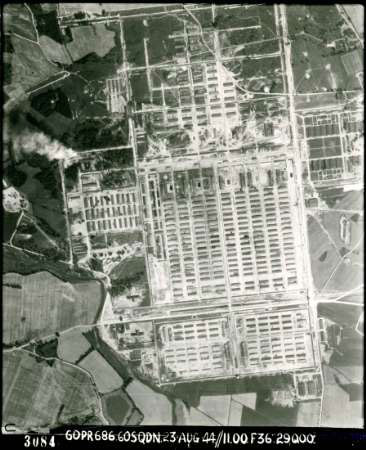 THE row of three diagonal dots sloping at about 45 degree angle are barely visible on this lower resolution print, about 1.5 cm at about 160-degrees (south- south-east) of the plume of white smoke, lying across the 3rd building in the top row. Click image to enlarge.
---
Better air photos of Auschwitz
WE'D LIKE to point out something that caught our eye while re-examining the various aerial photos.
The best resolution shot of the new August 23 photo can be seen here:
http://www.evidenceincamera.co.uk/images/Large/conc1.htm [or: mirror]
Look directly beneath Krema IV and V, at the area which was known as Canada, where the clothes and other property of the inmates was stored. You should see three or four dot-like black markings in a diagonal pattern. There appears to be some overlapping of these dots with the warehouse buildings themselves.
What's remarkable is that a similar layout can be witnessed in both the September 13 and May 31 [1944] photos, here:
http://www.globalsecurity.org/intell/library/imint/images/auschwitz19-12_1.jpg [or: mirror]

http://www.yad-vashem.org.il/exhibitions/album_auschwitz/air_photo/964_31_5_44.html [or: mirror]
We're at a loss to explain the nature and persistence of these (and other) markings across the three photos. Any thoughts?

Other letters by David Hebden on this website:
David Hebden: spots discrepancies in the Jan 1943 decode on "Operation Reinhardt" | and finds another problem with it: The Korherr Report
The source of Rudolf Höss's figures | and another
What Stalin told his generals of plans to attack Germany
Free download of David Irving's books
Bookmark the download page to find the latest new free books