MAGDA GOEBBELS
Pictures are from David Irving:
Goebbels. Mastermind
of the Third Reich
First Lady of the Third Reich
BY COLIN SHINDLER
Anja Klabunde: Magda Goebbels (Little Brown, 378pp $20)
MAGDA GOEBBELS was one of the many people swept up by the strong ideological currents prevalent during the years between the two world wars. These days she is known mostly for the manner of her death -- poisoned with her young children -- in Hitler's bunker in April 1945. The Russians found her six beautiful children in their white nightgowns -- the girls with huge white bows in their hair -- as if asleep.
Yet the death of Magda and her family is only matched by the bizarre odyssey of her life.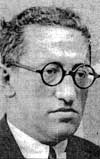 She was attracted to men of great charisma and power. Her lovers included the "shrunken Aryan" Goebbels, the business magnate Günther Quandt, the nephew of Herbert Hoover -- and Haim Arlosoroff (left).
An illegitimate child of the fin de siècle, her father did the right thing shortly afterwards. The marriage lasted three years, whereupon an assimilated Jew, Max Friedländer became her stepfather. Friedländer kept Pessah and Yom Kippur, but Magda was given a convent education in Belgium and, presumably, only a rudimentary Jewish identity.
The Friedländers and the Arlosoroffs both arrived in Berlin as refugees during World War I. This common bond drew her to Lisa Arlosoroff and later, in a more intimate fashion, to her brother.

VITALY became Victor in Germany and under the spell of Zionism emerged as Haim. He was a fiery and passionate orator -- as at home with the poetry of Heine and the works of Goethe, as the socialist theories of Syrkin and Borochov.

Magda sported a Magen David which he had given her and she attended meetings of Tikvat Zion. She was attracted to Arlosoroff because of his personality and sense of purpose rather than an independent commitment to Zion. It was this, biographer Anja Klabunde (right) argues, that distanced Arlosoroff from her. It was simply not possible to keep up with Arlosoroff's frantic pace of involvement. Both drifted into other relationships and subsequent unhappy marriages plus children, yet there was undoubtedly a closeness and admiration which existed between them even when they met occasionally during the 1920s.
After being brought up as a Catholic and mixing with Jews, she converted to Protestantism on her marriage to Günther Quandt. He certainly paid the bills and gave her the bourgeois life which she desired, but it did not cure her craving for something indescribably more.
Her spiritual emptiness was filled after a visit to the Nordic Ring. As Klabunde comments:
"She sat down among thousands of people whose language was crude and uneducated, people who smelled of sweat and leapt frantically to their feet when Hitler's leather-jacketed agitator passed, limping slightly with one foot."
The ennui suddenly disappeared; she had discovered Nazism and its puppeteer, Joseph Goebbels. Beauty had met the beast.
Her dark secrets of a Jewish stepfather had to be buried, yet this did not stop one opposition paper parading the title "Nazi Chief weds Jewess."
Like many other Germans, Magda identified with the thousand-year Reich and felt protected in her devotion.
When Arlosoroff, now head of the political department of the Jewish Agency, arrived in Berlin in May 1933, he was greeted by his old friend Robert Weltsch, the editor of Jüdische Rundschau. His horror at the Nazification of the capital was hardly dispelled when he noticed a marriage photograph in a bookshop -- the love of his youth arm-in-arm with Goebbels.
Forty years later in Israel, Weltsch could still describe the utter shock and disbelief which Arlosoroff felt -- to the point of semi-collapse.
Arlosoroff later suggested to Weltsch that perhaps Magda could be utilized to seek an interview with Goebbels aimed at securing an arrangement for the transfer of German Jewish assets to Palestine. Weltsch tried to dissuade Arlosoroff from embarking on such a course, but without success.
According to Klabunde, Arlosoroff did manage to talk to Magda and she promised to meet him after his return from Warsaw. This meeting did not transpire, as Magda left unexpectedly for Italy.
However, a message from Magda warned Arlosoroff of the extreme danger of any meeting, and that he should leave Germany immediately. He then conveyed this news to his sister, commenting that he had made the greatest mistake in his life.
A couple of weeks later, Arlosoroff was gunned down by unknown assailants on the Tel Aviv beach.

FOR YEARS, conventional explanations suggested that the assassins were either Arabs or members of the far Right group, Brit Ha'Biryonim. In the mid-1970s, the late Haviv Kanaan suggested in the Israeli press that Goebbels had sent two agents, Theo Korth and Heinz Geronda, to murder Arlosoroff. Klabunde adds no new conclusive evidence to substantiate this theory, and it must still remain in the realm of speculation.
Even so, it is quite credible that Goebbels could have instigated the deed. The Berlin Jewish journalist, Bella Fromm, described Goebbels as "a kind of combination of Mephisto and Savonarola, sinister and fanatic, intriguing and obsessed."
It was this combination of magnetism and repulsion that, in essence, destroyed Magda as a balanced human being. Goebbels, the womanizer, conducted at least 40 affairs during the first part of his marriage, yet needed Magda to be both the mother of his children and his confidante.
This stretched as far as the revelation of Nazi atrocities in the east which seems to have traumatized her.
Yet Magda previously was untouched by the suffering of Jews and rarely adopted an independent stand on any aspect of Nazi policy. When the Salon Kohnen closed after Kristallnacht, she opined "What a nuisance that Kohnen is closing, we all know that when the Jews go, so will the elegance from Berlin."
On another occasion, she refused to help a Jewish fiend from her boarding school days -- the friend perished in Auschwitz. Yet such an action seems more an explicit denial of her past than an ideological anti-Semitism.
Outwardly the good mother and loyal wife, her private life with Goebbels was one of torment and humiliation. It was for this reason that she was the only wife of a Nazi leader who chose to die with her husband. Goering's wife, for instance, lived on in Adenauer's Germany.
As she told her closest friend in a rare recognition of the reality near the end:
"If I stay alive, I will be arrested immediately and interrogated about Joseph. If I were to tell the truth, I would have to portray him as he was. I would have to describe what went on behind the scenes. Then any respectable person would turn from me in revulsion. As far as the outside world is concerned I have lived by his side amidst brilliance and luxury, I have enjoyed his power."
It seems that Magda Goebbels' life was simply theater, reinvention upon reinvention. Only when things turned bad for her personally did she throw off the mask -- and then only in the most private of private conversations.
Was Magda evil? Perhaps in the sense that all bystanders and witnesses who close their eyes are evil.
Anja Klabunde's book is by no means an academic tome and indeed reads on occasion like a television soap, but she has reclaimed from extremely sparse sources the disturbing story of a sad, insecure woman who was attracted by power, but ultimately closed her eyes to evil.
A terrible but compelling tale.

The writer, an expert on Ze'ev Jabotinsky is a London-based academic.

Magda Goebbels's stepfather Robert Friedländer died in Nazi Camp Buchenwald
What did David Irving write about Arlosoroff in Goebbels. Mastermind of the Third Reich?