The New German ambassador in London, His Excellency
Dr G. von Moltke, writes a polite thank-you letter to David Irving
---
April 9, 1998
---
Last updated: ,
London, 9 April 1998
Mr. David Irving
Focal Point Publications
81 Duke Street
London W1M 5DJ

The first days and weeks after my arrival in London were quite hectic. I have only now realized that I omitted to thank you for your kind words of welcome and for your book on the destruction of Dresden. I should like to do this today, somewhat belatedly.
I appreciate your kind words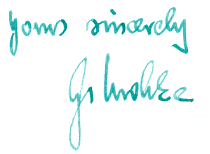 ---
Adresse: 23, Belgrave Square/Chesharn Place, London, SWIX 8PZ
Post: Telefon: 0171&emdash;824 1301 Telefax: Telex: 0171-8241315 21650 Kennung: AALDNE 0