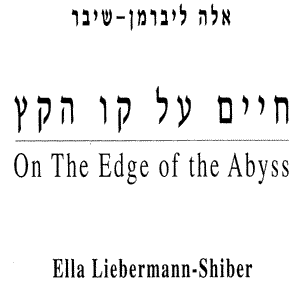 From On the Edge of the Abyss, by Ella Liebermann-Shiber, published by Ghetto Fighters' House, Beit Lohami Haghetaot, with grants from the Mendel B Mitchell Fund of Winnipeg, Canada and others.
---
[Introduction]

I have tried to express through my drawings all that I felt and saw in my youth, all that made my world dark, so that my work will bear witness to those terrible things. It is a meagre attempt, for I do not believe it possible to convey the horrors we suffered either through drawings or any other form of expression.
I began to draw, to sketch whatever was released from with me, grey lines on faded paper.
I reconstructed each picture shortly after I was liberated. With trembling hands I began to reconstruct the hell from which, by a miracle, my mother and I had emerged. I felt that every drawing that disclosed the horrors I had endured in some way eased my mind. My faith in mankind and the world of today gradually returned, despite the cruelties my people and I had so recently suffered.

[On the facing page is a text in Hebrew, presumably the original version of the above.]